In the modern smartphone world, manufacturers often struggle to give good battery life and screen-on time to their users. This is exactly the case with people's most trusted brand – OnePlus. OnePlus has recently announced a new OxygenOS update for OnePlus 6T devices. The update is out for a couple of weeks and users are already complaining about severe battery drainage problems. Luckily, we are here to help you. Today in this post, I will be guiding you to troubleshoot and fix this problem.
Battery draining quickly on OnePlus 6T
One of the main features of today's smartphone is its battery backup. People often buy devices which gives great screen-on time and at least 1-day battery backup. The battery backup of OnePlus 6T is pretty great with its massive 3,700mAh battery packed inside. This device was giving great battery backup until the recent OxygenOS update.
There are still a lot of improvements to make in OxygenOS, however, today we will be discussing about how to fix Battery draining quickly on OnePlus 6T with OxygenOS update. We will be covering some troubleshoot methods which will, in fact, increase battery backup on your device. We hope that OnePlus will soon give a patch for the battery drain problem.
How to Fix Battery draining quickly on OnePlus 6T with OxygenOS update
Running a near copy of stock android Pie, OnePlus 6T lasts pretty long compared to its bigger screen size. There are many customizations which you can make to extend your device battery life. These changes will make a noticeable difference in the overall battery life of your device. We will help you find out what's causing the poor battery backup and how to fix it.
Find Apps Eating Up Your Device Battery
The best way to fix any problem is to kill the root of the problem. This is exactly the case with modern smartphones. With a plethora of apps to choose for different tasks, many users keep running useless apps int he background. And this (no wonder) causes a terrible battery life. OxygenOS has advanced features which will notify you if apps are eating too much of battery power.
If you're using certain applications that are eating more battery juice then expected. Then you need to shut them down. The best way to do this is to examine the battery consumption graph. Navigate to Settings > Battery > and tap the battery icon. This shows you a full breakdown of apps and their battery consumption.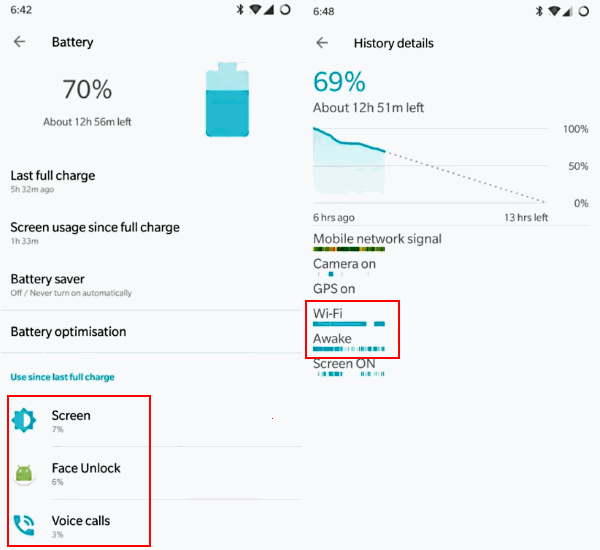 And then you can see what apps are eating more battery so that you can limit their functions or uninstall them once for all! If you see any other third party app instead of the Android System, Screen (Display) or phone calls. Then you need to uninstall/update that app ASAP. Also, take a look at your device's battery consumption graph and look for the apps who are keeping your device awake. And don't forget to turn off wifi when not in use.
Screen Brightness & Sleep Time
With a massive 6.41″ (16.28 cm) display with 1080 x 2340 resolution, maintaining good battery life is hard. So users need to keep a check on the brightness and how often they use their devices.
info

Quick fact! The average person checks their phone over 140 times a day, usually just to see the time or check a notification. This adds up throughout a day and can really lower battery life. How often do you check your phone? Tell us in the comment section below.

Ok so here are some quick tips on how to fix the battery drain issue on OnePlus 6T due to display:
Make sure you hit the power/sleep button every time you finish using your phone
Tend down the screen sleep time to a minimum. (I mean 30 seconds) You can do that by navigating to Settings > Display > Sleep > and set this to 30 seconds
Also, turn off the ambient display and lift off the display. These are cool features, but not so cool when it comes to compromising battery backup.
WiFi, 4G LTE, Bluetooth & GPS
Hey, we all love wifi, right? But sadly, wifi uses a lot of battery power. The same is with 4G LTE, Bluetooth and GPS services. So we recommend you turn these settings off until you really need them. Turn on Wifi when you need to use wifi, otherwise turn it off. Use GPS only when you're using maps (or other GPS needed apps or services). The same is with Bluetooth, please shut them off when don't require, thank you!
OnePlus 6 Battery Saver & Gaming Modes
So OxygenOS has already battery saving functionalities. Which you can turn on and forget about battery life. Is that simple, I promise! Just head on to Settings > battery > battery saver and turn it on.
Use a Black Wallpaper
This sounds silly, but it works. OnePlus 6T has an Optic AMOLED display. AMOLED screens are very efficient and display black colors easily. Pixels don't need to turn on individually. This leaves enough space to improve battery life.
After you've downloaded a nice wallpaper, simply long-press a blank area of the screen. Then go into Wallpapers to apply it.
This is what I recommend
For good battery performance, you can try this configuration. I and my friends use this and it works! You will get about 7-8 hours of screen on time which is great.
1. Use a dark theme. Settings > Display > Theme > choose Dark theme.
2. Use battery Optimization for all Apps.
3. Use deep clear in Setting->Advanced->Recent App Management->Deep Clear.
4. Use dark wallpaper for both the home and lock screens.
5. Face Unlock-> I don't think of its much use, also not very secure. I prefer fingerprints.
For now, this is what you can do to fix the bad battery backup on your OnePlus 6T. We hope that OnePlus will fix this issue in the coming updates and patches. They're one of the best manufacturers when it comes to fast, and timely updates. Thanks for stopping by and have a great day!