Here in this article, we will share with you a brief guide on how to fix the Bluetooth issue on the OnePlus 7 and the OnePlus 7 Pro. Smartphones have changed human life in the 21st Century. It also creates a unique and addictive habit to stay with mobile devices every time. You can't think about your daily life without a smartphone nowadays. While the technology and development regarding mobile devices are going higher and higher every day.
Even a flagship smartphone has become outdated within 1-2 years right now in terms of technology and hardware capabilities. Meanwhile, most of us frequently use Bluetooth or Wi-Fi on our devices very frequently. OnePlus recently launched its two new flagship killer models of OnePlus 7 and 7 Pro. But the several connectivity issues are quite common in any smartphone these days.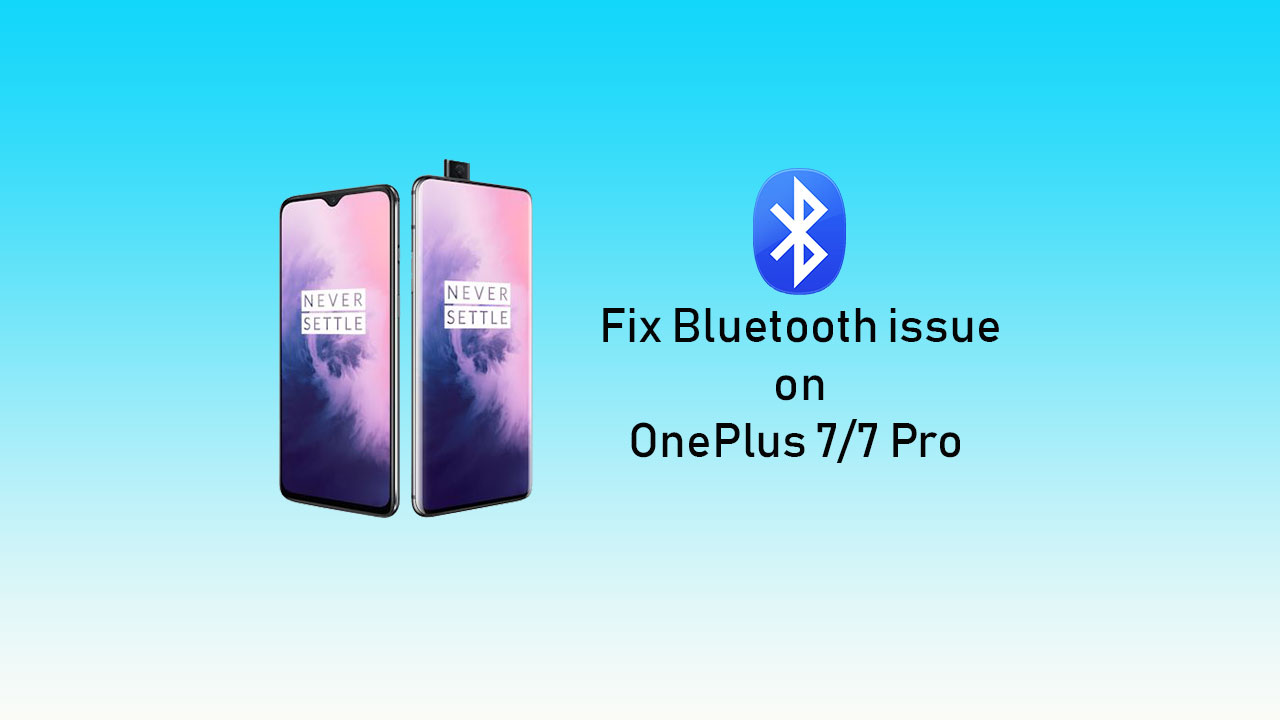 OnePlus devices are very much focused on performance and stability in terms of the affordable price tag than other flagship devices. OnePlus also offers dedicated customer support, monthly updates, and security patches, etc. But still, there are some issues that can be fixed by using some tricks or tips on any Android device.
How to Fix Bluetooth issue on OnePlus 7 and OnePlus 7 Pro
These common category issues include Bluetooth, Wi-Fi, Carrier network, or even battery draining issues are quite usual on most of the devices. Here we will discuss the Bluetooth connectivity issues and how to fix them on the OP7 lineup. We assume that you've restarted your OnePlus 7/7 Pro handset once to check the issue. If that didn't help then jump into the methods below.
1. Update Device Software
First of all, you should check for the software updates on your OnePlus 7/7 Pro device so that nothing is left pending. To do this, head over to Settings > System > System update > Check for update. If there is an update available, just Download and Install it properly.
It not only updates the software version but also fixes multiple bugs as well as upgrades the Bluetooth version. Once you're confirmed that your handset is running on the latest software version, you can try checking the Bluetooth issue again. It should have been fixed now.
2. Boot into Normal Mode
If in case, you're using your handset in the Safe Mode then make sure to boot it into the normal mode. Otherwise, the Safe Mode can disable Bluetooth and prevent it from running.
If the Safe Mode is turned on, then you can see it displayed on the screen. To exit the Safe Mode, just press and hold the Power button > Tap on Restart > Now, wait for the OnePlus 7/7 Pro device to restart in the normal mode.
3. Keep your Bluetooth Devices Closer
The chances are high that your connected or paired Bluetooth devices aren't placed close enough to your mobile. In that scenario, it may not be able to find out or properly connect to the device that will eventually interrupt transferring the data or playing media smoothly.
If in case, your mobile device can't connect to the Bluetooth device then keep both the device closer and try pairing again.
4. Clear All Paired Bluetooth Devices
You can also try clearing all paired or previously connected Bluetooth devices from your handset to refresh the system. To do so:
Go to Settings > Application Manager.
Choose Bluetooth from the System Apps list > Select Storage.
Tap on Clear cache and Clear Data.
Finally, reboot your handset to check for the Bluetooth issue on the OnePlus 7 and the OnePlus 7 Pro.
5. Make the device discoverable
Sometimes it may be possible that the Bluetooth of your mobile device is not visible to the other Bluetooth devices or vice versa. Therefore, it's necessary to turn on the device discoverable or visibility mode on your handset directly from the Settings menu > Bluetooth > Turn on the 'Make this device discoverable' option.
Now, your Bluetooth device will appear easily on your OnePlus mobile and it can easily connect too.
6. Turn On & Off Airplane Mode
It's also worth mentioning to simply turn on the Airplane Mode on the OnePlus 7/7 Pro device model temporarily for a few seconds. Then turn it off and check for the Bluetooth issue again. Sometimes doing this trick can be helpful to the users whatsoever because it refreshes the connectivity glitch in a jiffy. Head over to Settings > Airplane Mode.
7. Check other Bluetooth devices
The chances are also high that an older device is running some previous version of Bluetooth and already connected or paired with your handset previously. In that scenario, it might be possible that your device is now conflicting with the older Bluetooth device due to compatibility issues. So, it's recommended to check for that too.
8. Pair Mobile with your Car again
Sometimes we pair our mobile with our car and then forgot or after updating the software or even connecting with another device, the previously paired car won't connect anymore. If you're also facing the same kind of issue then make sure to do the following steps:
Go to car's Settings menu > Tap on Connected Devices > Tap on Bluetooth.
Open Bluetooth > Tap on Search > Select your device name (Bluetooth name).
Now, the system on the car will ask you to enter the displayed pin.
Just input the pin > Select 'Allow access contacts & call history'.
Select Pair > Wait for the pairing process to be completed.
Once done, you're good to go.
9. Forget the paired device
Another thing you can do is to simply forget the previously paired Bluetooth device from your OnePlus 7/7 Pro device. Once done, you can try searching for the specific Bluetooth device and pair again. To do so:
Go to Settings > Tap on Bluetooth > Find the list of paired devices.
Check for the specific problematic Bluetooth device that's already paired.
Now, tap on it or the icon next to it > Select 'Forget Device' > Just restart your handset and try pairing again. That's simple.
10. Turn Off Battery Saver
We should also mention that somehow your device system is preventing the Bluetooth connectivity or usage whenever the Battery Saver option is turned on or the battery level is lower than 20% most probably. In that scenario, you should turn off the Battery Saver option temporarily on your OnePlus handset to check for the issue again. To do so:
Go to Settings on your OnePlus device > Tap on Battery.
Head over to Battery saver > Make sure to turn it OFF.
11. Remove Bluetooth from Battery Optimization
Well, it seems that your battery level is decreased or the battery health has already decreased somehow on the OnePlus 7 series. Now, the Battery Optimization system is preventing any kind of unnecessary Bluetooth usage or connectivity on your handset.
If you're also facing issues like networking or Wi-Fi issues or even GPS connectivity issues then make sure to remove the Bluetooth option from Battery Optimization. To do this:
Tap on the Settings icon from the home screen or app drawer.
Go to Battery > Head over to Battery Optimization.
Now, make sure to select the Bluetooth option and turn it off. [if already turned off then skip this method]
Once done, restart your mobile, and check for the issue again.
12. Reset Network Settings
If the issue still persists, then you should perform a network reset on your OnePlus device. Resetting the network will completely wipe out the connection settings from your device and revert to the default factory settings like a new device. To do so:
Go to Settings > System > Reset > Reset Wi-Fi, mobile, and Bluetooth.
Tap on Reset Settings > It may ask you to enter a pin or password if you're using any of them on your device lock screen.
Just input the pin or password > Tap on Next > Tap on Reset settings again.
Wait for a couple of seconds to complete the reset process.
Once done, make sure to reboot your mobile to refresh the system.
This method may help you to solve the network or connectivity issues on the device. However, if this method didn't work for you, try performing a full factory reset of your device too.
13. Do a Factory Reset on your phone
If nothing seems to work for you and it becomes irritating to find out a fix for your issue, make sure to perform a full factory reset on your device to wipe out all the device settings, installed apps or games, configured Bluetooth & Wi-Fi settings, etc. It will also delete all files from your internal storage.
So, we'll recommend you to take a backup of the important data which is stored on the internal storage apart from phone contacts, text messages, etc. Once done, you can do the following steps to factory reset:
Go to Settings > System > Reset options.
Select Erase all data > Tap on Reset phone.
If you're using a pin or password on your phone's lock screen, then it'll ask you to enter that.
Once a pin or password is entered, tap on Next.
Now, tap on Erase everything > Wait for the device to restart automatically.
Finally, go through the initial setup process, and check for the Bluetooth connectivity issue on the OnePlus 7 and the OnePlus 7 Pro.
14. Check Device Hardware
If none of the methods worked for you and still you're facing issues with the Bluetooth connectivity with most of the Bluetooth devices then we'll recommend you to visit your nearest OnePlus service center or a local mobile repairing shop to get the hardware checked on your mobile. Sometimes faulty or physically damaged hardware can cause such issues.
Keep in mind that the Bluetooth issue won't affect your device performance or data.
That's it, guys. We assume this guide was helpful to you. For additional queries, you can comment below.