Many of us might be boasting a lucrative spec sheet of our smartphones nowadays. But even the best Highscreen smartphones encounter software or hardware related issues. One such issue is 'Not charging problem'. Imagine a time when you need to make or receive calls, click pictures and shoot videos but your smartphone is struggling to get charged. The device is draining out of battery and you find no solution to charge it. Your lovely smartphone becomes a headache when you need it the most. The smartphone is now basically useless no matter how much you have invested in it. When your phone is not charging, there are a number of possible causes for this to happen.
Software crashes, bugs, defected cable or charging brick, corrupt applications, etc can be a cause to charging problems. In such cases, users start to panic and the first thought they get is to approach the manufacturer for help. They are unaware of the fact that solutions to such issues are not very complicated and therefore, can be dealt with by themselves sitting at home. This article will help you identify the culprits to such issues and allow you to fix HighScreen not charging problems by yourself.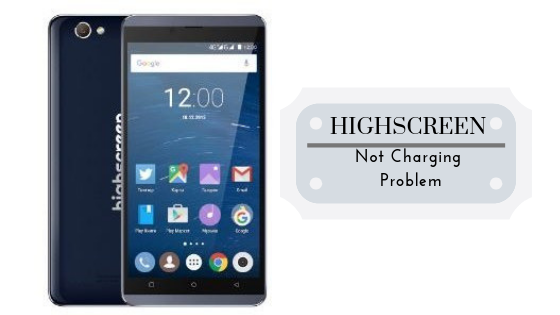 How To Fix Highscreen Not Charging Problem?
Step 1: Reboot your phone
Restarting your device can help in fixing tons of issues. This must be the first thing you should do especially if it's the first time the problem occurred. Power OFF your device and wait for a few seconds or a minute. Power it ON again. Restarting fixes all issues that might have caused due to some software crash during earlier start-up of your device. Try plugging in your device and check if the issue is resolved.
Step 2: Check the power supply
Check if the wall outlet in which you're plugging your device is working as it should. If the charging socket is distorted or obstructed, your device may not detect the power source. Try plugging the adapter into a different power source and try recharging your device. If you use a laptop or a console to charge your phone, then consider charging your phone using the wall charger or try a different port of the laptop to charge your device. If you have a power bank, try using that too.
Step 3: Check the cable
Charging cables are susceptible to wear and tear due to curving and bending beyond a certain level. If the cable is not of good quality, it may also have become broken due to regular use. Simply insert a different cable into the charging brick and check if your phone charges. If yes, then you are now aware where the issue lied.
Step 4: Check your adapter
Check the charger head unit of the adapter. It is the part of your charger that plugs into the wall socket. It often breaks down when it is dropped, kicked while plugged in, pulled and pushed in different directions. The adapter often loses its efficiency after a long regular usage leading to no charging or slow charging problems. There could possibly be some issues with the USB port too where the cable is inserted. You may have loosened the USB port on the adapter due to vigorous plugging and unplugging. which may be creating the problem. If you are sure that the cable is fine, check if the brick is able to charge other devices too. If no, then your adapter is the culprit to charging issues.
Step 5: Check the Charging Port of Your Phone
Your phone's charging port could be the main culprit. The small port attracts dust and other small particles in your pocket or surroundings. Blow the junk out with your mouth or use a hair dryer if you can. The junk can also be removed with the help of a toothpick. Dust could be the main reason due to which your device charges and then stops charging abruptly frequently when connected to power.
Step 6: Clear cache files
For manually clearing app cache, open Settings>>Applications. There you will find the list of the downloaded apps. Clear every app's cache memory individually. Don't forget to clear the storage cache. For this open Setting>>Storage. Select clear cache and tap on it. This would erase all cache data and files. A suspicious app could be the cause of a charging issue on your device. Clear cache files of the application if do not know why or how the app is causing this trouble. Although cache files help in faster app retrieval, too much uncleared and accumulated cache data hampers system efficiency leading to issues.
Step 7: Update applications and OS
Updating of all applications is necessary to resolve bugs and issues that an application might have generated over time. Outdated apps cause the errors leading to charging problems etc. Developers often send updates to fix such issues and improve app reliability. Navigate to Google Play Store >> My apps and games >> Update all. You can also search for the required app and check if an update is available. Also, check if there is an OS update available for your smartphone by navigating to Settings>>About Phone>>Software Updates.
Step 8: Rollback updates
If charging issues have arrived after updating your device, you must roll back to the previous update. Although it may pose minor security problems and bugs, you will at least be able to use your phone by avoiding charging issues. You must check forums and community sites about such issues after an update in order to get a solution or a way to roll back updates.
To rollback updates, you need to find the older version you wish to downgrade to. Place the downloaded ROM on your device and restart your phone in recovery mode. Format the device and install the desired version. Wait for developers to send a new update to resolve bugs. After rolling back updates, check if the issue is resolved.
Step 9: Try a hard reset
Unfortunately, if none of the above methods works, try a hard reset. This should be the final resort to fixing charging problems. Remember, recovery of all your important data is important before going for a hard reset. To perform a hard reset on your Highscreen device, you need to commence by turning it off. Next, hold on to the power plus volume up button together for a few seconds until it vibrates. Once you see an Android logo on the screen, you can let go of the buttons and wait for the device to load. From the given menu, select 'wipe data/factory reset >> yes — delete all user data' and that must do the job.
Step 10: Get help from the service center
If you cannot resolve to charge problems even after a hard reset, there can be both hardware related or software related issues causing charging problems in your device. If you discover issues with the charging cable or charging brick, just invest in a new one. If you notice that your Highscreen won't charge even if the charger and the cable are fine, the problem may lie in the battery of your phone. You can claim for a free battery replacement if your phone is in warranty. If the issue is still not known, consult a technician. Avoid going to third-party service centers to save money as it may void your warranty.