What could you probably do about the Kyocera not charging problem? Although this troubleshooting guide is explicit to Kyocera users as per their requests, I would like to add that it applies to any and every Android smartphone since basically, all smartphones are made up similarly. So, what could you do to fix the problem? There are a number of things that could go wrong resulting in such a catastrophe such as it is quite possible that the firmware is to be blamed or it could be because of hardware components since there are number of hardware parts indulged in this process and since we already know how electronic parts are delicate, we will pay attention to both sides of the smartphones to cover all aspects so read along to know more.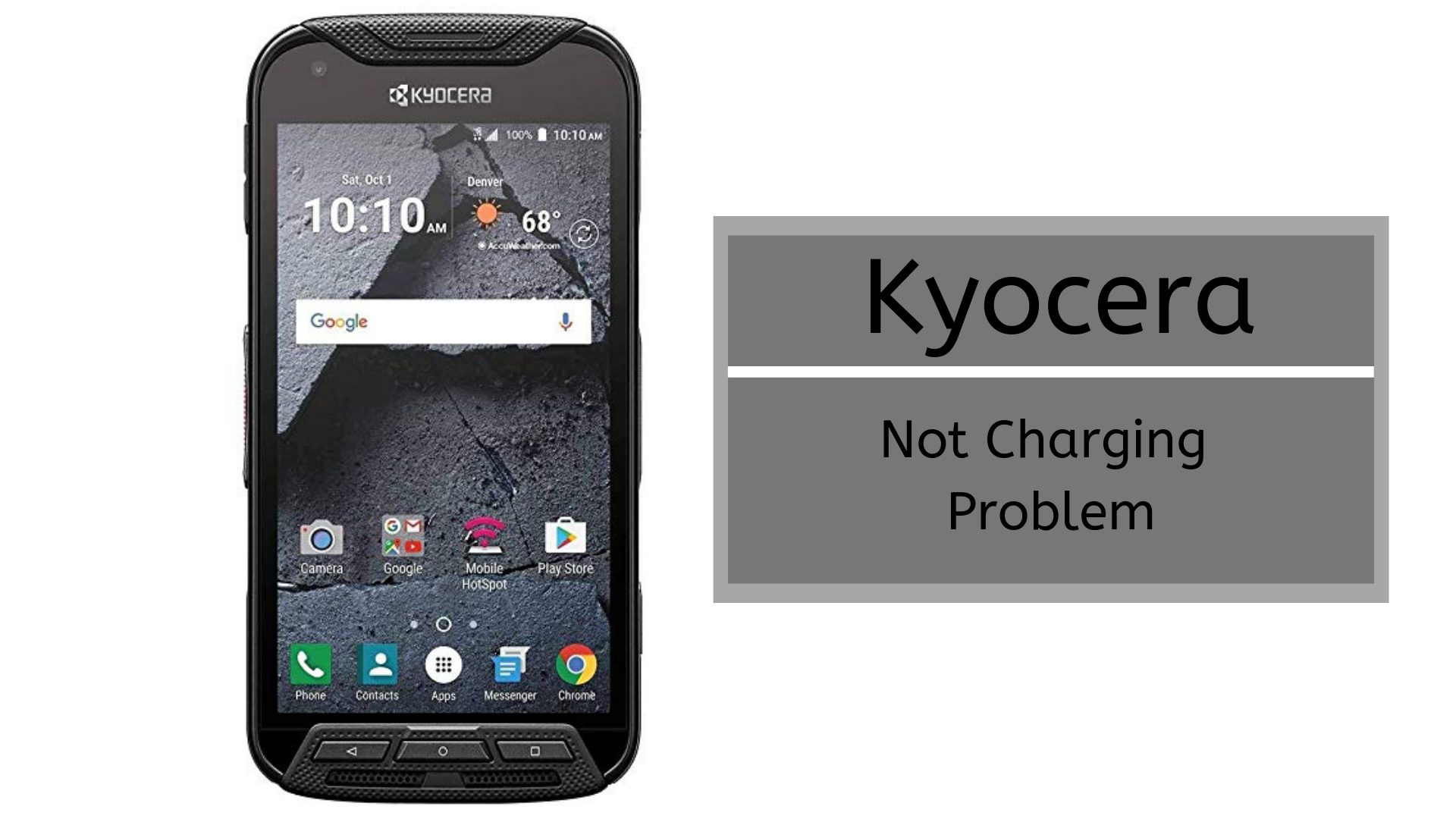 How To Fix Kyocera Not Charging Problem?
The Software Part
Reboot the phone
If you are contemplating what could have possibly gone wrong, the answer is absolutely a lot of things. Since 'a lot' isn't a root cause you are searching for, let's start by eliminating the most obvious that is a temporary software failure. The way to eliminate it is to perform a reboot on the device and then check for the integrity of the issue if it still exists or not. This way, you can at least say that the software is working just fine at the moment.
Update apps/firmware
Another issue with respect to apps is that they become outdated when not updated and introduce a string of issues right from bugs to viruses that could infiltrate the system exploit the data and cause security and privacy concern. This is why the next step is to update all the apps downloaded and pre-installed on the phone by accessing the Google Play Store and checking out updates under 'My apps and games' section. Next is to check whether the firmware has received an update or not that you can verify by going to Settings >> About Device >> Software Updates >> Check for Updates or similar steps w.r.t. to the firmware you are using where this method could differ a bit. Also, you need to know that not all smartphones with getting an Android update for which, you can always rollback or install a custom ROM to diminish the outdated firmware problem.
Purge cache
Another probable cause of Kyocera not charging problem is the cache files that are automatically generated by the system to store and access retrieval data when required but it is vulnerable to get corrupted or bugged. Therefore, we always recommend our users to purge all types of cache files i.e. Storage cache, app cache, and cache partition. Next, you can download CCleaner or alike apps to purge all types of cache files at a click of a button which is great and efficient for a single click cache deletion process.
The factory reset
Although it is not required if you want, you can scrutinize if the software is causing the issue in any sense possible. For this, you need to perform a factory reset which you can do simply by booting into the recovery mode and here's how you are going to do it.
Step #1: Switch off the device.
Step #2: Press volume down + power button together and keep it pressed for 10 to 15 seconds without leaving it.
Step #3: Just when you see an Android logo on the screen, that's your cue to let go the buttons.
Step #4: You'll need to use the power button to select and volume rockers to scroll around the recovery mode as the touchscreen doesn't work here.
Step #5: Finally, select 'clear data/factory reset' using the volume rockers to scroll down followed by power button to select it and confirm the same by tapping on 'yes – delete all user data'.
Step #6: This must resolve the issue if at all caused by an impending software issue but if not, you'll have to move to the hardware section for further scrutiny.
The Hardware Part
Here, we are actually scrutinizing the various hardware components involved in a charging process and will provide the required ways to fix it too.
Examine the debris snuck around the charging port
Dust particles are minute and so are pocket lint which is the threading and debris that sneaks out when you put your phone in your pocket. Debris stuck around the metal tab inside a charging port can cause the connection between the USB cable and the metal tab to wobble. This is why you need to scrutinize if there's any debris around the metal tab using a torch to peep and a sharp object like a needle to scrape out the dust particles and debris. Reconnect the charger and now check if the phone charges properly or not.
Examine any damage to the charging port
If the debris wasn't the problem, it is probably the charging port which is causing an issue onto the device's ability charge via the wired charger. Now, you need to scan whether the charging port mounted on your device is damaged or not. For this, simply take a torch and check if the metal tab inside the port is straight or deformed where it is damaged if deformed. You can use a sharp scissor to slightly straighten the metal tab but be cautious because a slightly obscured pressure and the charging port will be rendered useless and it would require replacement if not repairable. You can change the charger or at least the charging USB cable to verify if the charger isn't the problem after all.
Verify USB Cable for wear and tear
Next up is the cable which is undoubtedly the most subjectively abused accessory of a smartphone. It is because the cable tends to suffer constant wear and tear, stretches, pulls, twists and twirls, etc. This causes deformity within the cable or it might get a cut somewhere and that's why you are facing Kyocera not charging problem. This is where you need a new USB cable to verify if the old cable was the reason behind it or not.
Check out the charging brick
If the cable is proper, it's time to scrutinize the charging brick or charging adapter which has a plug using which, it is mounted on a wall to suck in electricity from the power source to the device. But it also works by transforming the current into a desired voltage and that is where it can get damaged or malfunctioned. Since all Android smartphones have the same USB Type 2 plug, it wouldn't be a problem to verify if the charging brick or the cable is responsible for the Kyocera not charging problem. Alternatively, use your current charging brick to charge a different phone to eliminate the obvious cases such as the brick is the problem (if the phone doesn't charge) or your existing phone is the problem (if alternate phone charges).
Change the power source
If the phone doesn't charge no matter what you switch, the power source can also affect the charging capability too. To fix this, simply change the power source and you might see a difference.
Look out for damaged or out-of-life battery
If the charging port, USB cable and brick, and even the power source are not faulty, could it be the battery after all? There is a possibility since you almost went through all the scrutiny techniques I mentioned above without any favorable results. If your phone supports a removable or non-removable battery, it's time to change it or ask a technician at any service center to help you with it.
Walk-in to a nearby service center
The last thing you can do if you either can't find out the problem or if the problem is related to hardware components such as a non-removable battery or the charging port, you'll need to visit a service center for the same. As it is not liquid damage, it will be covered under warranty in most cases, however, you might be asked to pay charges after all. You can visit an authorized service center when the phone is in warranty but if it is not, you have the choice to visit a third-party or an authorized center.