You are watching a video or a favorite movie holding the phone in your hand for hours and gradually, the phone heats up. Well, that isn't a problem because too much of heat can trigger overheating problem on your Kyocera smartphones which is definitely a problem and needs to be resolved right away. Like any other potential issues on your device, there are a number of reasons why your phone would overheat. It could be something organic, gradual or something triggered by lack of resources or infection by a malware or virus causing the phone to turn into a popcorn popping out of the popcorn maker. Here are a few troubleshooting techniques that you can employ in order to uproot the issue.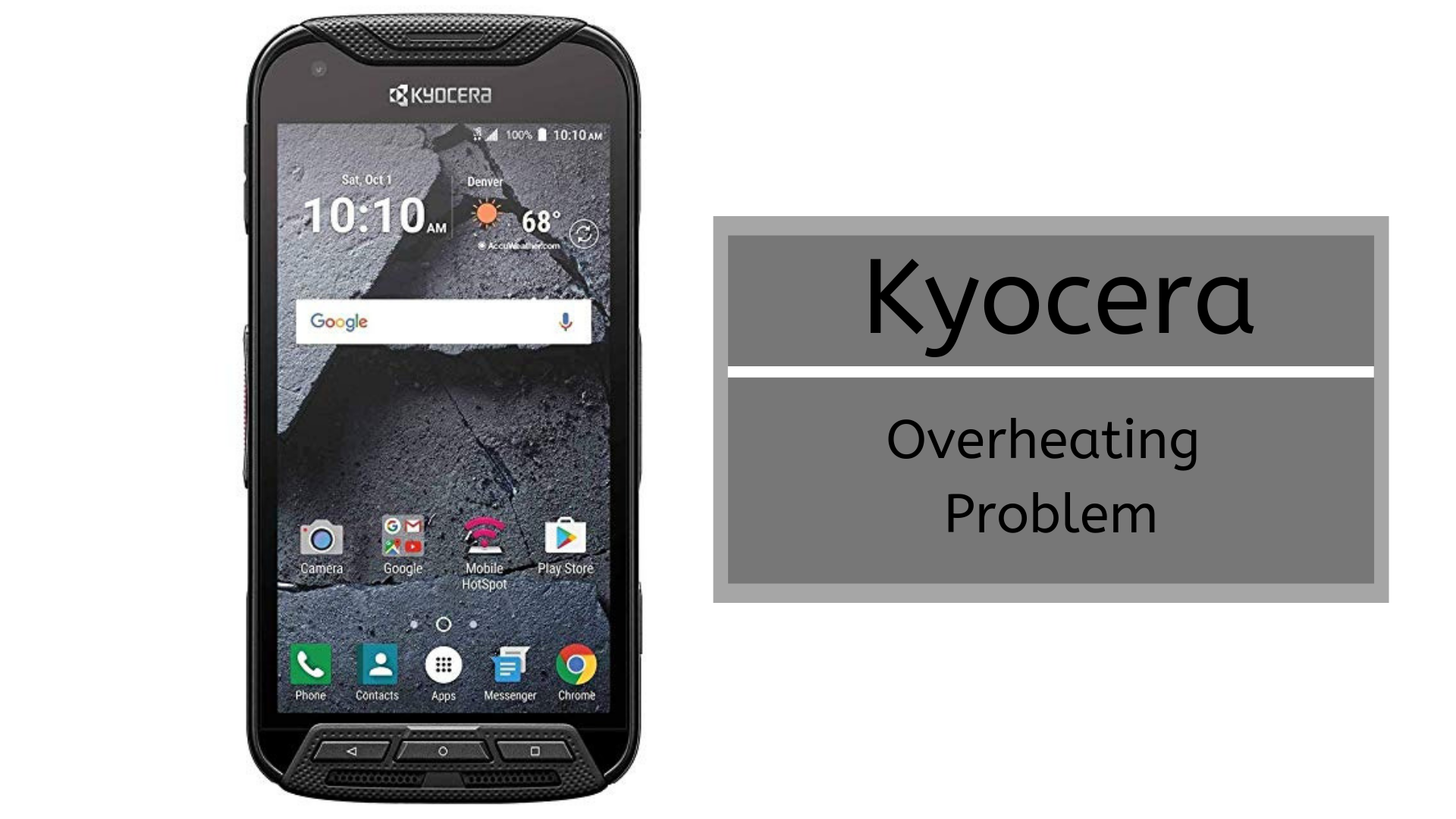 What causes the overheating problem?
For starters, systems infected with malware and viruses could raise the core temperature of the device which means users must scan the device to quarantine the viruses to fix it. When too many tasks and apps are working simultaneously, it is possible for the device to get too hot to handle since the processor is able to throttle energy consumption and other variables but it often gives up when it couldn't handle it more. Another factor that dials into the overheating problem on Kyocera devices is when apps are outdated and introduce bugs that cause the internal temperature to surge or when the cooling mechanism fails.
How to fix the Kyocera overheating problem?
Stop using the phone
What's the first thing that comes in your mind if you observe that your phone is heating too much? It is probably the fact that you must stop using the phone right away. Simply keep the phone aside on a dry and preferably a cold place and not someplace where it can get overheated.
Reboot the phone
Use this technique combined with the previous one or use either of one to bring down the core temperature of the device before critical temperature as overheating can damage physical components as well. You need to reboot the phone, remove everything from SIM cards, memory card, phone case, and a back panel or finally, battery (if removable) but do not attempt to yank the battery or the back panel if it is non-removable.
Close all the apps
Assuming that you can't reboot the phone just yet due to any xyz reasons, you can use this trick as well. Tap on 'recent' apps section and exit from all the apps in the background and foreground as well. Visit Settings >> Apps >> Running and now, close all the apps that you don't need as well as those you need after saving any unsaved work if any.
Probe for battery-hungry apps
Call it battery-hungry apps or apps that consume a lot of battery such as intensive games or heavy apps like Microsoft Office or Adobe Photoshop, etc, these apps consume battery faster than other apps. But this doesn't actually overheat the phone. The reason why your phone overheats are if you are using these apps for a prolonged duration or if there are several battery-hungry apps working in the background. Another probable reason is if any app is infected with any sort of virus or bugs causing it to draw more power than usual resulting it faster battery draining and since the more work is done, the more heat is generated.
Purge all types of Cache files
Cache files are often the cause of a string of issues which makes it one of the target to purge if you face any difficulty using your phone. You phone stores cache files in three locations and we are able to find out every in this guide.
Firstly, you need to visit the Settings app on your device and navigate to 'Apps >> All'. Now, pick a third-party app and tap on 'Clear Cache' and repeat the same procedure for all other third-party apps. Next, you need to back up a bit to the Settings app and go to Storage. Here, you'll find 'Cache Memory' so click on it and select 'Delete' to do the same. Lastly, we need to boot into the recovery mode which is explained in the latter part of this guide under 'Perform a hard reset'. Once you are there, simply tap on 'wipe cache partition' and it's done too.
Upgrade to the latest firmware (Android OS)
Next thing that can be bugged is an outdated firmware. Since Android doesn't support all the OSes with updates on a daily basis. It becomes difficult for a smartphone to stay protected against any intruders, bugs, vulnerabilities, etc. Check if you have any update or not and if the problem persists choose between installing a custom ROM or downgrading unless you can stop overusing the phone putting it in the overheating problem at the first place.
Update to the latest apps
Next aspect that you should care about are the apps installed on your device including both built-in (pre-installed) and third-party apps. This is because outdated apps are vulnerable to bugs and hacking attempts that might leave your phone open to intrusions and hacking. Since app developers usually provide an update every month or so, it isn't a chance with outdated apps unless you choose not to update apps for whatever reasons.
Examine whether the charging brick is the root cause
A lot of people might not know this which they should, that using an incompetent or damaged or even third-party charging brick is risky as it will cause harm to the battery at some point in time. This is why experts recommend not to use third-party chargers or at least avoid its use as much as you can. On the other hand, if you are using an original charger but it is damaged or faulty, it paints the same story so avoid that too as well.
What if the battery was damaged all along?
Next stop is to examine if the battery is damaged in any form, sense, etc. This is because battery supplies power to all the physical components on a smartphone that in turns get things done. However, the problem is that when the battery is not working properly either due to damage or any fault or if it has ceased to work properly, it introduces a number of problems include faster battery draining, overheating problem, etc. This is why you need to examine if the battery is damaged in any sense or not which you can do simply by removing it and checking it if removable or you can visit a nearby service center to get it tested.
Doing these could reduce the overheating problem
We at GetDroidTips understand that it is very annoying when your phone overheats whilst playing your favorite game, working, watching a movie, songs, or just like that. To minimize the effects of the overheating problem, you must keep it away from direct sunlight as the display acts as a magnifying glass and boosts heat generation. Further, you must keep the screen brightness at an optimum level which is low during nighttime usage and high to moderate during the day when outside, etc. Other key aspects towards curbing the overheating problem are to turn on Always-On display, reduce the duration under 'Keep Awake' feature and close apps once work is done.
Perform a hard reset
If nothing helps, this will probably help unless the problem is due to a hardware issue or failure and here's how you are gonna do it.
Firstly, take a copy of all the data that you want to secure since this method is irreversible.
Next, turn off the phone and give it a rest for some time.
Now, press power plus volume down buttons together and let the phone boot up.
You can release the buttons once you spot an Android logo flashing on the screen followed by a quick vibrate.
Next, use volume rockers to navigate through the menu and use the power button to select an option.
Now, select 'wipe data/factory reset' and it is done.
Consult a professional
If indeed you cannot resolve the Kyocera overheating problem even though you practically tried all the methods mentioned in this troubleshooting guide, you can turn towards a professional for help. Check if your phone is in warranty period or not or if you have subscribed for any additional warranty or any other covers and use it to fix the problem. If not, you can report the issue to an authorized service center or partnered or even third-party service store to get a resolution for the aforementioned problem.