In order to learn optimization of your GPS, it's helpful to first understand how it works. GPS means Global Positioning System and was developed by the US Army in 1973, but in 1995 it was released for civilian purposes. It was earlier used with 24 satellites however now there are 31 GPS satellites in orbit.
No one wants to be stranded in the middle of nowhere trying to look for directions and asking help from people around them. With a reliable GPS, we will never have to come across situations where we feel too alienated in the place that we are stranded. Quick directions can save your valuable time. Android phones enabled user experience when using GPS and made it even better and also have increased reliability on this technology.
When you encounter a problem with your GPS on your Myphone, the problem could be the Android GPS not functioning at all or the GPS showing an incorrect location. These tips from Myphone will help you look for solutions to fix GPS issues to ensure that the GPS functions as expected when you decide to go on a road trip.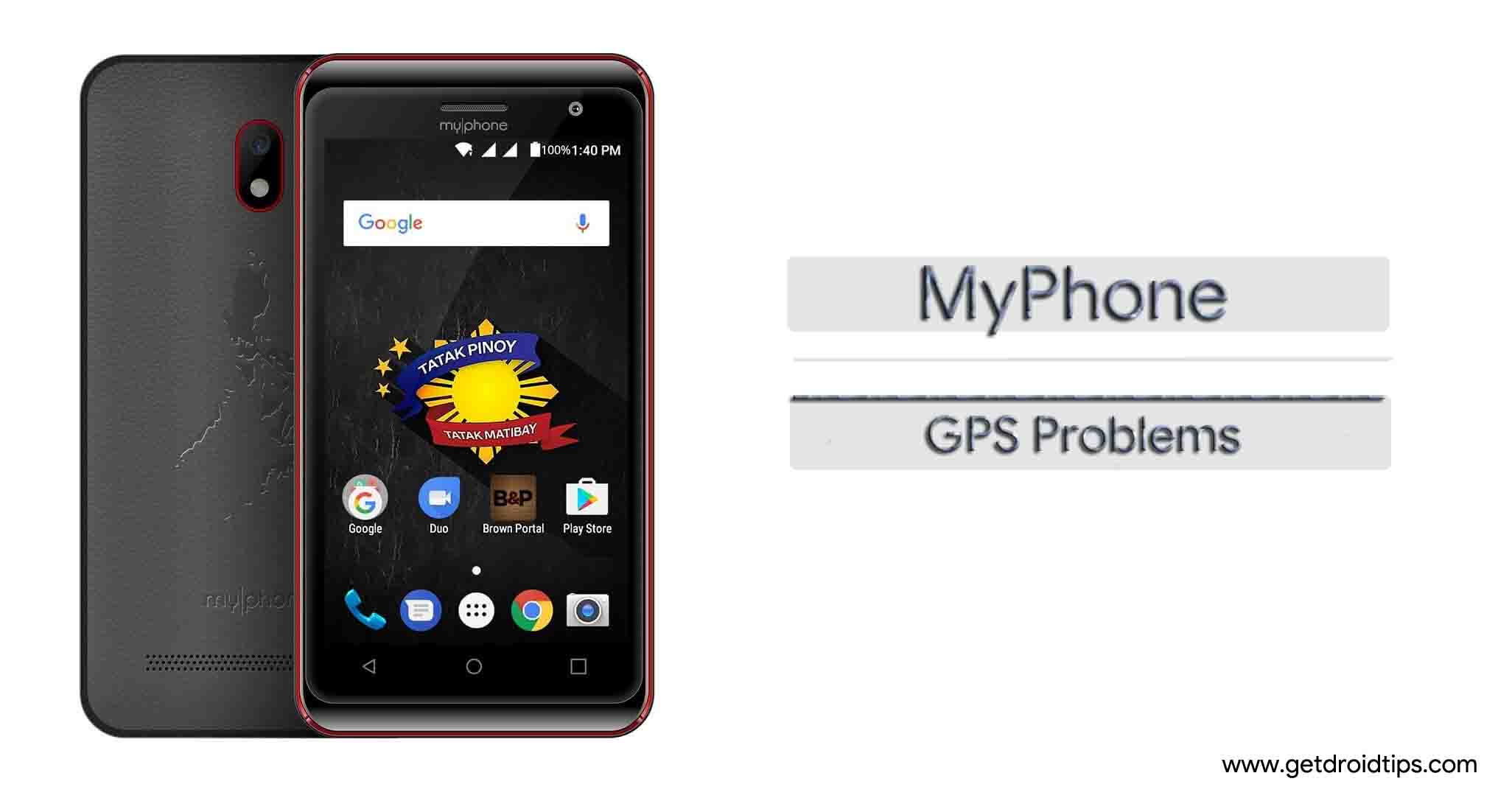 How To Fix MyPhone GPS Problem?
Toggle Your GPS
The simplest and fastest way to solve your problem is to toggle the GPS. By doing this the PGS Will refresh itself. You can turn the GPS On or off from the notifications options of your phone. Swipe down the notifications screen and locate the GPS icon. Turn it off and wait for a minimum of five seconds. Turn On the GPS again and allow it time to check location. Go ahead check if the issue you were facing has been fixed.
Toggle Airplane Mode
Multiple users have found that switching the Airplane mode on your android phone can help to fix GPS problems. The Airplane mode can be toggled easily by accessing the notifications area of your phone and then locating the icon for airplane mode. Click to switch it On and wait for 15-20 seconds before switching Off again. This will enable the network connections to start all over again. This is helpful in correcting simple GPS issues.
Remove the Phone Case
Many times it has been noticed that the phone's case can cause an obstruction for the GPS. It may end up showing the wrong location or it may not work at all. in this scenario try detaching the case of your phone and check if the GPS works fine. If your issue is fixed then you know that the case was the problem. You may like to consider investing in a new case that will not obstruct your phone's GPS. If it convenient for you we would suggest not to use a case at all.
Power Saving Mode
Are you using the Power Saving Mode often? There is a probability that the Power Saving Mode has been enabled which is why the GPS is not working as expected. Power Saving Mode limits some important functions like Wi-Fi and GPS. It may be very helpful when you are trying to conserve battery, but if you are using your GPS, you must switch off Power Saving mode.
In order to do this, scroll down the notifications screen of your phone and click on Power Saving Mode to switch it off in case it is On. Alternatively, you can also check the Settings menu on your phone and click on Battery to check if Power Savings Mode is enabled or disabled.
Restart Your Android Device
Many problems can be fixed with a simple restart of your android phone. Restarting the phone helps refresh its settings and fixes some of the errors that we face with our phones. Simply restart your device and try using the GPS again. You may notice that the GPS problem would have fixed itself with a simple restart. This comes handy at a time when you may be looking for a quick location and you do not have the time for too many troubleshooting steps.
Even after the restart may have fixed the GPS not working issue, these problems may begin to reappear. If you face the same problem again, then you must check the other solutions for a permanent fix.
Tweak the GPS Settings
The GPS settings of your phone can help a lot in the configuring of your location. Your GPS may be using some assistance from other technologies to help achieve a better location. However, this will happen only when you have selected the right settings. To check the GPS settings of your phone follow these steps:
Head to the Settings menu of your device.
Scroll to check for Location and tap on it.
Under Location, tap on Mode.
You will see three different settings available under Mode. Depending on the setting you choose, your GPS can provide the most accurate location. You must choose the option "High Accuracy" because the other two options will limit the manner in which your GPS checks the location.
Update Google Maps
Google maps are your device's key to accurate GPS locations. If you have delayed your updates for a long period of time, there is a probability that the phone's maps are outdated which could be the cause of the errors in identifying locations accurately. Immediately check and update your Android device's Google maps to make sure GPS functions properly.
Tap on the Play Store.
Tap on the three dots that will show a drop-down menu and choose My Apps and Games.
Scroll through the list of your apps and look for Maps.
Tap Update.
On completion of the update, restart your device and allow the GPS to check the location once again. Check if your android phones GPS not working problem has been fixed.
Reset to Factory Settings
Reset your device to Factory Settings to reset the software of your device to the original settings when you first took the device out of the box. Enabling your device to factory settings deletes all data including the apps you have downloaded. Ensure that you create a backup of all important data. You can either back up the data on the Cloud or you can transfer it to another device. Your android phone also has the feature to create a backup before you reset to Factory Settings.
Go to the Settings menu of your device
Look for Backup and Reset and tap on it
You can check and uncheck the option to create a backup
Towards the bottom of the screen, you have the option to reset the phone to factory Settings, tap on it.
Resetting the phone will take some time because all the data will be wiped from your phone. Your phone will restart. Once the restart is done, check if your problem is fixed. If the device starts working, then you can restore the backup data and start using the phone as usual.
If the problem continues, then you must take your phone to an expert or visit the manufacturer's outlet. Get the phone checked for physical problems with the antenna of the phone. If your phone is under warranty, the manufacturer may also be able to replace it if the antenna is causing a problem.
There may be times your device starts playing up when it comes to GPS and location, luckily it is pretty easy to fix in most cases. We hope, with this advice, your problems will be solved. There is nothing more annoying than trying to use your GPS and it does not work properly. Also, if you want to do the opposite of this article and completely turn off GPS, which can also be done.