In the year 2019, you can't imagine your life without a smartphone. The main fact is that we're now so much dependant on technology or smartphones. Every month, plenty of new smartphones are launching with new features. There is ridiculous competition between the products of a single brand. This year, we have seen some of the biggest smartphone launches in the market.
Meanwhile, the Chinese smartphone maker OnePlus also released two new smartphones called the OnePlus 7 and the OnePlus 7 Pro. If you're planning to buy the flagship-killer variant OnePlus 7 Pro, you may notice the flickering screen issue rarely. Here is the guide you should read on How to fix OnePlus 7 Pro screen flickering issue.
Also Read: How to Enable Developer Options and USB Debugging on OnePlus 7 Pro
The device comes with a QHD+ Fluid AMOLED curved edges 6.7-inch display. The display also features a 90Hz refresh rate, and the size is quite prominent in terms of the bezel-less design. That means if you don't use it carefully or there is any manufacturing fault on your device, you should try to fix that issue first. Hardware Acceleration is a common cause of a flickering screen in most cases. With the hardware acceleration, the device screen may be unable to handle the graphical performance.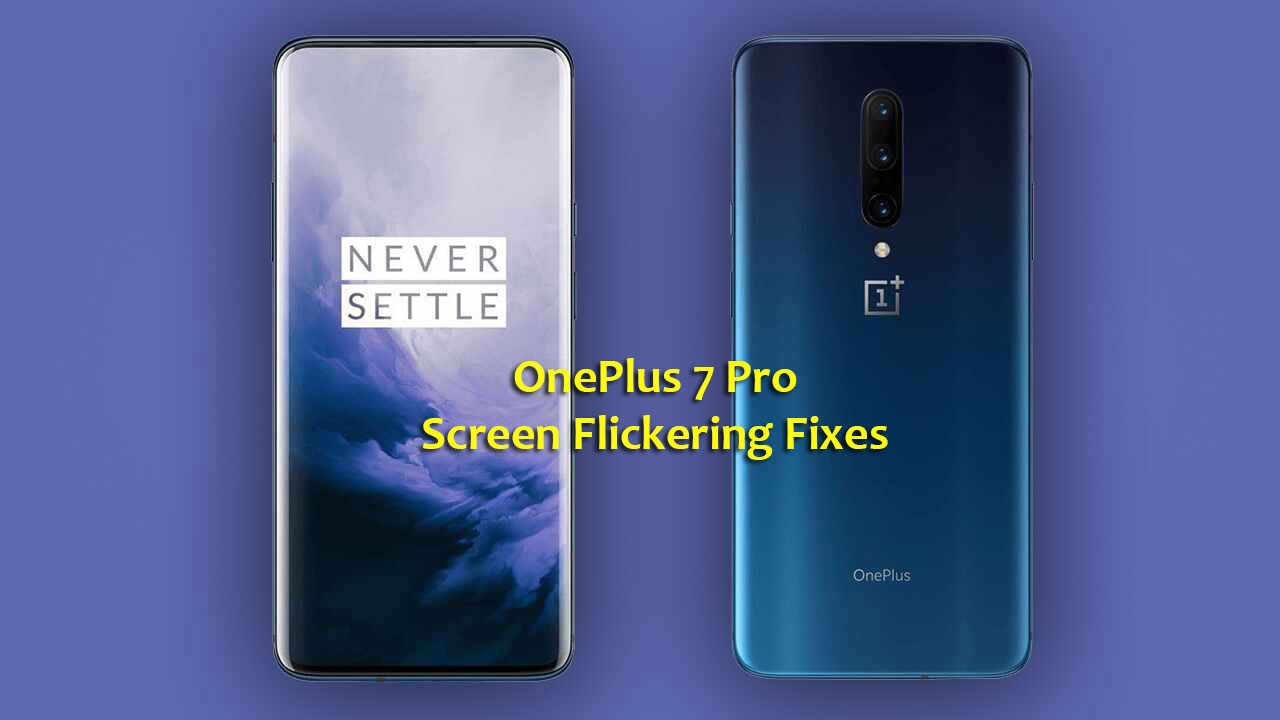 OnePlus smartphones are unique and recognized by users and reviewers all over the world. OnePlus devices are known for the flagship killer affordable smartphones. It offers better hardware, a clean, fast, and polished custom skin called OxygenOS, stable updates frequently, active forum members, etc. Even OnePlus releases device kernel source codes for the Custom ROM developers to quickly build third-party AOSP based ROMs.
But before buying that, let's take a look at the screen flickering issues which you may face and steps to fix these:
OnePlus 7 Pro Screen Flickering Issue and Fixes:
First, if you're facing any screen flickering issue or touch responsiveness issue, then clean the screen of your OnePlus 7 Pro quite gently. Sometimes, our sweat or water splashes or oily particles can prevent touch sensitivity. That should be cleaned.
Turn Off the screen sharing option if it's enabled and check whether this helps you to solve the problem or not.
The display sensors on your phone may have any problem with the connection. Try to fix that issue by going to the nearest service center.
Sometimes, your device screen is internally damaged at the time of packaging or shipping or by you via dropping on the floor or hard surface mistakenly. Check that as well.
Any third-party installed app that blocks your system in your phone may cause these types of weird issues.
Check and make sure that your device has enough free internal storage.
Don't overcharge your device daily. It may cause the flickering screen issue many times.
If you have recently installed a screen protector or glass protector on your OnePlus 7 Pro, make sure to remove that protector and check.
One of the significant screen flickering issues comes from the screen panel or hardware of the phone. It would help if you went to the nearest service center.
Do a restart and check if the issue solves or not. Otherwise, take a device backup and perform a factory reset of your device.
Turn off the screen saver mode for once to check out the issue is solved or not.
I hope this guide will help you if in case you face a flickering screen issue.