Nowadays, cameras have become one of the most important features of any smartphone. Now, each and every user prefers good camera specs and picture quality even from a budget or low-end smartphone. There are both needs and craze available on smartphone cameras. Meanwhile, if we're talking about the better smartphone cameras and don't talk about the OnePlus device cameras, then this article won't be worth it. But sometimes, some of the users may get some camera errors as well. Here is the guide on How to fix the OnePlus 7 Pro, Unfortunately, the Camera has stopped the error.
Also Read: How to Fix overheating issue on OnePlus 7 Pro
That does not happen always with every device. But what will you do if your device camera stopped working? Well, there are plenty of OnePlus users who have gone through this error previously. That doesn't mean OnePlus devices are not good or cameras are bad. Genuinely, the OnePlus devices and their camera features are some of the best cameras in an Android smartphone. Still, sometimes you may get some camera errors due to hardware or software issues.
Also Read: How to Enable VoLTE and VoWiFi on Any OnePlus Devices
Steps to Fix OnePlus 7 Pro, "Unfortunately, Camera has stopped" Error
It's worth mentioning that OnePlus devices are great and offer value for money specifications and features. Meanwhile, the OnePlus company and forums are quite active and listen to their customers very well. They are one of the Android smartphone OEMs that offer faster and more frequent security patches and Android updates. Here are the possible reasons and steps to fix the OnePlus 7 Pro, Unfortunately, the Camera has stopped error (if any).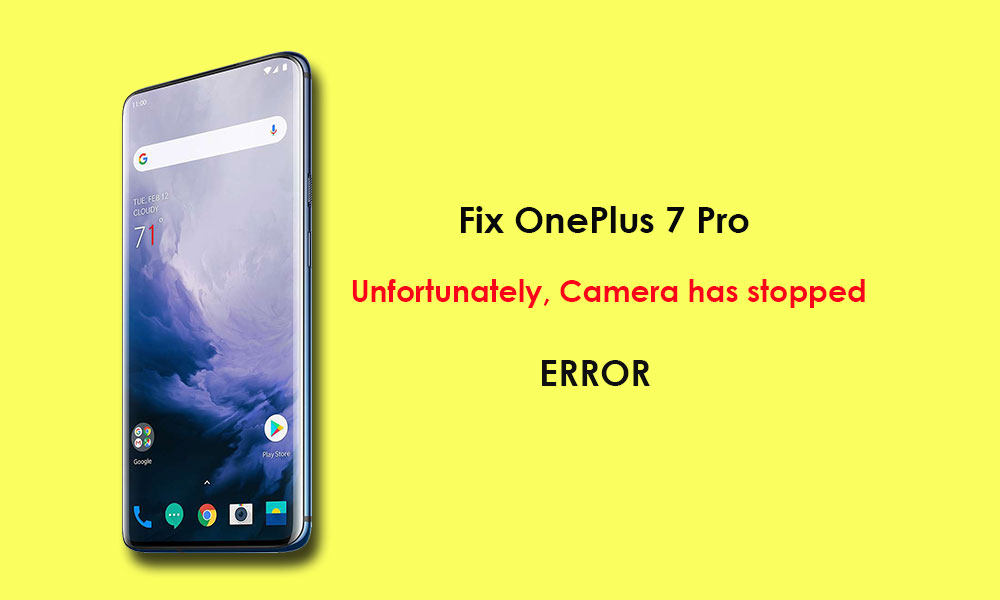 01. Reboot Camera App
It's quite possible that you can get the "Unfortunately, Camera has stopped" Error on your OnePlus 7 Pro handset if you're using the camera app for longer. Therefore, it's better to give a rest to the camera app for a few seconds by exiting the app. Clear the camera app running from the background and then open and use it.
This solution may work in some cases. If the error occurs again then try the next step.
02. Restart your Phone
Restarting your OnePlus device is important and the second troubleshooting step in this case. "Unfortunately, Camera has stopped" on the OnePlus 7/7 Pro error can be fixed by rebooting your device. You need to manually restart it.
Turn off your OnePlus device. (Press and hold Power button)
Then press and hold the Power Button again to reboot.
03. Reset Camera Settings (OnePlus 7 Pro, Unfortunately, Camera has stopped)
In most cases, the unusual camera settings seem to be the reason behind the error. It can be fixed just by clearing the cache and data. Your photos or videos won't be deleted. To reset settings of Camera App:
Go to the device camera application.
Open the Camera Settings > Scroll down below to see an option called Reset to default.
Tap on it and proceed for camera settings reset.
04. Clear the Cache and Data of Camera/Gallery App
Sometimes, you may get this error when there is a problem in your device Camera/Gallery app. Try to clear the cache and data to fix this issue:
Go to the Device Setting > Go to Application Setting.
Navigate to All the apps > Find the Gallery > Clear Cache and Data.
Once you've cleared everything. Next, you need to tap on Force Stop the application.
Then restart your device and try to open the camera app.
Must Read: Common OnePlus 7 Problems and Fixes – Wi-Fi, Bluetooth, Camera, SIM, and More
05. Use Safe Mode to fix OnePlus 7 Pro, Unfortunately, Camera has stopped
If any of the above-mentioned methods do not work for your device, try to boot your device into safe mode.
Switch off your OnePlus 7 Pro device.
Press and hold the Power Button until the Android logo appears.
Now, quickly release your finger from the Power Button and press + hold the Volume Up and Volume Down Buttons together for a few seconds.
Your OnePlus device will boot into Safe Mode easily.
You can now open and check the camera app whether it's working or not.
If you still face the error then you can try the last possible solution that is Factory Reset and Software Update. It will definitely fix the error.
06. Reset and Update to the Latest Software Version
Finally, you can try to update your device to the latest firmware version. This may fix your Oneplus 7 Pro randomly rebooting issue. But before updating your device, you should factory reset your device for once.
Go to the Settings > tap on Backup & reset.
Tap on Back up my data and choose an option.
Tap on Factory data reset.
Enable Erase internal storage option.
Tap on Reset Phone.
Tap on Erase Everything.
All data and settings saved on the OnePlus 7 Pro will be deleted.
Your device will automatically reset and reboot.
Then update your device to the latest version.
Hope that this guide is clear to you and will help you whenever needed. Feel free to comment down below.