Xiaomi is a Chinese brand which has become one of the fastest growing smartphone brands in India with its sales skyrocketing every quarter. It is mainly because of attempts that the brand made to include high-end and decent specifications packed in a smartphone with a comparatively affordable price tag. Xiaomi Mi is one of the best phone series of Xiaomi which has several different models that suits any and every need of any person. But, the grass is not always greener this side. Although Xiaomi has packed high-end components with comparatively higher specifications, at the end of the day, it is an electronic device which is susceptible to issues like Xiaomi Mi Overheating problem.
As soon as people get to try their hands of Xiaomi Mi phones, they upload their reviews on forum and websites which may be positive or negative. We analyzed several forums and found out that Xiaomi Mi is susceptible to overheating which is something that must be fixed at the earlier to prevent any physical damage to any component in the smartphone or the handset itself. But don't worry if your phone is overheats at times, it is possible that powerful processor and RAM configuration that racks up to 8GB of RAM memory that process data quicker and that is what often causes overheating. But the issue is not confined to these two components, there are plenty of other reasons why your phone might be overheating. This extract will guide you to prevent and solve overheating problem assuming that it is a software issue, however, any liquid or physical damage might need professional's help.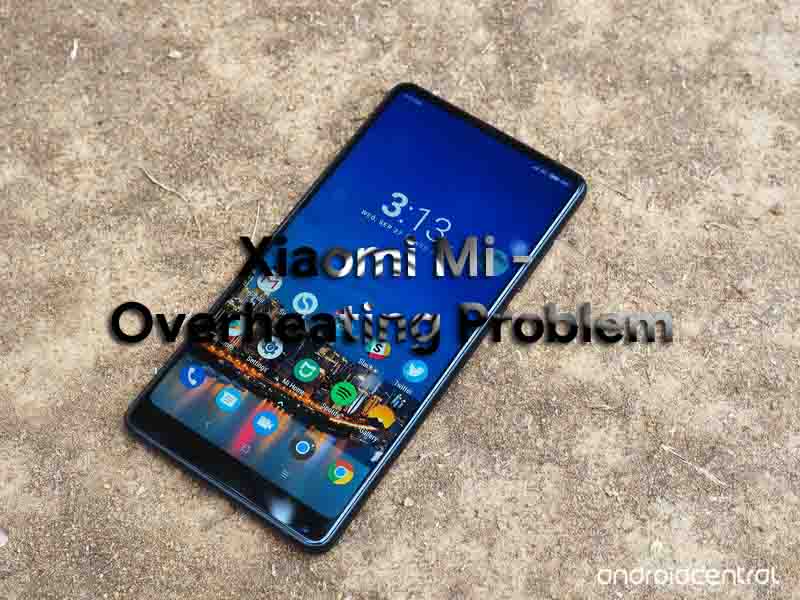 Method 01: Stop Using It For A While
Overheating is often caused due to excess background processes as well as apps that run in the foreground that pull the processors and RAM to its limits. It can be because of games that require the higher input of graphics or videos that requires higher bandwidth for playback can suck the power from the phone as well. Usually, this won't lead to the overheating problem but there is always an exception. When you learn that the phone is heating up, close the apps that you were accessing and keep the phone idle on the table for few minutes. As soon as the processes and usage decrease, the phone's temperature must restore to its ideal temperature in 10 to 15 minutes. You can also combine this method with various other methods to bring down the core temperature of the phone, battery, and the processor to its ideal temperature and prevent overheating.
Method 02: Keep It Away From Direct Heat
Okay, raise your hands if you don't know this method. Your smartphone is made up of various elements including metal, plastic, and alloy which are a good conductor of heat. This is what will cause them to overheat in case if the users keep it in direct contact with the heat. Sun is not the only source of heat, it can also be fire, light bulb or any other light source that can hurdle the performance of the phone as well as increases the risks of physical damage to the components.
Method 03: Stop Using Phone While Charging
It is nothing but common sense that you shouldn't use your phone when it is plugged into the power outlet. There are a number of things that occur when you do so that triggers a number of outputs. First of all, the battery is charging up but with the constant use even when it is trying to charge the battery, it will put a lot of stress on the device. Thus, it is often recommended by top brands to refrain using the phone while it is charging. Moreover, with dash charging options, it takes not more than one or 1½ hours for the battery to charge to its maximum. Until the battery charges, you can have a good time with the family or friends or enjoy doing what you like.
Method 04: Remove Phone's Case
Smartphones are really compact devices that have multiple components running simultaneously to provide a seamless user interface. Usually, the phone is ventilated with air passed through the charging port or any other slots which keeps the internal temperature in check. But when the system is working tirelessly for few hours or when the ventilated isn't as per required, the temperature begins to build up heating the internal parts of the system. Since most of the parts are made of a good conductor of heat, this is translated to the outer panel where you can sense its rising temperature. Phone cases are often one of the culprits that cause blockage in the cooling mechanism thus, the system gets heated over its permissible limit i.e. it gets overheated. The solution is simple. Remove the cover and keep the phone aside for 10 to 15 minutes if not more, that will be enough to decrease the temperature.
Method 05: Kill Background Apps
Processors, RAM, and ROM and other required components combined work simultaneously. When more apps are running in the background, it consumes more battery life as well as processing power. It means that due to increase in a number of apps running in the system, the processor is forced to process more data and that is what contributes towards more heat. It may or may not cause a problem for now but it continues to heat up, in the long run, it will surely damage the physical component. Therefore, avoid using excessive apps that required and kill those apps that you don't require at the moment. Go to 'Settings > Apps > Running' and then, check out the list of runnings apps and services. Now tap on the button with the title 'Stop'.
Method 06: Uninstall Bloatware and Unwanted Apps
Google Play store has thousands of apps to download. It has become easier for Xiaomi Mi users since their smartphones have greater storage memory and RAM to handle multiple apps at once. The first type of apps that are useless is some bloatware which are apps that are pre-installed and cannot be deleted. You need to root your phone to remove these apps.
Another type of apps is those which are 'unwanted'. These are basically easy to install, use and uninstall apps. But there is a catch. Since smartphones have a large memory to store multiples apps at once, people have become careless about the apps they install. These are unwanted apps that you never use or you'd never use in future but still, they are installed on the phone. Even if these apps aren't active, it can still take a chunk of the battery life as well as storage memory on your phone which will eventually increase the processing and thereby, heat up the system eventually. A quick fix is to go to 'Settings > Apps > Downloaded' and check out the apps that are installed. Simply scroll and press on those which you don't need and click on 'Uninstall' button and it's done.
Method 07: Use Third-party App To Subdue Rising Temperature
Now that Google Play Store has thousands of apps, it is no surprise that there will be an app that controls the temperature of the system as well. For instance, Clean Master is an all-rounder app that cleanup junk files from your phone, boost it, check it for antivirus, and then, there is a feature called 'CPU Cooler'. The app is easy to use where you can click on the Cooler and there goes the magic. The app will initiate its cooling mechanism as it efficiently reduces 2 to 3-degrees Celcius making the system cooler.
First, go to 'Google Play Store' and type 'Clean Master' and press the 'Install' button.
Now, accept the permission dialog box and it will initiate download and installation.
Open the app and click on CPU Cooler.
The app will automatically detect the current temperature and then, take necessary steps to cool it down.
Method 08: Tweak into Display & Settings
There are plenty of settings that come with the display and other features which can put stress on the device and heat it up eventually in the process. Here is a short list of features that you can tweak to increase battery life and prevent overheating.
1. Turn Off WiFi when not needed.
2. Turn Off Bluetooth when not required.
3. Change the brightness settings to fit the ambiance and requirement.
4. Turn On Airplane Mode where you know that network is not possible like an airplane.
5. Avoid using live wallpapers and widget that take a massive chunk of your battery life.
Method 09: Update Firmware & Apps
Many times, outdated apps and firmware can develop bugs that are not at all healthy for your device. Android O.S. allows the users to install updates for all the apps installed as well as the firmware available via OTA to stay bug-free and optimized at all time.
To update apps, go to Google Play Store
Open the option 'Apps and Games' available on the left side of the screen.
Click on update all or tick apps individually that you want to update.
To update the firmware, go to 'Settings' on your device
Now, scroll to the bottom of the page and click on 'About Phone'.
Press the option 'Software Updates' that will search and show results on available updates via OTA.
Click on the option is available to download and install it.
Method 10: Avoid Other Chargers
If you often experience overheating when you use the duplicate charger, then the charger you are using is at fault. Many smartphones do have an epiphany towards their own charger which is of equivalent voltage. When you use any other charger, the voltage can be different and it may heat up the battery when charging. This is something you must refrain since it will heat up the phone as well as its lithium-ion battery. This can be a bigger blow to your pocket if not stopped right away. Always use original charger that you got when you purchased the phone.
Method 11: Perform complete Factory Reset.
Finally, the last thing you can do with your phone to stop it from overheating is to perform a factory reset but only if there is no other way around. Hard Reset or Factory Data Reset (FDR) will erase all the data, contacts, photos, passwords, apps, videos, audio, etc permanently.
Hard Reset Xiaomi Mi Phones using Hardware Buttons
To perfect a hard reset on Xiaomi Mi smartphones, switch it off and wait for few minutes.
Now, press Power button plus Volume Up button for 10 to 20 seconds.
A Mi logo will appear on the screen, leave the power key for now but hold the other key for a while.
Now, once you are in recovery mail, scroll and select 'wipe data/factory reset' and confirm it to delete everything.
Read More:

Install Xiaomi Mi 5 Android Oreo Firmware [8.3.1

Battery Draining Quickly: How to fix on Redmi 5 Plus

Charge Your Android Phone Safer And Faster [Quick way]!

How To Fix Ulefone Power Button Not Working Problem [Simple Solutions]