If you are a parent, it is difficult to know what your loved one is doing on their smartphone in this fast-growing tech-savvy world. Also, it is tough for parents to take care of their children's online activities in their busy schedules. So, is there any solution available? Of course, the answer is a reliable parental control software, like Wondershare Famisafe, which help keep your kids' online safety, and allows you to set screen time restrictions on their iPhone or Android for a good digital habit.
With features like Real Location Tracking, Web-filter, Explicit content detection and YouTube control, etc. Famisafe is more than a screen time app to know how kids spends their time on a smartphone. So, if you are interested in knowing more about Famisafe, make sure to continue reading this article.

FamiSafe is one of the best parental control software developed by Wondershare. It allows you to keep kids' online safety and limit screen time on their iPhone or Android for a good digital habit, and track their real-time location at any time. You may find various kinds of apps to limit screen time on your Kid's smartphone. But, it's not like FamiSafe that offers a comprehensive solution to every aspect of their life.
How to Limit Screen Time with Famisafe?
Part 1: Creat an Account:
Step 1: Firstly get Famisafe from App Store or Google Play Store, and Famisafe Jr on your kid's;
Step 2: Create an account with your Email address or login into with third-party account;
Step 3: Connect your devices with your kid's with pairing code;
Step 4: Complete the profile setting, such as your kid's name and age. For example, let's say your Kid's name is Robert, and he is 13 years old. After that, follow the necessary steps:
Part 2:
Step 1: Initially, open Famisafe Jr on your kid's phone and allow all the permissions to the Famisafe by hitting the Next button. This will allow all the features of Famisafe to work accordingly.
Step 2: Then, once you grant all the permissions, it will head back to you towards the app where you can select the features on your phone, such as limit screen time, real-time location, geofencing, etc.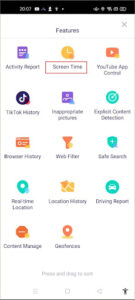 Steps 3: That's it. Now, you can choose to set Time Limits or Restrictions on the usage of apps. Or simply set Smart Schedule on kids' mobile devices to limit their screen time. Once time's up, Famisafe will block chosen apps for different times.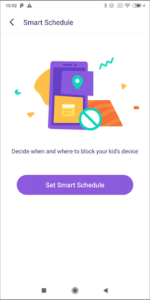 That's it. Now, if you wish to block any particular app for your kid, then you can simply go to the dashboard of Famisafe and choose the features accordingly. Moreover, your kid won't be able to delete the Famisafe from his smartphone as whenever he tries to do so, the app will ask him to enter the credential for that.
Key Features of Famisafe
Wondershare Famisafe has some great features that can help you track your loved one in real-time and set geofencs, set screen time limitation to control your kid's phone usage, detect inappropriate content and block website or app to prevents harmful activities such as cyberbullying, drugs, violence, addiction to social media, and many more. So, let's look at some of Famisafe's best features that help you do all the activities mentioned above.
#1. Screen Time
Using the FamiSafe, you can easily set up a screen time to ensure that your kid won't be able to use his phone beyond that set time. I find this feature really useful as now I have the control to ensure that my Kid is playing games or watching something on his mobile phone for how much time.
#2. YouTube Control
This is one of the most interesting features because other parental control apps generally don't provide this feature, but FamiSafe does. You can now control the YouTube accessibilities of your kid's smartphone. Using this, you'll also restrict the content that your child watches on their YouTube app.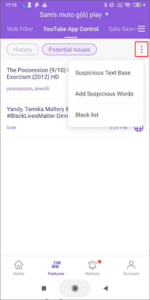 #3. Real-Time Location Tracking and Geofence
You can keep tracking of your kid's smartphone in real-time, as we have already mentioned. Moreover, with Geofence, a notification will be sent to you if your child is reaching or leaving any particular place. For example, suppose you want to see at what time your child enters the school and leaves it. You can simply set Geofence to his phone.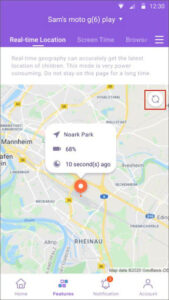 #4. Activity Report
There are chances that your Kid may do some suspicious activities on his phone, such as watching porn, violence, etc. Therefore, to counter that thing, you can simply enable the activity report that will notify you of each activity that your child does with his phone.
#5. Web Filter
This is one of the most valuable features in order to control the web activities of your kid's phone. Web Filter will allow you to filter the search results and exclude the websites you have included in the filters.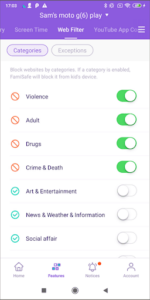 Pricing and availability
Although FamiSafe has some excellent ratings on the Apple Store and PlayStore, but pricing still plays an important role. And you can try it for free before puchasing it. So, let's see the pricing of FamiSafe: $10.99/ month for the monthly subscription, including the Geonection service for one month
For the annual plan, the price is $60.99/year, including the Geonection service for one month, For a quarter plan, it will cost you around $20.99/quarter, including a one-month Geonection service.
Conclusion
Wondershare FamiSafe is currently one of the most reliable parental control applications out there in the market. So, if you are somehow planning to try a parental control app, then go with it. We hope that this guide has helped you. Furthermore, if you want more info, comment below.