iOS on iPhones is many things and one of them is its ability to record screen in high-resolution. Now, many people do use the built-in screen recording feature on any generation of iPhone you can say and usually stop by tapping into the Control Center to stop it. Talking about the screen recording feature, there is a useful tip that you can follow to stop recording from anywhere without tapping into the Control Center.
Once you have turned ON screen recording feature on your iPhone or iPad or iPod Touch, the status bar where the clock and battery and other icons are shown turns red. Tapping on the bar itself will turn off screen recording there itself.
Note that depending upon the iPad or iPhone model you have, the bar could turn red differently as the entire bar could turn red or an icon or a button could turn red tapping which, the iPhone will automatically stop recording the screen.
With that being said, on using the screen recording feature on iPhone X, iPhone XR, iPhone XS Max, iPhone XS, iPhone 11, iPhone 11 Pro and iPhone 11 XR, the clock on the top turns red. You can quickly stop recording simply by tapping on the clock and check out the recorded file in your photo gallery.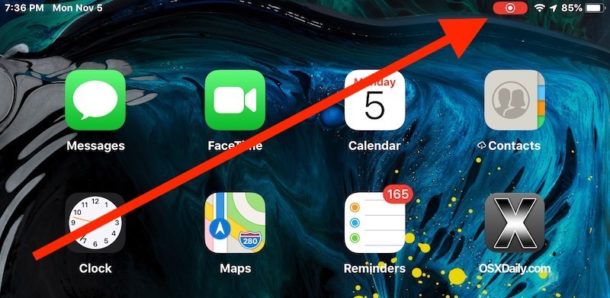 Similarly, when using the screen recording feature on iPod Touch, iPhone 6, iPhone 6s, iPhone SE, iPhone 7, iPhone 7 Plus, iPhone 8 and iPhone 8 Plus, the status bar turns red so you can tap on it to turn off the recording. On the other hand, when using an iPad, a recording button comes live on the status bar that you can click to stop screen recording.
Once you quickly stop screen recording, you'll receive a notification that the file has been saved in the Photos app. Other than that, you can always use the Control Center on iPod Touch, iPad, and iPhone to start and stop recordings.