AirPods are, in my opinion, that one gadget that has truly changed the way our smartphones now built and also it has changed the way we listen to music. The reason for how it has changed the way our smartphones are built is that these days smartphone with a headphone jack is now becoming extinct. More and more manufacturers are ditching the traditional headphone jack and now moving towards the no-headphone jack design. The fact is that the headphone jack on a smartphone just take up very minimal space and hence, there is no point of dropping them. In this post, we will look at how to reset AirPods and what to do if the reset does not help anymore.
But, as it has always happened in the smartphone world, whatever Apple does is taken over by a storm in the Android world and eventually, the major manufacturers also fall into the prey. However, the second point is the one that is I am okay with. Yes, the AirPods has changed the way we listen to Music especially through our smartphones. The market for the Truly Wireless Earbuds has taken a leap, and people are shifting towards either truly wireless earbuds or towards the Bluetooth headsets. This is evident from the fact that now we have Samsung Galaxy Buds, as well as various Truly Wireless Earbuds available in the market.
They are more convenient and also gets rid off the cable and tangle that we used to face with the wired earphones. These AirPods also have various features that are truly great to have and they are a good replacement of the wired earphones. However, being a mechanical gadget and also being a Bluetooth one, it is bound to sometimes do not function as we would like to function. Sometimes, these earbuds won't connect, don't pair, don't turn off, etc. So, in this post, we will look at the solutions to fix the AirPods by resetting it and what to do if that does not work anymore.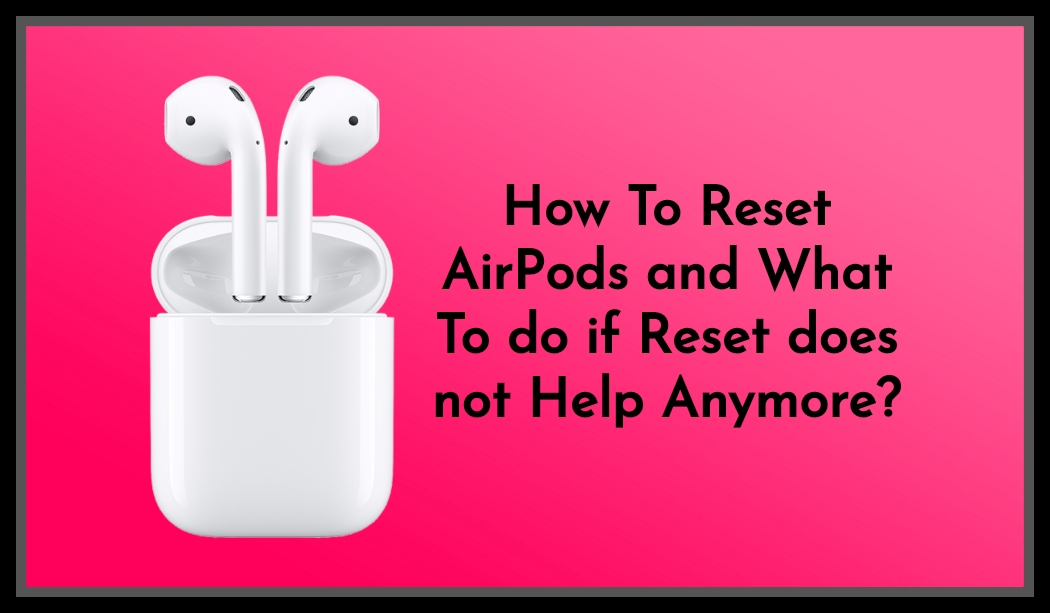 How To Reset your AirPods
Resetting the AirPods will be the first solution to fix that you would turn to whenever your AirPods malfunction it does not perform. However, the AirPods resetting needs the charging case as well. Please, follow the below steps in order to reset the AirPods;
Firstly, if your AirPods are still connected to any of your Apple devices then, you need to unpair them.
On your iPhone, go to Settings > Bluetooth. Find your AirPods and tap the info icon (i) next to the item.
In the next menu, tap on "Ignore this device". Now, confirm that you really want to do this.
Then, put your AirPods in the charging case.
You need to make sure that both the AirPods and the charger itself have a battery level of 100 percent. You can see this on the charging status display of the charging case. Simply open the lid of the charging case.
Now close the lid of the charging case and after 15 seconds, open the lid of the charging case again.
Then, take a look at the status display. It should flash white, and if it doesn't then, press the set-up button on the back of the case until the status indicator flashes white.
Now, to reset your AirPods to Factory Settings, you need to press the set-up button again but, this time for at least 30 seconds.
Make sure that you do not release the button until it flashes yellow several times and then white again. This flashing from yellow to white confirms that the reset has been successful.
After you are done with the resetting, you can then pair your AirPods with your iPhone, Apple Watch, or other Apple devices.
The Reset will Help you in these Cases
Once you reboot your AirPods, it will disconnect the existing connection between your AirPods and other devices. However, after a reset is done, it is, therefore necessary to re-establish the connection. This may be a lot of work, but resetting to factory defaults will help you with many small problems with your wireless headphones, such as the following mentioned below;
Battery Problems
Now, this is a problem that you will face most of the truly wireless earbuds or any pair of headsets that requires charging. Moreover, it is the same case with the Apple AirPods as well. After long usage and wear and tear of these truly wireless earbuds, there can be times when you AirPods will not evenly charge or sometimes won't respond to charging at all. But, to reset them and by checking a few things you make avoid these problems;
If you really don't charge your AirPods properly, you can first check to see if your charging cable is plugged properly into the case or cradle.
If the charging case itself has no more energy, it cannot charge the headphones. So make sure to charge the case timely.
Now, the last resort if none of the above solutions fix that issue, you can try Resetting. After resetting your AirPods, everything will usually work as it should.
Pairing with the iPhone does not work
Pairing can be an issue with truly wireless earbuds and the same is the case with the Apple AirPods. Though the AirPods works flawlessly with any Apple device and you won't face such issue (most of the time) but, being an electronic gadget, there can be times where you are not able to pair your AirPods with the iPhone itself. Moreover, sometimes only one headphone connects and the other one is not able to pair with either the second headphone or your iPhone. Then, in these cases, a Reset will definitely help you to bring everything back to normal.
What To Do If a Reset Does Not Help Anymore?
If the last resort or the solution for fixing any malfunction with the AirPods i.e. Reset, does not work then, you can perform these fixes and try to make your AirPods work again;
Check the Apps You are Using
The applications that you are suing along with the AirPods can also be a matter of concern and problem. There is a certain application that can easily interfere with the communication or the link between the AirPods or your iPhone. You might have installed certain applications that require Bluetooth to function properly and even though you have not opened that app, in the background, it can cause the interruption and negative impact on your link with AirPods.
To check for such apps on your device is to turn them completely off and one by one check open all the apps and see whether they interrupt with the connection with AirPods or not. However, it is a lengthy process but it will definitely get you the culprit app and you can easily uninstall it to avoid a future mishap.
Note: If an app has a Bluetooth share, it can access the connection even if you're not using the app and haven't even opened it yet. Via Settings > Privacy > Bluetooth Sharing, you can check which apps are allowed to use Bluetooth and, if necessary, use the slider to disable sharing.
Siri Not Responding
Sometimes the voice assistant, Siri, can also go off and won't work as you might intend it to do. There can be several reasons behind it like you might have programmed the double tap to some other function or you might have unintentionally prohibited Siri from turning on when iPhone is locked. However, you can easily check and change both.
To get Siri back on track when you double-tap your AirPods, you need to go to Bluetooth > AirPods on your iPhone in the Preferences menu. Here you can select Siri under Double Tap.
To make sure Siri responds to you even when the iPhone is locked, go to Preferences > Siri & Search. Here enable the option Allow Siri to Lock and set it to green.
Conclusion
So, there you have it from my side in this post. Hope you guys liked the troubleshooting guide on AirPods. Reset probably fixes most of the issues but, if the Reset is not working and solving your problem than you must get it checked and fixed by Apple itself. However, most of the problems and their corresponding solutions are mentioned in this post and in my opinion, you will be good to go if you just go through the solution mentioned in this post. Please let us know in the comments below if you followed any of the above solutions and fixed your issues with your AirPods and also share any issues that you have come across while following the above-mentioned steps or method.