iPhones are considered being the safest and most secured devices when it comes to smartphones. It surely does an outstanding job with your data security and offers some unique features as well. One such feature is 'Find My iPhone'. This feature can be of great help in case you lose your device or if stolen. However, it is surprisingly hard to turn off find my iPhone without a password so that you might need the help of professional tools.
There might be situations where you have bought a second-hand device with 'Find My iPhone' services on, and you are not even aware of its password as well. At such times, your main motive must be about turning off this feature, but the question is – how. Tenorshare 4MeKey can save you from this situation with its new feature, which turns off find my iPhone without password.
Tenorshare 4MeKey is a tool specifically designed to help you deal with such issues without much effort. This software is indeed the perfect solution if you want to turn off your Find My iPhone without a password.
Tenorshare 4MeKey is a complete software package that intends to offer a highly considerable iCloud unlock service. It allows you to turn off the Find My iPhone activation lock without the need for a password. The application basically detects the loophole in the system and bypasses it to turn off the feature.
The Tenorshare team has got more than 10 years of experience, during which they have earned millions of satisfied clients. More importantly, they specialize in developing such applications and solving the user's difficulties.
Salient Features
The 4MeKey application from Tenorshare offers some astounding features that let you remove your iCloud Activation Lock and do a lot more stuff effortlessly and without any potential risk. Here are some of the features that you would love to know about this software.
Faster removal of iCloud activation lock without any password or AppleID.

Turn off 'Find my iPhone/ iPad/ iPod touch feature without a password.

Seamless unlocking of the iCloud account anytime and anywhere in case you forgot the password or bought a device with iCloud locked.

Log in to the App Store with a new Apple ID after bypassing your iOS device's activation lock.

Fully compatible with iPhone 5S to iPhone X with iOS 12 – 14. (iOS 14 for iPhone 6s to iPhone X and iPhone SE1), iPad 5/6/7, iPad Mini 4, iPad Air 2, iPad Pro 1, iPad Pro 2, and iPod Touch 7.
How To Turn Off Find My iPhone Without Password
Now, let's come to our main subject and see how we can actually turn off Find My iPhone without password.
Download and install Tenorshare 4MeKey application on your Windows device or Mac.




Launch the application on your device and select the

'Turn Off Find My iPhone'

option.

Connect your iPhone to your Windows PC or Mac.




Once the software has recognized your iPhone, it is time to jailbreak your device.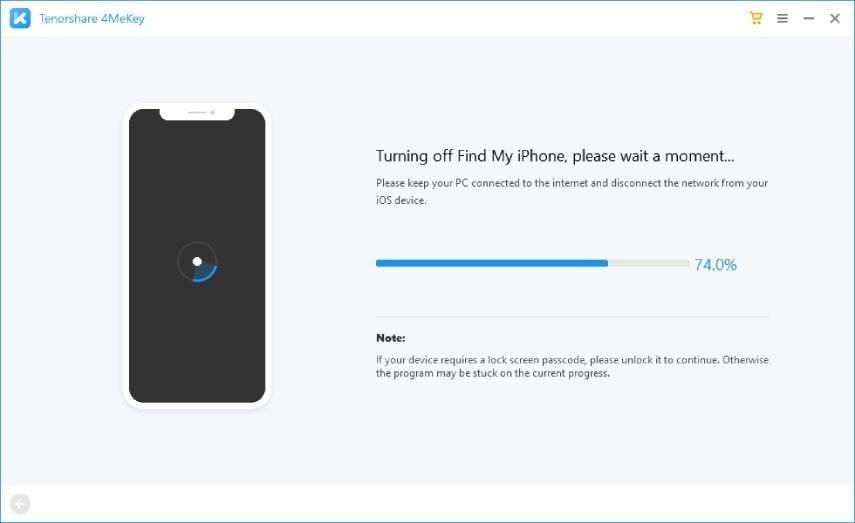 Keep your phone connected to your PC throughout the jailbreak process.

Once it is done, confirm all your device information.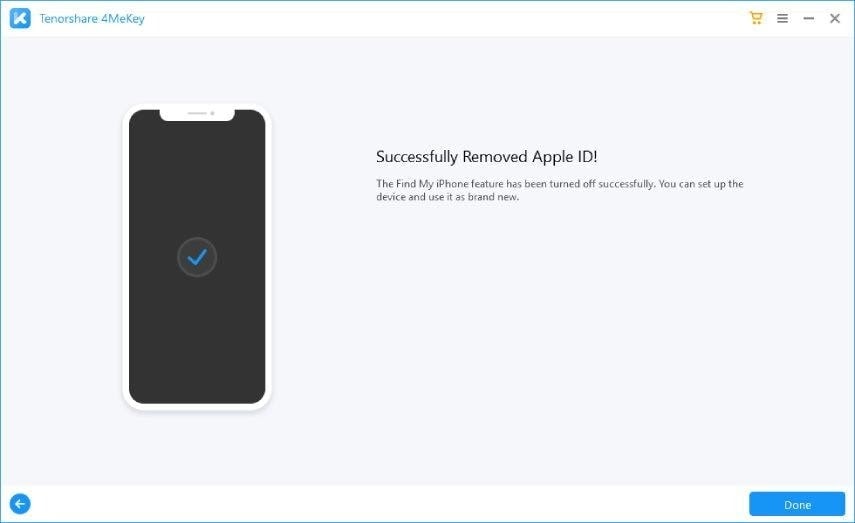 The Tenorshare 4MeKey software will then turn off the Find My iPhone option on your iPhone.
Note that the turning off 'Find My iPhone/ iPad/ iPod' feature is currently available for iPhone 6S – iPhone X with iOS 13 and 14 only. Also, the 4MeKey software also lets you sign out of your iCloud account quickly and offers 100% successful removal of AppleID from your iPhone/ iPad/ iPod touch without even the previous owner's consent.
Conclusion
So, it's that easy, after all. After performing the mentioned steps, you will be able to easily turn off the Find My iPhone feature. However, remember that once the process is complete, your device will run back to the factory reset mode, and the activation lock on the device won't show up anytime later. Tenorshare 4MeKey application is an expert in finding loopholes and working on them to solve your problems. I hope this will help you deal with your problem. For more queries, reach out to us anytime; we will be delighted to help you.