Microsoft Teams is a great software for office employees to work collaboratively on a single project. And with the motto of work from home is getting more popular, many offline work processes are now shifted to Microsoft office. However, It is very important to update Microsoft Teams from time to time. Because if not so, then most of the work will become unsupportive, and you will not be able to work on group projects in a seamless manner. Although most of the updates are installed directly if you turned n the automatic update settings if not so, we are here to guide you on how to update Microsoft teams on both desktop and mobile clients.
The great part about Microsoft Teams is that it works on both desktops as well as mobile clients. Which gives employees enough freedom to work wherever they can. Reviews, editing docs, and project files are getting easier and easier with time. However, you need to update your Microsoft Teams client in order to stay up to date with the latest workflow in your company project environment.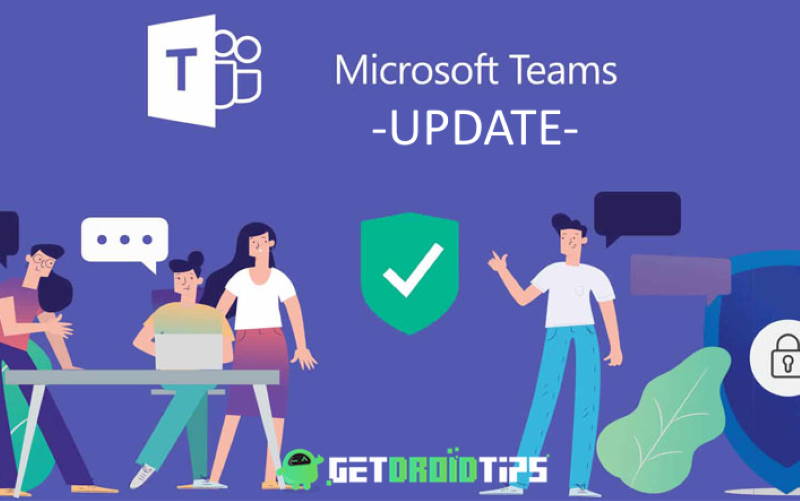 What is Microsoft Teams?
Microsoft Team is a collaboration and video chat platform. It can connect to different users for video conferencing, and you can also work in real-time. Its collaboration features enable it the most flexible application for group works in real-time. The service is also available for Android, iOS, and macOS devices. You can connect up to a maximum of ten people.
As Microsoft Team is an app of Office 365, it also has Subscription plans; you can purchase those plans to remove the limitations. Team also has a channel feature where you can add a video offline, and other users can access it later. The application is very useful for Education purposes. Therefore it also has an Education feature where students can give rates, and teachers can give students a grade.
How to Update Microsoft Teams in Android
In Android, there is nothing complicated. To update your apps, you can just visit the Google Play Store app on your smartphone. If any new major update arrives, you will see the notification for the seam in your Microsoft Teams update notification. However, you can also update it manually by following this method.
Here you go, just click on the three lines on the top left corner, and the menu opens.
Now click on all apps and updates, and you can find the Teams app just click on the update button.
Note:- Another way to update is just to search for Teams in Google Play Store and then click on the update button.
How to Update Microsoft Teams in iOS
To update Teams in iOS, you have to open the Apple App Store. The process is pretty much the same as Android devices.
Click on the Updates button on the lower right side.
Then Teams app would be there click on that.
Then you have to click on the update button.
You can also enable Apple automatic updates by going to Settings>iTunes & App Store>App Updates and turn on automatic updates.
How to Update Microsoft Teams in Windows
By default, Microsoft Team updates automatically when there is a new update. You just had to have a stable internet connection. Team updates when the window is updated or Office 365 updates; it can only update itself, but if for whatever reason, if your Team is not updated. Then you will have to manually check for updates because updates are essential for security and compatibility purposes. To know how to check to update Microsoft Team follow the steps mentioned below.
Click on your User Icon at the lower left of the window, a menu will appear, click on the Check for Updates option.
If there is a new update, then it will automatically download and install the update for you. The information will be displayed on the message bar at the top of the window.
How to Update Microsoft Teams in MacOS
To update teams on a macOS, we need to open the macOS app store.
After opening the store, there are some icons at the top of the window.
Click on the Updates icon, and then another window opens.
There you can find your app and click on the update button next to it.
Note: You can also update all apps at once by clicking on Update all button
Conclusion
Microsoft Team is a great platform that combines chat, video feed, and live-work tools in a single package. However, it is very important to run updates from time to time. Since these updates have security updates and new features fo the software, it becomes very crucial to keep the app updates to enjoy your workflow. I hope now you are able to update your Microsoft Teams software easily. In case of any troubles, you can write me down in the comment box below.