When you are having a conversation with your other half, privacy will constantly be at the back of your mind. There is always this worry that if these conversations end up in the wrong hands. While it isn't an easy task deciphering the database of the world's biggest social media giants, there is always an iota of worry. Considering the complicated relationship between Facebook and privacy, this concern is all the more justified. In this regard, the Facebook Messenger secret conversation should come in handy.
This conversation will forever be end-to-end encrypted and is intended just for you and the person you're talking to. No third-party app or service can get their hands on these conversations. Furthermore, just to be double sure, each user has its own set of unique keys. So you could send your keys to the intended recipient and ask him or her to ensure they are the same keys under your name within their account. The same should be true the other way around.
On that note, here are the complete instructions regarding the Facebook Messenger secret conversation. We will show you how to enable this feature, send messages via it, and delete or make disappearing messages. Furthermore, the steps to match user keys will also be shared. Remember that in this mode of conversation, you could send Messages, Pictures, Stickers, Videos, and Voice recordings. On the other hand, Group messages, Gifs, Voice or video calling, and Payments aren't supported as of now.
Facebook Messenger's Secret Conversations: Everything to Know
As of now, you can start Secret Conversation via the Messenger app on iOS and Android. It isn't available on the Facebook chat or messenger.com. On that note, here are the required steps to enable this feature on the Messenger app:
How to Use Secret Conversation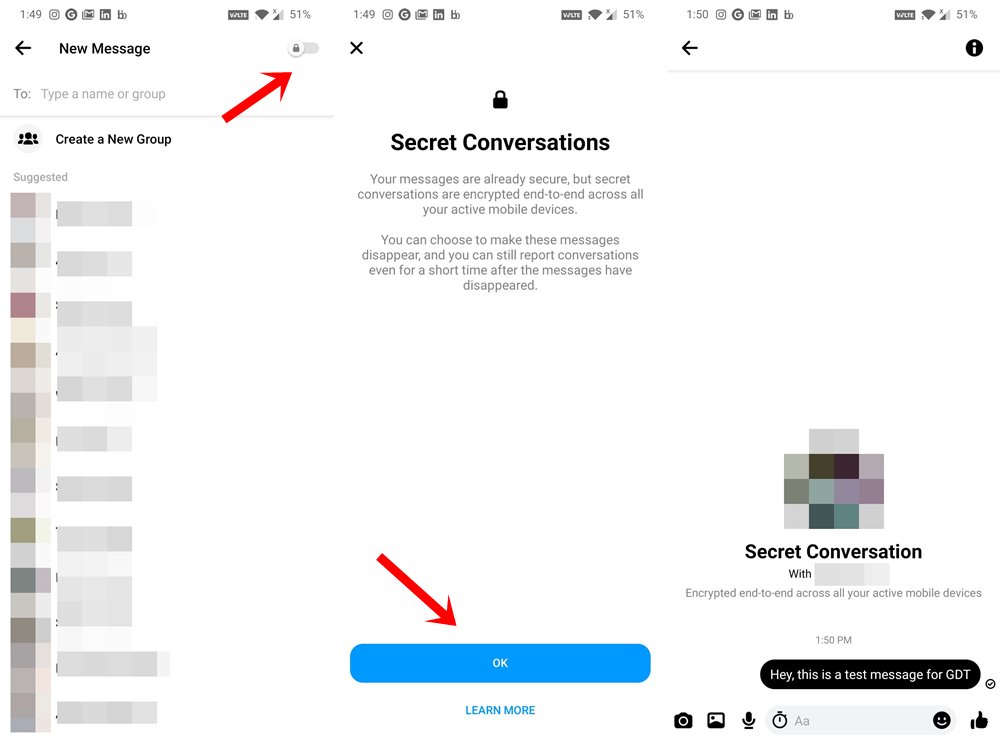 Launch the Messenger app on your device.
Tap on the Pencil icon situated at the top-right and enable the Secret Conversation toggle.
Select the contact with whom you want to start a secret conversation. You will get a welcome screen, tap on OK to proceed ahead.
That's it. You may now start the Secret Conversation with that contact via the Facebook Messenger. Let's now check out the steps to delete messages from this conversation.
Deleting Messages in Secret Conversation in Facebook Messenger
Deleting a message doesn't mean that it will be deleted from your friend's chat as well. It will just remove the message from your conversation. Anyways, if you wish to try it out, then here are the required steps: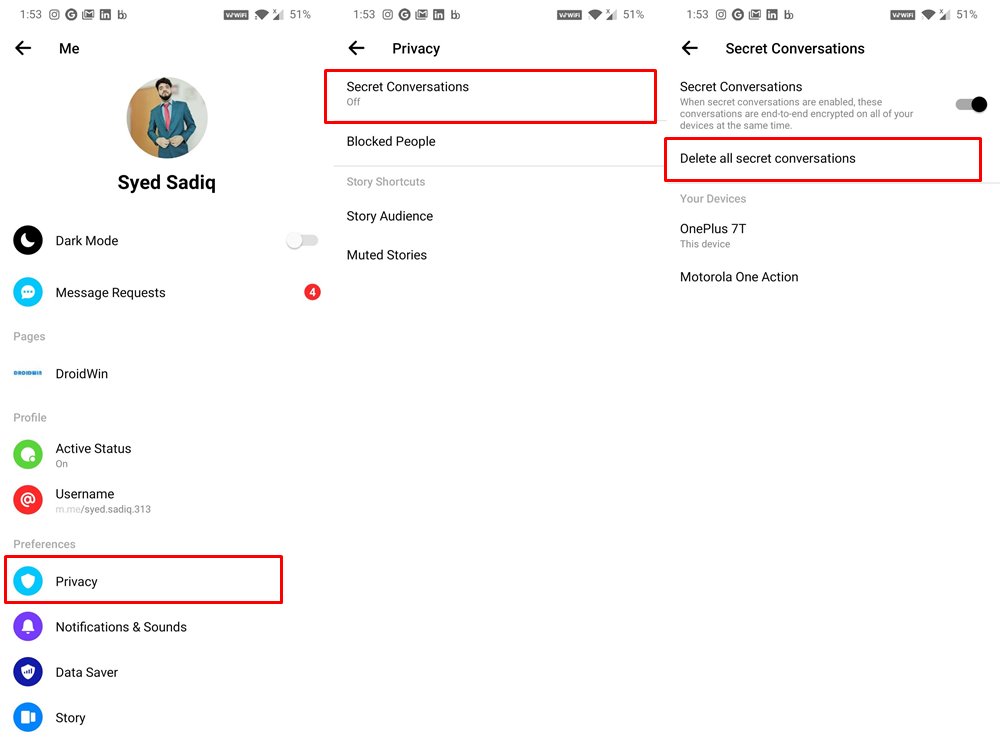 Launch the Messenger app and tap on your Profile situated at the top left.
Within that, tap on Privacy under the Preferences section.
Tap on Secret Conversations followed by Delete all secret conversations.
In the confirmation dialog box that appears, tap on Delete.
While this only delete's the messages on your end, you could also send disappearing messages that will disappear after a specified time period. Here is how to make full use of this feature.
How to Send Disappearing Messages
Do keep in mind that the timer starts once the message has been seen by the recipient and not when you have sent the message. For example, if you have sent a disappearing message with 30 seconds expiration duration, and the recipient opens this message after a couple of days, then the timer will start from the second day only. On that note, here is how to send disappearing messages in Secret Conversations via Facebook Messenger.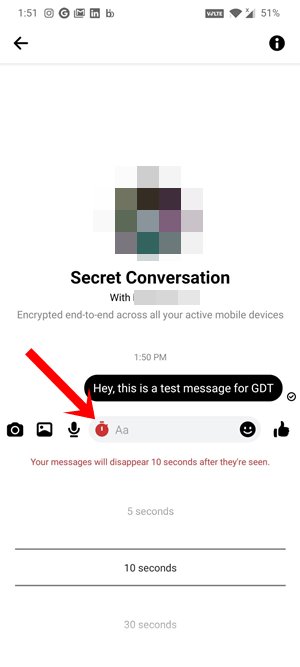 Launch the app, head over to the Secret Conversation screen, and select the desired contact.
Then inside the message typing screen, you will see a red clock on the left, tap on it.
Select the desired time after which the message should disappear and then type and send in your intended message.
How to Verify Encryption
There are a couple of ways to verify that all your messages are indeed encrypted. You could either send your keys to your friend and ask them to verify that key under your username. Or your friend could send their keys and you could then verify that under their username. We would be listing out the instructions for the former: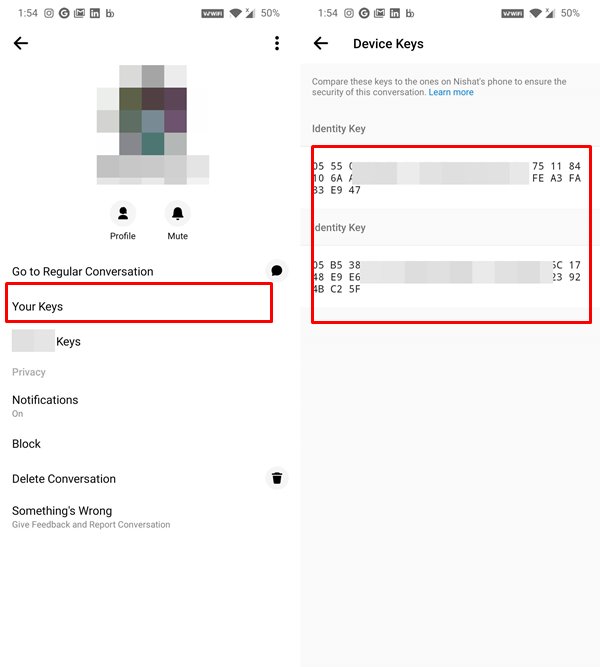 Had over to the contact with whom you are having a secret conversation on Facebook Messenger.
Tap on their profile and then tap on your keys.
Then share this key with your friends via screenshots, etc.
Tell your friend to tap on your profile under secret conversation and then tap on <Your User Name> keys.
Both the keys should match and hence the encryption is verified.
With this, we conclude the guide on the Facebook Messenger Secret Conversation feature. We have outlined the steps to start a secret conversation, delete messages from it, send disappearing messages, and how to reverify the encryption. If you still have any doubts, do let us know in the comments section below. Rounding off, here are some iPhone Tips and Tricks, PC tips and tricks, and Android Tips and Trick that you should check out as well.