Instagram stories are a great way to keep oneself updated about what's going on in some other person's life. People have got more used to this application, and unlike the other social media platforms, people have started displaying their daily life activities through Instagram stories. Besides, what's more, compelling is, it lets you see who is watching your stories and manage your privacy accordingly. But what if you want to look at someone's Instagram stories without letting them know?
Well, we all have such tricky situations sometimes, but to put it in the first place, Instagram doesn't allow you to watch anyone's stories without their consent. And that's where Qoob comes into the play. It is a powerful Instagram viewer and mass downloader application. The app is loaded with some interesting features and allows you to watch Instagram stories anonymously.
So, if you too want to watch other's Instagram Stories without being noticed, Qoob can come in pretty handy unless you want to use a dummy account. In this article, I have mentioned everything about Qoob in detail, how to install it, how to use it, and other important application features.
Salient Features of Qoob
Qoob has undoubtedly come out of the box as an important tool for those who look for constant Instagram updates. People can stay all alert without missing a post or story from their favourite page or person's. Here are some of the insightful features of Qoob that makes it such a unique app:
Instagram Story Viewing & Download

Instagram Photo & Video Download
Automatic New Content Download

Instagram Post Saving

Watch Instagram Story Anonymously

Watch Private Instagram Stories

Download Complete Instagram Accounts in Seconds

Browse Instagram Feed Without Ads
Steps to Installing Qoob Stories
Begin with downloading the application from the official website of Qoob.

Once it is downloaded, run the setup file.

It will start by showing you a welcome screen. Click on the Next button.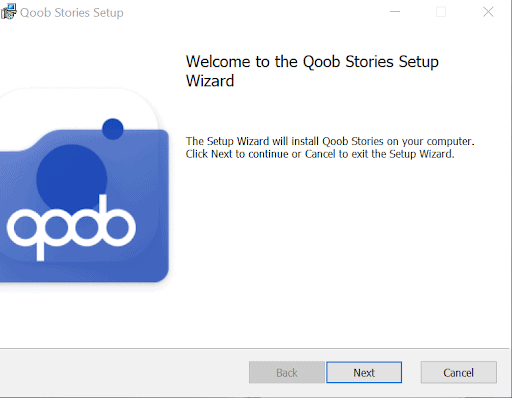 Then, read the User License Agreement, check the box, and click on the Next button.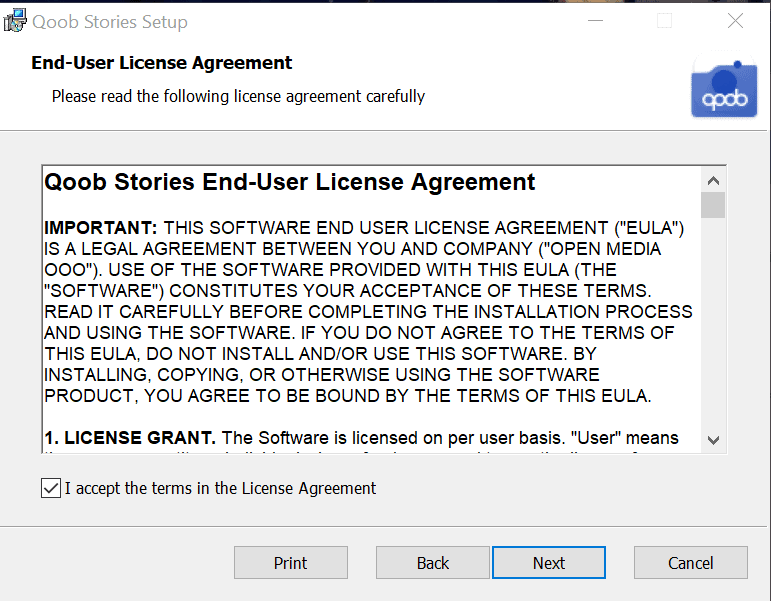 Choose a path or folder where you want to install the application.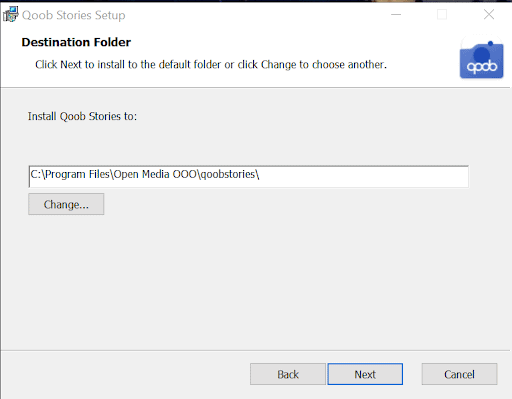 Click on Next.

And finally, click on the Install button to start installing the Qoob app on your system.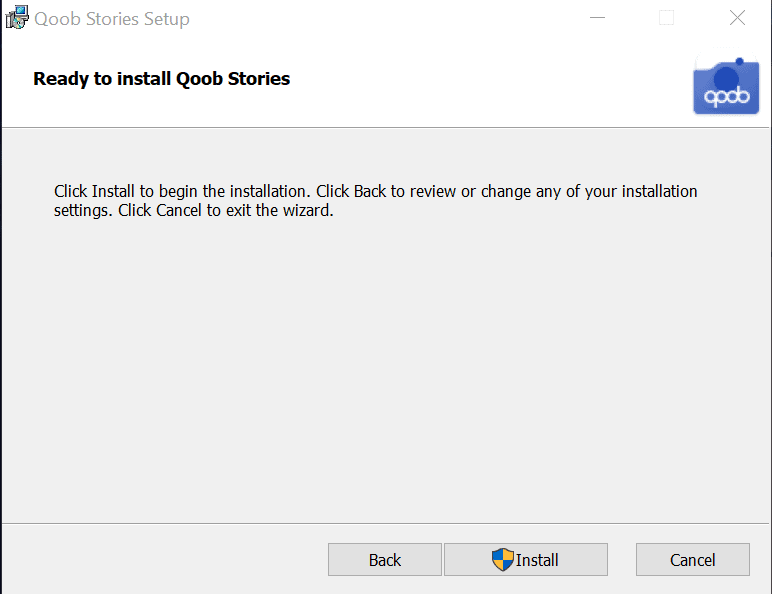 Steps to Watch Instagram Stories Anonymously with Qoob
Once you have installed the application, launch it on your computer.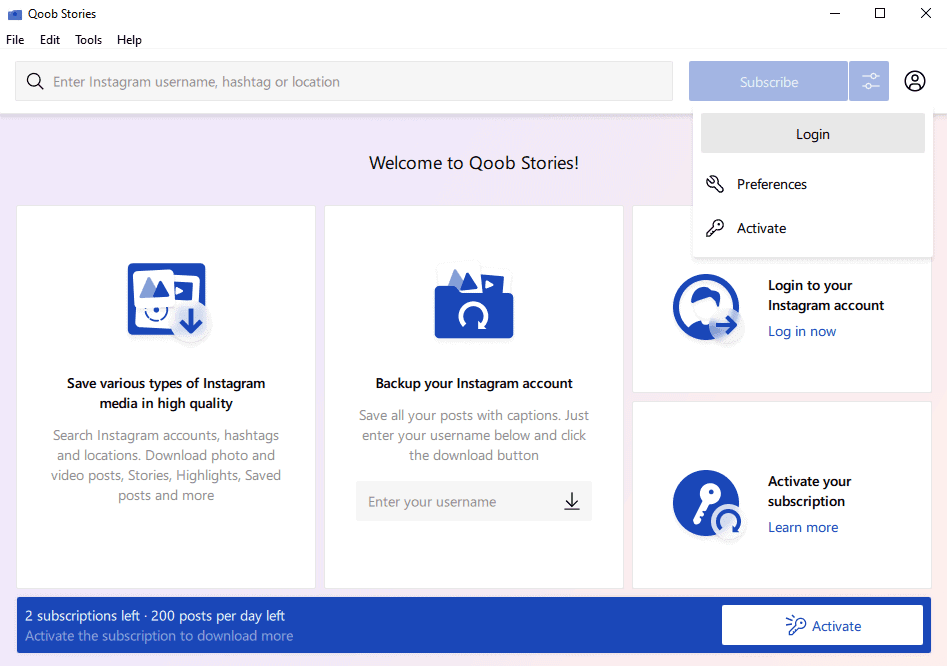 Log in to your Instagram account using your Instagram username and password.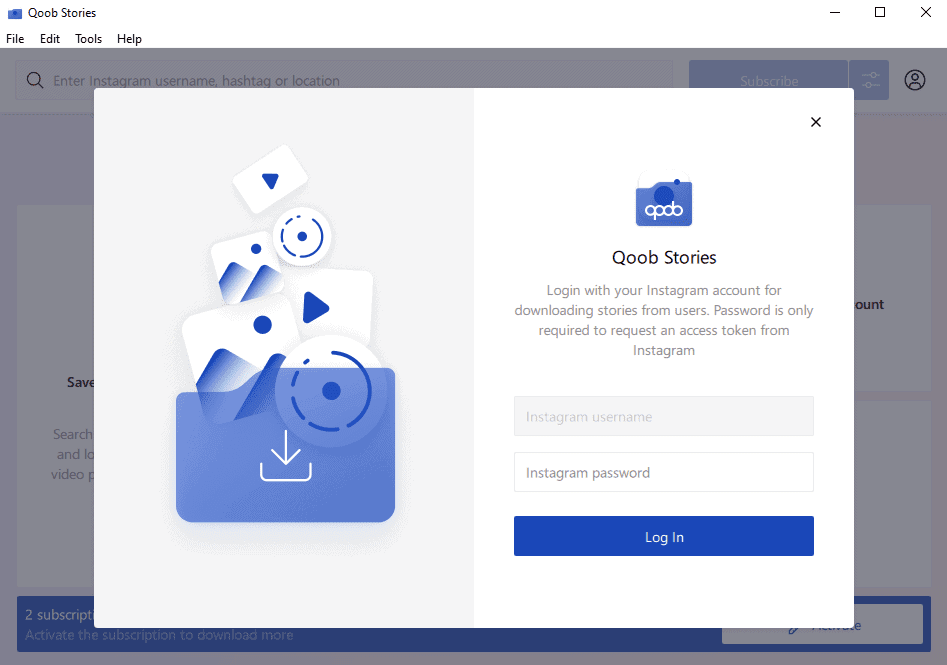 Once you are logged in, type the username of the Instagram account whose stories you want to watch anonymously.

Select the account from the suggestions below.

Now it will display the 'Download Options' window on your screen.

Make sure you check the 'Download Stories' option and click the Subscribe button.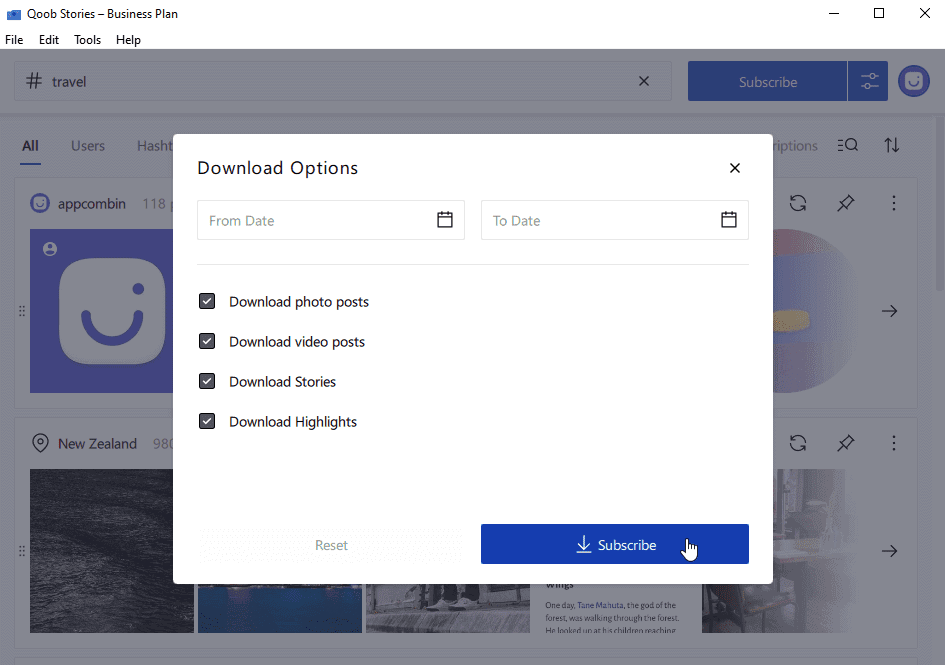 As it finishes the search for the specific accounts, you will be able to see the stories of that Instagram ID anonymously. Moreover, you can refresh your existing searches to look for new updates anytime.
Is Qoob Safe?
This is a thoughtful question anybody would ask if they are concerned about their privacy. Well, Qoob is an extremely safe application. Although it asks you to log in to your Instagram in the application, Qoob does not retrieve your personal data. The log-in is just a part of the procedure to bring you new updates effortlessly.
Conclusion
So, that is all about the Qoob app and how you can watch Instagram stories anonymously using this application. The app features a straightforward and intuitive interface which makes it easier to use. Plus, you can monitor all new updates and activities of any targeted account right from your computer. I hope this article will help you use the application to fulfil your purpose. And you can also use the other options to take leverage of this application to keep yourself updated.