Though things are going south with HTC for a long time now, the company still has some hope to get back its position. This hope is coming in the form of Android 9.0 Pie update for its device the HTC U11. The information about HTC U11 Android Pie Update comes from the trusted Geekbench site. Usually, OEMs test out their devices with a new OS onboard before making it official. Mostly it gets registered on benchmarking websites.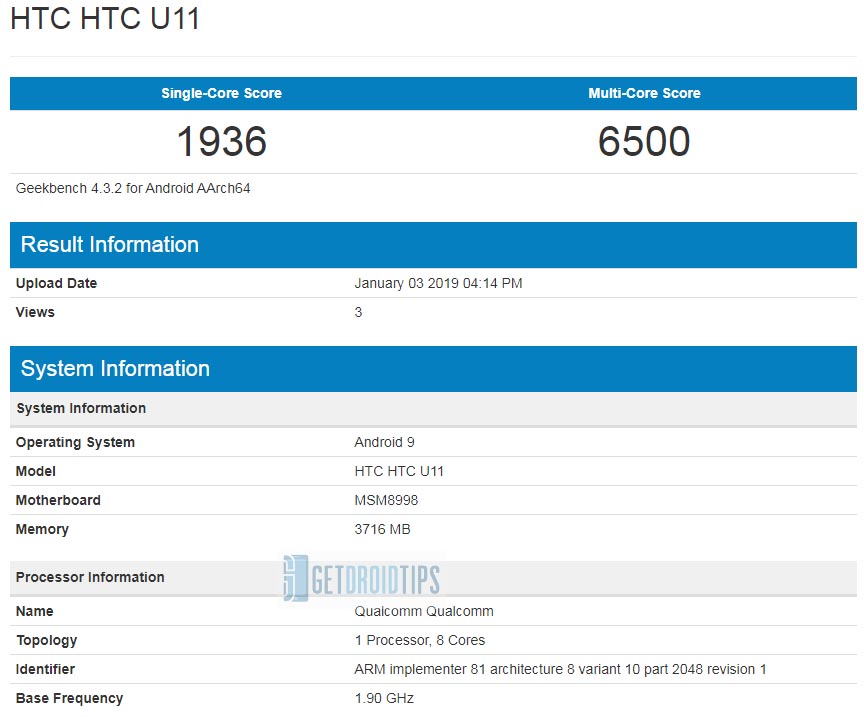 Long back in mid-August 2018, the Taiwanese company declared about rolling out Pie OS. However, the U11 will not be the first device to receive Pie update. Back in November 2018, HTC U11 Life became the first phone from the company to experience the 9th generation of Android OS. The U11 Life is based on project Android One. Naturally, it has the upper hand in enjoying the system upgrade to the Pie OS first. Now, it's the turn of other devices.
With Android Pie, new features will grace the HTC U11. This includes quick Settings UI design, Redesigned volume slider, Advanced Battery, AI Support, improved Adaptive Brightness, Manual theme selection, Digital Wellbeing etc.
This update series may prove positive for the Taiwanese OEM. HTC saw a steady decline in its market from the last few years. A lot of factors contribute to this. HTC is popular for providing sluggish software updates. Now with Android Pie rollout, the company may regain its trust among its followers. Though in this they are slow as well. If we look at Nokia which produced Windows phone similar to HTC, in the early days has come a long way. After coming under HMD Global Nokia dropped some of the coolest and most efficient phones in all categories. Nokia even rolled out Pie in the last quarter of 2018.
However, with HTC the designing was pretty much the similar as its predecessor. There was no breakthrough technology being implemented on the new handsets. Most importantly, though it originates from an Asian manufacturer, it's pricing is exorbitant in Asian sub-continent. In the same time, a lot of other Asian manufacturers began their venture. These companies churn out similar products with better design and at a reasonable price. Of course, the buyer knows where to cut the deal. As Android Pie brings a good deal of revamping to the OS, HTC has the chance to prove the worth of its devices with new system upgrade.
As the HTC U11 Android Pie Update is confirmed, it may roll in early February. After that HTC U12 and U11+ will be in the line to have a slice of Pie for them. We think this process may go well over mid-2019 till all the HTC devices taste the Pie. On a positive note, HTC may fast up the rollout process. So, if you own an HTC U11, get ready to enjoy the tasty Android 9 Pie soon.