Smartphone cameras have evolved very much. There was a time when we used to have a 1.3 MP camera at the back and there was no provision for the front camera or the selfie camera. But, as time progressed and when phones actually became smartphones, we could see the evolution of rear as well as the front cameras. Moreover, we are getting new high-resolution sensors on the smartphone cameras these days that are giving a sort of competition to the digital cameras. With these smartphone cameras, we no longer need to carry those big digital cameras with us.
But, this is the generation of dual, triple or even Penta camera setup. Yes, the Nokia 9 PureView has a Penta camera set-up and it can capture some really breathtaking photos. However, most of the smartphones are now switching to triple camera set-up and even mid-range or some of the budget smartphones are also coming up with triple camera set-up at the rear. A new kind of lens that has become popular is the Time of Flight lens. These lenses are capable of producing some really great depth of field effect on objects and provide a nice DSLR like images. Huawei has been using this camera on many of its smartphones like the Huawei P30 Pro or the Honor View 20.
There is an application called Night Vision/ToF Viewer that lets you see images in the dark like thermal camera using the Time of Flight sensor on your smartphone camera. So let us get straight into the article and know more about the Night Vision/ToF Viewer application;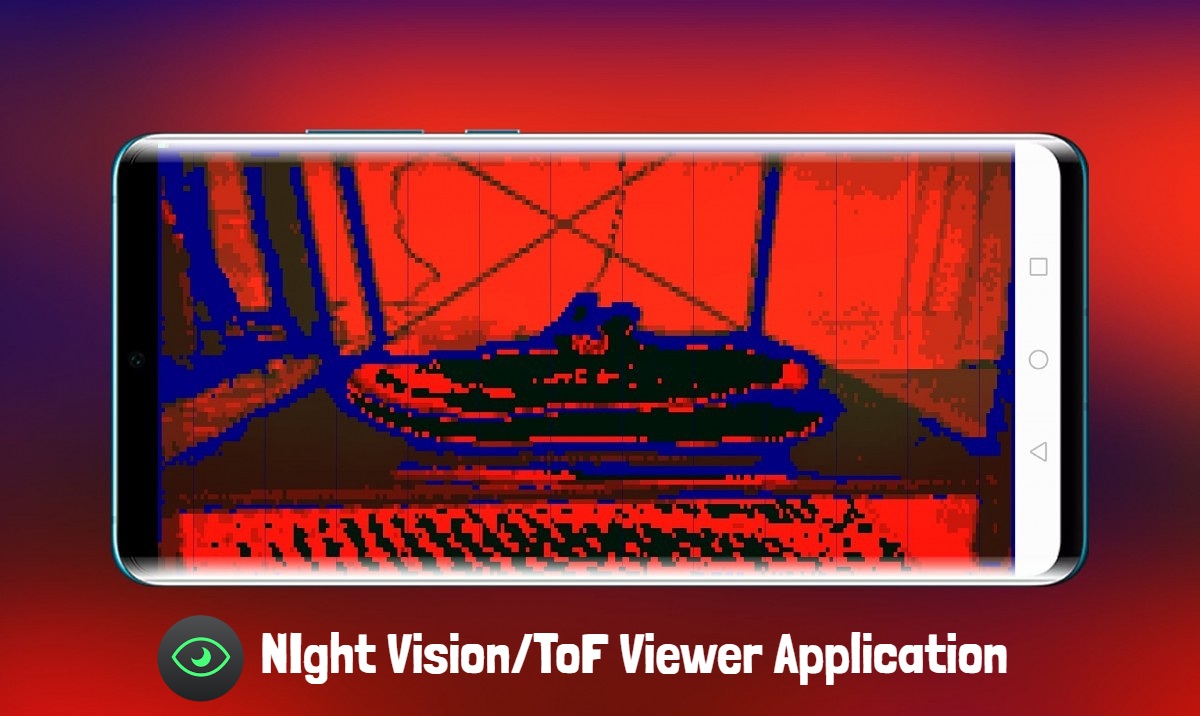 Night Vision/ToF Viewer Features
This application is developed by a popular developer, Luboš Vonásek. The Night Vision/Tof Viewer application lets you see objects in dark conditions. This more or less emulates what we can see via a night vision camera. As mentioned in the XDA post, this application uses the laser projector and the camera lens of your smartphone to create a virtual 3D model of the object with depth data and render. However, the resolution of the image is limited to 280×180 which is ultra-low as compared to other standard image resolution.
The Night Vision/ToF Viewer renders the images via the Camera2 API. With the new update there are some new features and bugs fixes that have been added to the application;
Portrait Mode
Fix Aspect Raio
Keep Screen On
Pinch to Zoom added
Show Resolution Dialog Once
One important thing to note is that this application currently supports only the Huawei and Honor devices. So, if you are trying to install it on any other OEMs smartphone, you will get failure results. According to the XDA Post, the author tested the app on the 5G version of the Samsung Galaxy S10 and it did not work. But, we can expect in the future with some updates, other smartphones will link the Time of Flight sensor with the Camera2 API. Moreover, this application opens up a new possibility of using the ToF sensor on smartphones.
Download Night Vision/ToF Viewer Application
Below is the download link to the application directly from Google Play Store;
[googleplay url="https://play.google.com/store/apps/details?id=com.lvonasek.tofviewer"]
Conclusion
So, there you have it from my side in this post. Please note that this application works only on Huawei and Honor smartphones as they have ToF linked with the Camera2 API. I could not test the application as I did not access to a smartphone with ToF sensor or Huawei P30 Pro or Honor View 20. Let us know in the comments below if you come across any difficulties or by any means got it to work on another smartphone with ToF sensor. Until the next post…Cheers!