Considering the rapidly growing popularity of battle royale games, it is interesting to take a closer look at this gaming phenomenon. Although the origin of this genre is pretty diverse, the concept is pretty much universal – a number of players enter an area and engage in an unpredictable, unbelievably ferocious and vicious struggle, where the only goal is to kill or be killed until you alone are left standing alive.
There are a wide variety of strategies to experiment around with when playing in this genre. The public interest hit a zenith when games like PlayerUnknown's Battlegrounds (PUBG), Call of Duty: Warzone, and Fortnite burst onto the gaming scene. However, there have since been a number of new entries that have been challenging these veterans for the top spot. Each of these games has its own unique take on the original battle royale concept.
The latest game to enter the scene in this highly competitive genre is Ubisoft's Hyper Scape. This is a brand new free-to-play shooter from the developers who brought us Rainbow Six Siege. Naturally, this game is highly anticipated in the video game community. Players are quite eager to know how it stacks up against the established champions of battle royale.
So today, we have decided to do a comparative analysis of PUBG, Fortnite, Call of Duty: Warzone, and Hyper Scape, one by one, in order to help you understand their features better.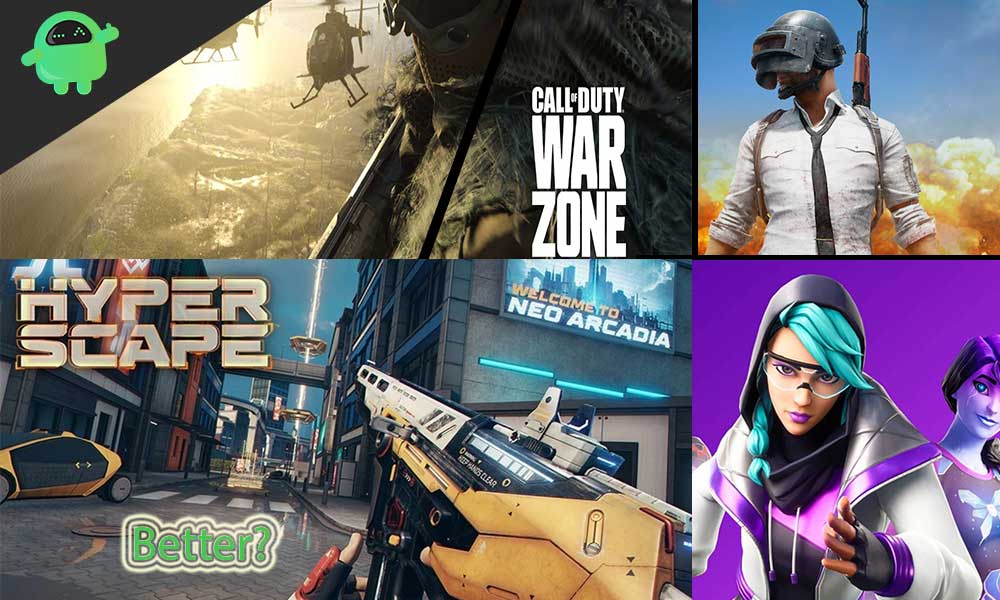 PlayerUnknown's Battlegrounds (PUBG)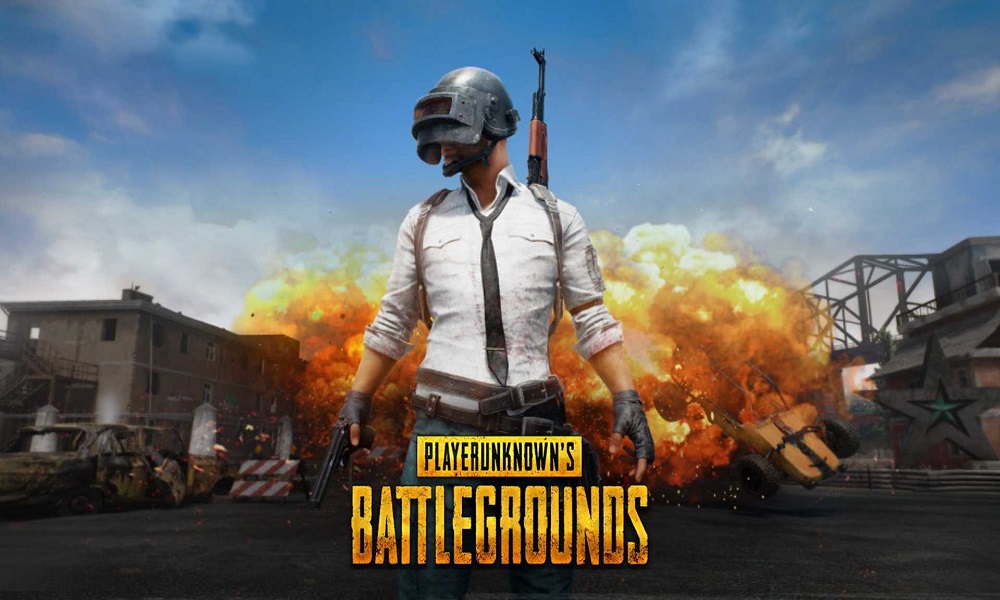 Let us start with quite possibly the first title that comes to most gamers' minds when the battle royale genre is mentioned. PUBG was developed by Brendan Greene – the man behind the immensely successful Arma 3 Battle Royale mode. The Android version of the game rose to unprecedented heights of success. It became one of the top mobile games of all time. And now, the PC version of this battle royale behemoth has sold millions of copies as well.
This game sidesteps complications like complicated combative systems and crafting, and instead concentrates on doing justice to the very heart of the battle royale concept. With dynamic gun battles, strategic gameplay, and lots of scavenging, the game takes addiction to a whole new level. And thanks to the developers' constant and engaging new updates and maps, you won't be feeling like hitting the Quit button anytime soon, once you get started.
Fortnite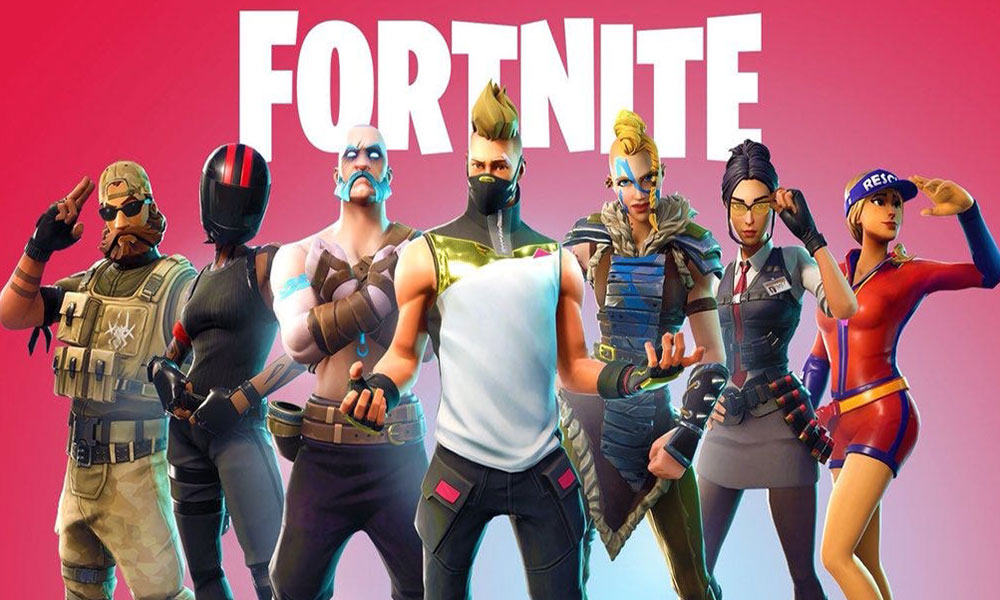 One of the significant features that distinguish Epic Games' super hit Fortnite from the others is its unique visual palette. It takes the adrenaline-fueled match structure of PUBG and combines it with comic book-styled graphics for a whole new experience. The developers have been making appreciable efforts to give the community something new and refreshing every season. These include new skins, maps, and even mechanics. The game allows you to gather resources and construct various structures like ramps, walls, and even buildings for various purposes.
This is a battle royale with a new and innovative flavor added to it. For example, if your opponents corner you near a tree, you will be able to use your pickaxe to harvest some logs and build a wall right over there for cover. You can build ramps around the mountainside to sneak behind your enemies and ambush them. And not to mention, you will be able to switch to Fortnite Creative mode. This allows you to experience some creative custom maps and game modes by utilizing Fortnite Island codes. No wonder many consider this one to be the current king of battle royale games.
Call of Duty: Warzone
Unlike most other battle royale titles, Warzone offers a significantly different mode of gameplay. For example, respawns take place in the form of a fearsome one-on-one fight in the Gulag. You will be able to gather money and use it to respawn your comrades or killstreaks at Buy Stations. It is also possible to put up your choicest Warzone loadout prior to a match and call it in as a prize. As you can imagine, this makes sacrificing a comrade a lesser issue in Warzone. This paves the way for some of the most seriously brutal gameplay ever seen in the battle royale genre.
Warzone does feature the battle royale classic constantly shrinking "circle of death." This makes all 150 players fight it out for survival until only one of the teams is left standing alive. You will be able to use pretty much any regular assault rifle to take down enemies and obtain loot for ammunition and money. There are also some simplifications that have come to be associated with the franchise. For example, you need not worry about helmets since armor plates will be covering you from head to foot. Your health regenerates automatically, like in multiplayer. And there is no concept of camping in the highly dangerous gas meta.
Although convenient, these features understandably deviate from realism quite a bit. Thus, Warzone is for you if you want a battle royale title that is free of cost, high on octane, and not overly complicated.
Hyper Scape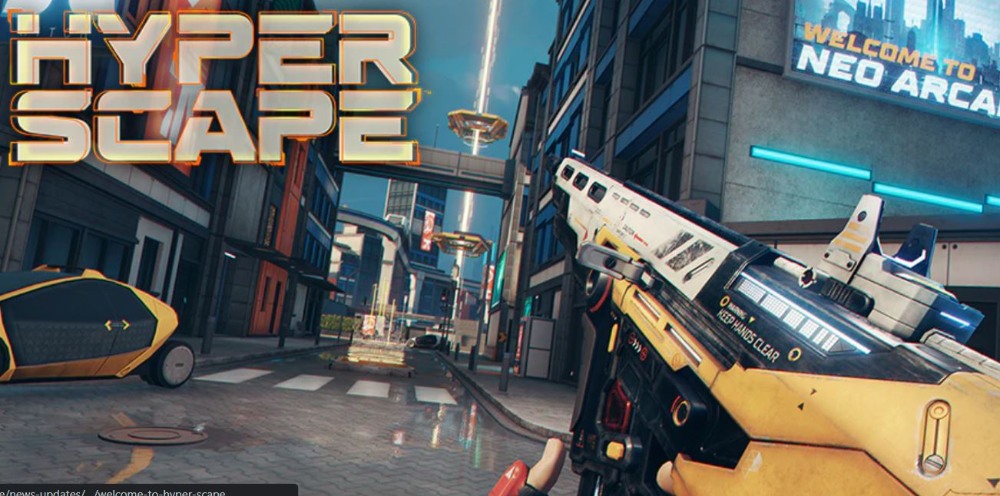 Here comes the latest battle royale title from Ubisoft that we have been eagerly waiting for. This is basically a Tron-like fully urban world with some interesting Twitch incorporation, and – most notably – some blindingly fast gameplay. This is likely the fastest-paced battle royale title you will be able to find in the market. You will have to auto-mantle and double-jump your way across the futuristic streets and tall buildings, leading to a heavy amount of action in the vertical plane.
Hacks for the game accelerate the gameplay even more, and grant abilities like a deadly gravity slam onslaught, nearly instant teleportation, invisibility, and even the power to turn into a bouncing orb of destruction! For those of you who do not like extended waiting times after being killed (that is, pretty much all of us!), you get to move around the map in ghost form. This allows you to have a good look at your foes' positions while you wait. You will then be able to come to a favorable revive station (which happens to be spawned on killed opponents).
Is Hyper Scape better than PUBG, Fortnite, or Call of Duty Warzone?
Well, we finally arrive at the million-dollar question after going through an overview of all these games. As we have already mentioned, Hyper Scape is a futuristic and extremely fast-paced game. It offers some interesting innovations not seen in any other presently available battle royale title yet.  For starters, it is a first-person shooter rather than the usual third-person one, as in the case of most BR games. Other features include the last circle of every game goes from a struggle for survival to a Capture The Flag contest, where each team has to either clear out their rivals or hold on to the crown for a full 45 seconds.
There is no doubt that the competition is fierce and quite overwhelming. Call of Duty: Warzone, for instance, is a massive and genuinely fun gaming experience that allows even newcomers to fit in and have a great time comfortably. PUBG, on the other hand, focuses on the very roots of the genre and polishes the basics with commendable success. Its close rival, Fortnite, is dynamic and ever-evolving with new updates and features. However, Hyper Scape has the distinction of possessing certain characteristics no other battle royale title in the market can boast of right now. Read on to find out more about this.
What are the other Unique features offered by Hyper Scape?
While sticking to the same general battle royale formula, Hyper Scape has the added advantage of a proper storyline. It is set in the distant future, where a large corporate company known as Prisma Dimensions oversees a staggering virtual world known as the Hyper Scape (think of the OASIS in Ready Player One). This world holds a fierce sports competition known as the Crown Rush. In this, competing players turn up In cyberspace and engage in conflict with each other to win.
Apart from this, the game's special combat pacing and innovative changes to the standard battle royale formula are appreciable. Unlike most other titles in the genre, there are no unique character abilities or consumable items here. Instead, any player can use each of the available weapons and abilities, upgrade them and equip them as needed. This makes it much easier for you to recover and re-engage your enemies in battle. The game also offers you enhanced mobility and does away with certain features like fall damage. As a result, unlike other games like Warzone, matches in Hyper Scape can be drawn out, intense, and dependent on smart planning, teamwork, and even sheer luck at times.
Final Face-Off
There is no doubt that a lot of hard work and careful thought has gone into the creation of Hyper Scape; the final product definitely reflects that. Unfortunately, the game is at risk of falling victim to the "BR fatigue" that has been gripping the video game community lately. That is due to the oversaturation of the market with titles in this genre lately. Amazon Game Studios' Crucible faced this very issue just a short while ago.
Hopefully, with all these refreshing new innovations mentioned above, Hyper Scape will demonstrate that it is unique enough to have its own merit and stand its ground in a fiercely competitive market against Call of Duty: Warzone, PUBG, and Fortnite. We hope that players are willing to give it that chance to prove itself because it deserves it. 
We hope this guide helps you choose among the better that suits your needs and preferences. If you liked this guide, do not forget to check out our other Windows Guides, Gaming Guides, Social Media Guides, iPhone Guides, and Android Guides to read more. If you have any queries or suggestions, comment down with your name along with the email ID, and we will reply shortly. Also, subscribe to our YouTube Channel to win our $150 giveaway contest. Thank you.