Rooting a smartphone is a pretty common approach in the present scenario. A lot of people root their devices so that they can install manual apps and make their devices suitable as per their needs. Although rooting is something that extends the reach of your android up to a great extent, it has some cons associated it as well. The biggest one is a rooted smartphone doesn't receive OTS updates. When it comes to OnePlus 5, rooting is easy but you cannot receive any OTA update once you performed it. However, it's possible to install the same manually. In this post, we guide you to Install an OTA update on a rooted OnePlus 5.
OTA updates are very necessary for the device security. Most of the devices become prone to malwares and hackers just because they don't get this update on this. Of course, you might like rooting but probably you don't want it at the cost of compromising the security of your OnePlus 5. There are several other benefits of installing OTA updates on the device and probably you are familiar with them.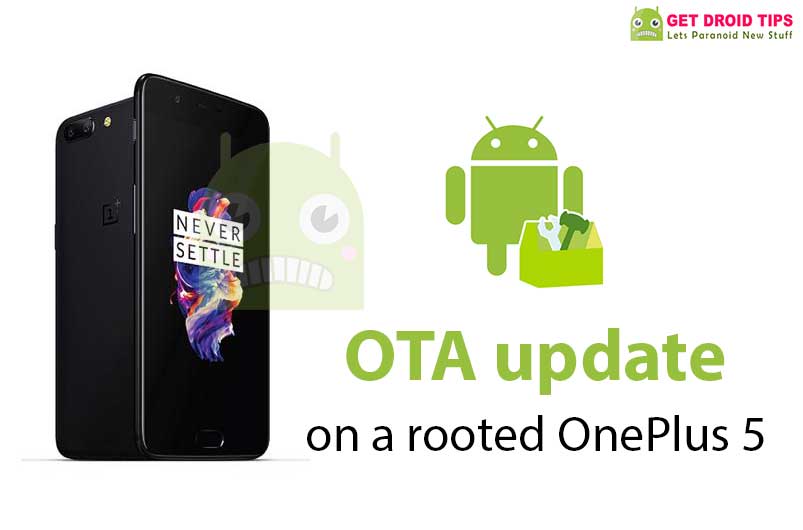 On a rooted OnePlus 5, you can only download the update but cannot install it until and unless you follow the instructions we mentioned in this most. Actually, updates after getting download, check whether there is a modification to system partition or not. If they found them positive, they don't install on the device. However, you need not worry as there is a way that actually works. The method we are going to introduce you with is safe in every aspect and won't delete your phone data. However, we suggest you to take the backup before you proceed as things can go wrong anytime. Follow the below instructions to proceed.
Pre-Requisite:
Instructions to Install an OTA update on a rooted OnePlus 5
First of all, you need to download the OxygenOS version you need to update.
Next is to move the ZIP file you download into the device.
After this, boot the device into Recovery Mode and tap on the Install button.
Browse and look for the ZIP file you download.
You will see a white arrow on the screen. Swipe it to right. This will begin the installation.
Once finished, click the Home button.
At the TWRP main menu, press Home button again.
Next is to browse and look for the SuperSU ZIP install file.
You will see white arrow on the screen, swipe it to right and let the device install root again.
Once completed, simply click the Reboot system button.
You are done.
Here we are doing nothing but just replacing the older Flash with a fresh one. The method is simple and you can proceed with it. Good luck.