Android devices do come with a lot of theme options available by default on them. When it comes to Google devices you have more options to be applied. But users will probably get bored of these and will look for new themes to be installed on their devices. There are many ways to install a different kind of themes by rooting the device. But with the fear of getting the device bricked many users just don't do these steps. The one solution which will be helpful for such users is the theme platform called as Substratum. In this guide, you will learn to install Substratum Themes on Pixel 2 and Pixel 2 XL.
The substratum is widely used theme platform which let you apply custom themes on your devices without the need to root it. This is made possible by the help of a plugin app that can be downloaded from Google Play store. You will also need the assistance of a PC to do the installation and also some desktop tools are to be downloaded and used. The substratum is available for free, but the additional plugin should be purchased. Read through for the detailed installation guide.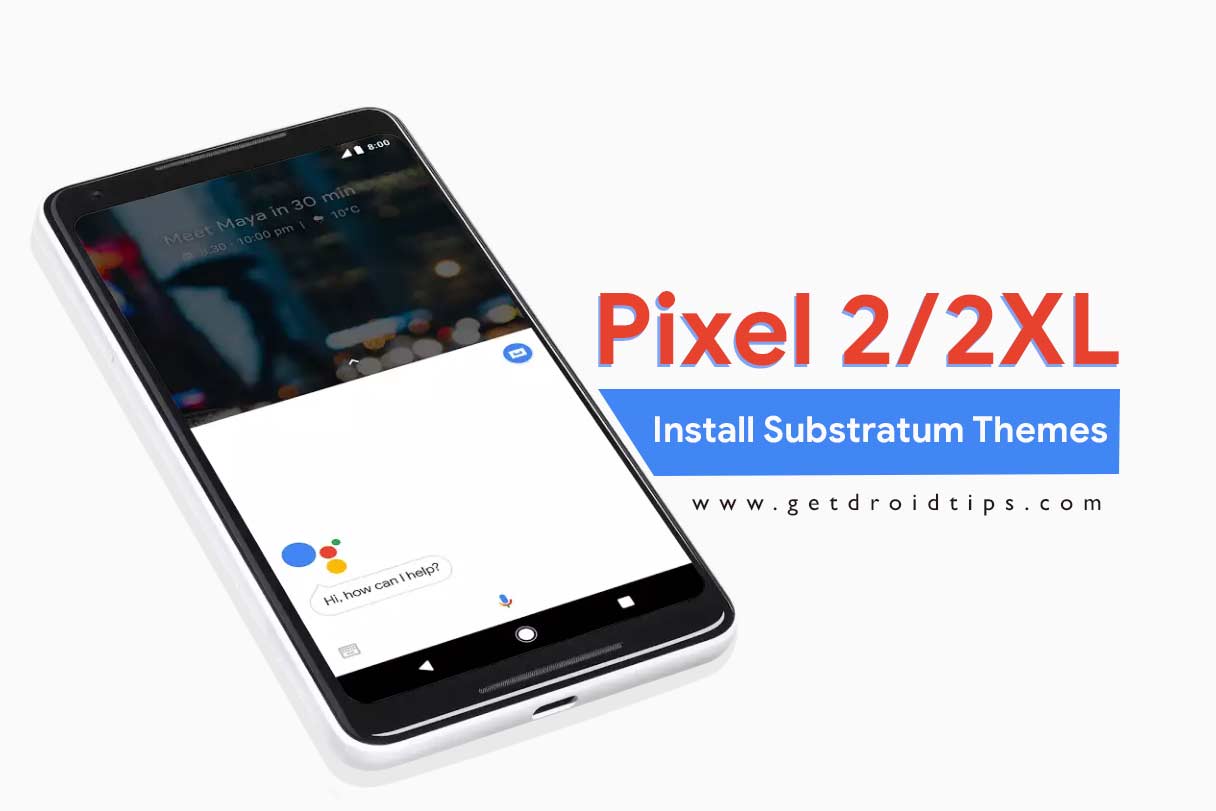 Downloads
AndromedaClient-Windows-3.4.zip
Steps to install Substratum Themes on Pixel 2 and Pixel 2 XL
You will have to download and install the above files on your device and PC for doing the installation. The Substratum and Andromeda apps are to be downloaded on the device. One of the other two should be downloaded based on the platform of your PC. You should also enable USB debugging on your device, the steps to do this are:
Open settings
Scroll down and tap on about phone
Continuously tap on the build number until developer options is enabled message pops up
Go back to settings
'Tap on developer options
Tap on USB debugging to allow it
After doing the above steps, follow the steps given below to install Substratum Themes on Pixel 2 and Pixel 2 XL.
Connect your device to the PC
Open the substratum app
Tap on check status
When a disconnected message appears on your device run the '.BAR' or script file downloaded with the desktop tools
When prompted press on any key on the keyboard
Allow permissions when prompted on the device
Wait for the substratum app to restart
I hope this guide was useful in understanding how to install Substratum Themes on Pixel 2 and Pixel 2 XL. If any queries or feedback, please leave a comment below.
More Related Post
Find More Pixel 2/2XL Tips and Tricks from the link given below. Take full advantage of your phone to make it has your electronic robot.
[su_button url="https://www.getdroidtips.com/tag/pixel-2-tips/" target="blank" background="#31528e" color="#ffffff" size="6" center="yes" icon="icon: cloud-download" text_shadow="0px 0px 0px #fa6512"]Check Out Pixel 2 Tips[/su_button]