Compared to the fourth-generation iPad Air, released in 2020, the 5th-generation iPad Air looks identical, except it says iPad Air and not just iPad on the rear panel. With the power button embedded in the body, there is a Touch ID fingerprint sensor and a very thin aluminum body. Our photos show that it comes in various colors, like the 4th generation model.
These include space gray, starlight, pink, purple, and blue. This Apple device is great and loaded with many features; it may not be like other Apple devices as it has many flaws. Many users have recently reported that Apple iPad Air 5 is not turning on or charging. Luckily, this guide has some fixes that will help you resolve the Apple iPad Air 5 not turning on or charging issue. So, let's get started with the fixes.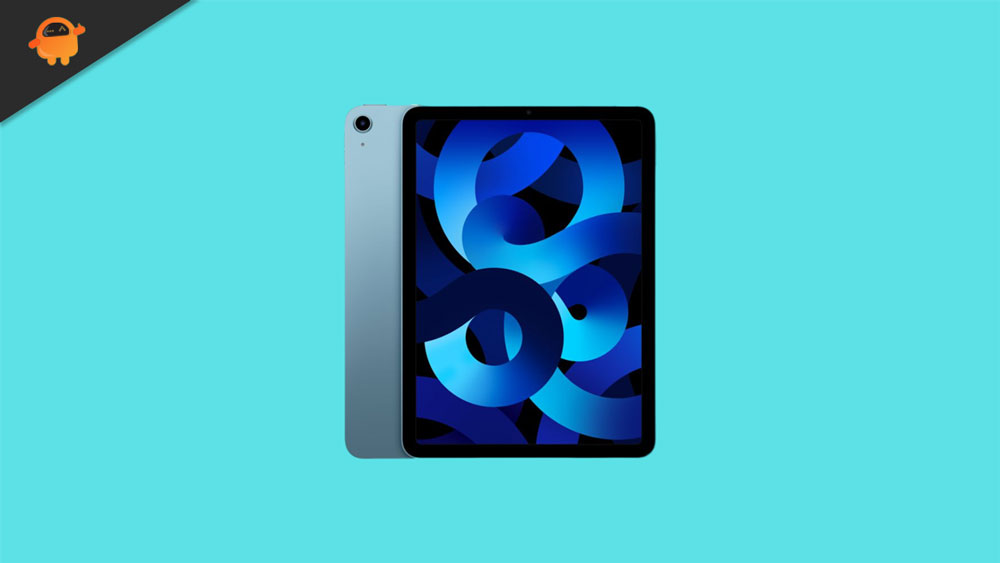 Why is My iPad Not Turning On?
There are different reasons for different users behind this error, but some of the most common reasons are mentioned below:
There is sometimes a simple fix to the problem, such as a faulty charger. The problem is more likely to occur if you own a third-party charger, which is prone to malfunctioning more easily.

Dropping an iPad is not uncommon (since they are often used by entire families, including kids!), and the internal hardware does not prevent it from being damaged.

Most of us know someone who takes their iPad into the bath every once in a while. Liquids are incredibly common to damage objects, and sometimes they can't be avoided. Consider whether there has been any liquid contact with your iPad if you have trouble turning it on, as even a small drop can cause damage.

It is possible for your iPad to not turn on due to software problems. If you've jailbroken your iPad or failed to update its software, then your iPad may become unresponsive.
How To Fix Apple iPad Air 5 Not Turning On or Charging issue
Depending upon the reason behind the cause, there are several fixes available using which you can easily resolve the error. So, if you are facing the Apple iPad Air 5 not turning on or charging issue, make sure to perform these fixes:
Fix 1:

Recharge your iPad for Hours
It is possible that the iPad's battery will be fully depleted if your charger malfunctions, just as when your charger breaks down. You may need to charge your iPad for longer than usual or overnight if necessary and watch for it to come back to life if the battery is completely drained.
Fix 2: Try a Hard Reset
A hard reset might be worth trying if your iPad has a software issue, as sometimes it just needs a jump start.
Press the

on/off

button and home buttons simultaneously for 15 seconds.

Hold the button until the screen goes back to black if your iPad turns on.

Hold the iPad until you see the Apple logo, and then check if not turning on or charging issue gets resolved or not.
Fix 3: Restart your iPad
iPad Air 5 not turning on or charging screens are often caused by a software crash that has stuck the device on this screen. By restarting, all active applications, including the troublesome ones, will be closed, which should solve the problem. In spite of the fact that the hard reset process varies depending on the device you own, it is very easy and takes just a few minutes. Moreover, if you encounter a black screen problem while updating iPadOS 15, this method might be able to save your iPad.
For 15 seconds, hold down the home and power buttons simultaneously.

You may get a drag button after you turn off the iPad and slide it to the right.

If the Apple logo doesn't appear after 2 minutes, wait another 2 minutes and press and hold the on/off button.
Fix 4: Charge Your iPad With a Certified USB Cable
You should also check the USB cable and charger you are using if your device has a not charging issue. The problem with non-certified cables is that they don't work properly, they may contaminate your device, and they might not charge. It is likely that you will experience errors like an iPad Air 5 not turning on or charging if you are updating the iPadOS to version 15 and plugging the device with a third-party USB cable. You should, therefore, only use an Apple MFi-certified USB cable and charger for this reason.
Fix 5: Recovery mode
It is possible that you might need to put your device into recovery mode and restore it if none of the methods mentioned previously have worked.
With iTunes open, connect your MacBook or laptop to the Apple cable.

While connecting your iPad to your device, hold the home button.

You should keep your hand on the home button.

Hopefully, the iTunes logo will appear if it works.

Repeat steps 1-3 if necessary.

Once the iTunes logo appears, release the home button.

Your iPad should automatically enter recovery mode when you press the Home button.

If you are asked to restore your device to factory settings, click the option.
Fix 6: Bring it to iSmash
You can take your iPad to any iSmash store or send it via post if you don't know how to fix it or none of the above fixes have worked. If your iPad won't turn on and you want to know what's wrong, we've got a team of experts who can help.
Your holiday pictures and even the moment you chill out with friends are definitely not something you want to lose. If you want to avoid this, you must make a backup of your iTunes file.
Fix 7: Additional Fixes
Make sure the Lightning and USB-C ports are clean and free of debris.

You can view the inside of the port with a magnifying glass or your iPhone camera.

You should use a plastic dental pick to gently remove lint, debris, etc., as they can damage the charging pins.

Apple Support, Apple Stores, Apple Authorized Service Providers, or Apple Stores are your best bet for charging port cleaning if you're unsure about doing it yourself.
So, that's how to fix the Apple iPad Air 5 not turning on or charging issue. We hope that this guide has helped you. But, in case you still have any doubt, comment below and let us know.