Some of the Apple iPhone users are facing a new issue that's showing "This Accessory May Not Be Supported" error. Now, the most ridiculous part is that the error occurs while users plugin their iPhone to the charger. Now, if you're using a local or fake lightning charger for your iPhone, it will always notify you by showing this error. So, make sure to use a genuine or MFI certified charger or any other accessory for your iPhone.
Meanwhile, the issue can arise due to software-related bugs or incompatible accessory or damaged lightning port on your iPhone 11 or power outlet issue. Now, if you've already checked all of these points and still getting the same error, check out all the possible solutions below.4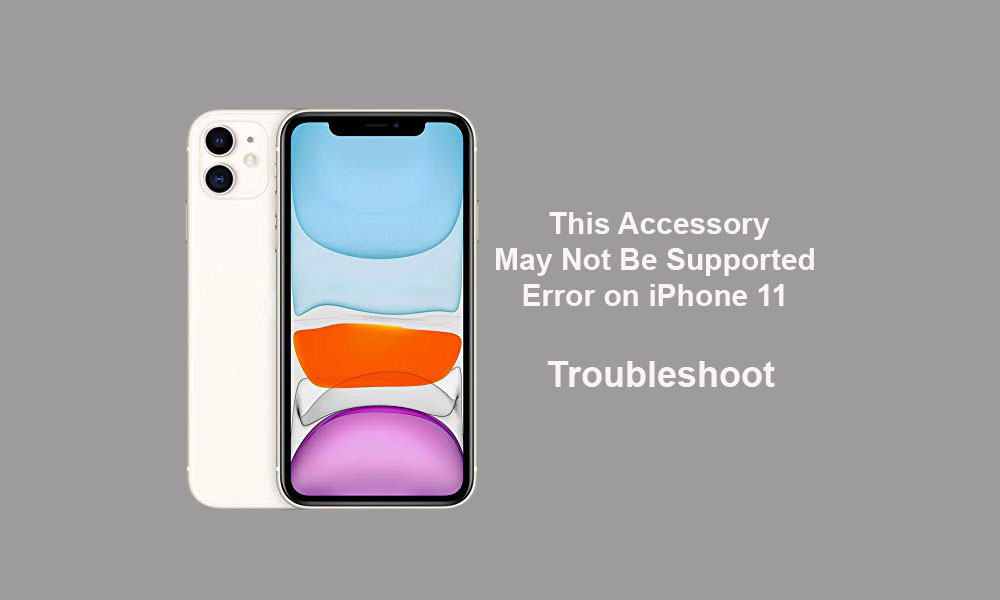 Fix "This Accessory May Not Be Supported" Error on iPhone 11
There are a couple of reasons that you need to take care of while using the iPhone. These days, you will get the cheapest Apple accessories for your iPhone that can look like a genuine one and affordable too. But all of these accessories can occur unnecessary errors or can also damage the internal hardware of your iPhone. So, beware of these things.
When you've already spent a lot of money on your new iPhone, then you should also get original chargers and other accessories. Now, let's follow the steps below.
1. Only Use MFI Certified Accessories for your iPhone
MFI stands for Made For iPhone/iPad/iTouch. While MFI certified means that the accessory is specially certified and crafted to work with Apple products without any damage. However, if you're using a third-party accessory, you can get this error "This accessory may not be supported" quite often.
So, it's one of the most important parts and noticeable solutions for your iPhone 11. Meanwhile, you should also connect your device with the charger to a working power outlet for faster and stable charging.
2. Check the USB Cable
Make sure to check the USB cable of the lightning charger, adapter, lightning ports, and more to understand better what's wrong with the accessory. Some times, the dirty lightning port or partially damaged port can also become one of the reasons for accessory not supported error.
3. Reboot your iPhone 11
Press and hold both the Power/Side + Volume Up buttons for a few seconds.
You will see the Slide to Power off option on the screen.
Now, release both the buttons and slide/drag the bar to turn off your iPhone.
After waiting for 30 seconds or more, long-press the Power/Side button for a couple of seconds to turn on your iPhone.
4. Update iOS Version to fix This Accessory May Not Be Supported Error
Go to the iPhone Settings > tap on General > tap on Software Update.
Next, you can download and install the new update, if available.
Keep the device battery charged more than 60% minimum.
5. Reset Network Settings
From the home screen, tap on Settings > select General > tap on Reset.
Select Reset Network Settings.
If prompted, put the passcode and confirm it.
Restart the iPhone and try to check the error again by connecting the charger.
We hope you've found this troubleshoot guide useful for your iPhone 11 handset. You can comment below for additional queries.