Realme X is the company's true flagship device with all the premium features which you will find in over expensive smartphones. It comes with the latest generation pop up camera, a full-screen display, an in-display fingerprint scanner. And all these premium features at just 16,999 which is a fantastic deal. Many companies have tried to make popup display cameras before, but have failed miserably since it is extremly hard to protet them aganst dust and water. Since Realme X lies between the budget and mid – range segment, many customers are worries about the purchase. Customers want to know wether the new Realme X will survive underwater or not. Today we will find out in our Realme X waterproof test.
the popup camera generation is real, more and more smartphones are now coming with such technology now. Because of their popularity, these kind of smartphones are now getting cheaper and cheaper. Good news for customers as now they can buy such devices at a fraction of a price. Today, in this post, we will talk about the new Realme X and its waterproofing measures done by the company. After reading this post, you will surely know whether the new Realme X is properly waterproof or not.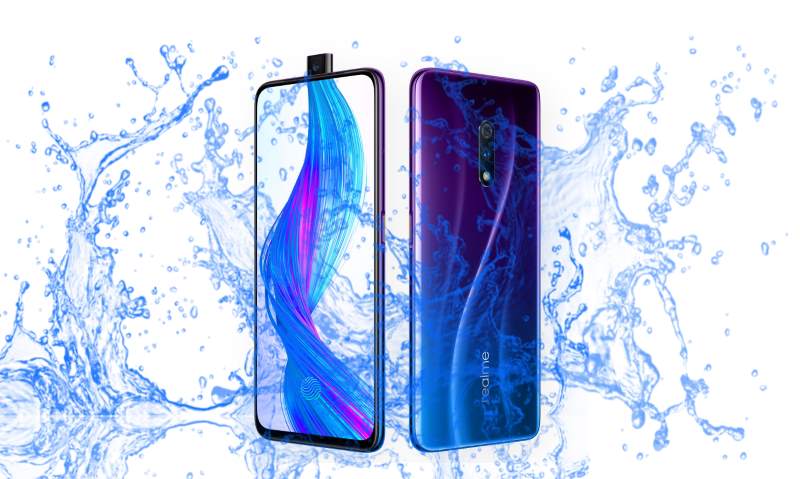 Is Realme X Waterproof device?
For any device to become waterproof, they need to have a certain IP rating. These IP ratings define wether the device will survive underwater or not. Usually, it is very hard to obtain one since it has a tough testing procedure. Mainly the expensive flagship devices do come with a proper IP rating out of the box.
An IP rating is an international standard which is used to define levels of sealing effectiveness of modern smartphones. These IP ratings are presented in the form of IP followed by two numbers. A waterproof device contains special IP ratings. IP68 rating is the best that a smartphone can hold. However, it is important to note that this IP testing is done against freshwater. So you might end with slightly different results against saltwater or other liquids such as soft drinks.
You will be a little disappointed to know that the new Realme X is not officially waterproof. Since there are no IP ratings for this device on their official website. So according to that, this device is not waterproof. However it still might hold against any accidental water damage, so we will continue with our realme X waterproof test.
Realme X Waterproof Test
Since the official website doesn't contain any reliable info about the device waterproofing capabilities, so we are going to conduct our own test. Get ready for the Realme X waterproof test. But before that, have a look at device specifications:
| | |
| --- | --- |
| Device Name | Realme X |
| Screen  | 6.5 inch, 1080 x 2340 pixels |
| Processor | 2x 2.2 GHz Kryo 470, 6x 1.8 GHz Kryo 470, Cores: 8 |
| RAM/ROM | 4 GB | 64 GB |
| Battery | 3700 mAh, Li-Polymer |
| Primary Camera | 48 MP (megapixels) |
| IP Ratings | not found |
In this waterproof test, we will test the device for any accidental water splashes and how the device holds against it. We will also test whether the device can hold against any water submersion time as well. So stay tuned for the results.
warning
This test is purely based on individual/team observation. This test will only give an idea of whether a device is waterproof or not. We recommend users not to try this test at home, as it might damage your device.
Conclusion
After conducting the Realme X waterproof test, we have come to the following results:
Device

 part
Waterproof Test
Camera
the pop up camera mechanism fails
Screen
works
Speaker
works
You can clearly see from the results the popup camera modules stopped working immediately after the test. This suggests that Realme X is not waterproof at all.
Since Realme X is not waterproof, it might be splashproof. So we conducted a Splashproof and dustproof test to find out the truth. These are the results from Splashproof and dustproof tests:
Device

 part
Splashproof Test
Dustproof Test
Camera
camera works
works
Screen
works
works
Speaker
works
no dust in speaker
After conducting the Splashproof and dustproof test, we can come to the conclusion that Realme X is splashproof to some extent. You can rest relief if you accidentally splash some water or coffee over it. But you need to take proper care of your device since it's not officially IP68 rated.
Also, the device is fully dustproof. Since the device is not fully waterproof, you may not enjoy features like underwater photography, making phonecalls in rain, etc. But that's not a dealbreaker for this price. We recommend users to take special care of this phone in case you plan to buy one.
What to do if your device is not waterproof?
Since your device is not waterproof, we advise you to take proper care of your device. You can follow these steps to do so:
Not to take underwater photos with the device
Don't make or receive calls in rain or while taking a shower
Not to take underwater selfies etc.
Do not drink coffee, soft drink or alcohol when you're using your device.
In case your device gets water damage, keep the device in a box full of rice for 1 hour and check with the nearest service center.