Based on the specifications, Galaxy A53 comes with a rating of IP67. So, does that mean that Samsung Galaxy A53 5G is a waterproof smartphone? Well, today we will see if the latest A-series device includes the waterproof IP rating along with practical tests on the device. Alongside, we will also understand what IP67 rating actually means.
Over the past few years, it won't be unjust to say that the Samsung A series has certainly dominated the market. The Samsung A series smartphones have been greatly appreciated by consumers as affordable mid-range devices. Considering this fact, Samsung has announced the inclusion of another device in the A series smartphone list. The Galaxy A53 5G has been introduced as the successor of the previous model A52 5G. As Galaxy A52 proved out to be a grand success for the company, they are expecting a similar result from their forthcoming product as well.
As per the information from the official sources, the Samsung Galaxy A53 5G seems to possess some great specs. The 6.5-inches Super AMOLED display along with Android 12 Octa-Core processor, quad-camera setup, and 5000mAh battery turns out to be a truly amazing blend in a modern-day budget smartphone. However, keeping everything aside, another important factor to look upon is its Waterproof IP rating.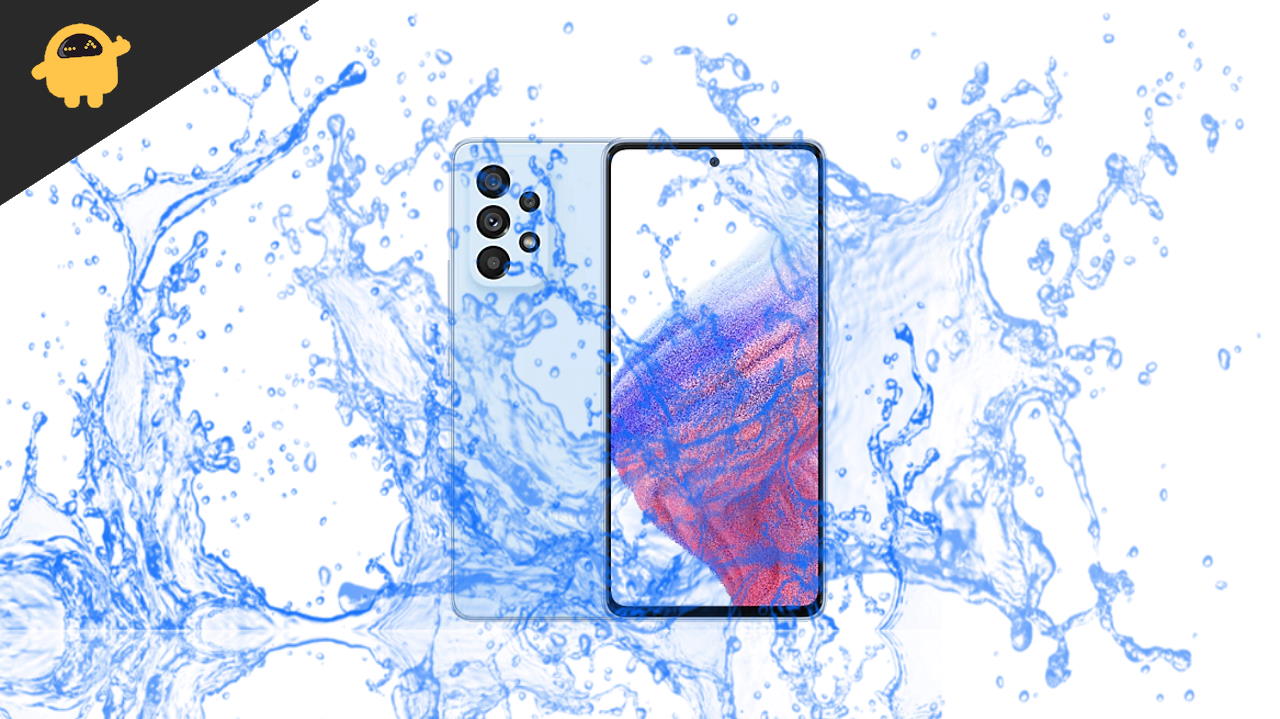 Is Samsung Galaxy A53 5G Waterproof Smartphone?
Samsung Galaxy A53 5G has a fine mixture of hardware, features, and eye-catching specifications. But if the device also possesses the full ability of a waterproof smartphone, that will indeed make it one of the best budget smartphones in 2022. Generally, only the high-end and flagship devices come with a waterproof IP rating. However, Samsung has approved an IP67 rating on the Galaxy A53 which makes users more curious.
Waterproof devices are in very high demand in the market. And the Galaxy A53 obtaining the same properties would make it great news for all Samsung users. So, today we will conduct a thorough waterproof test on the device to check its absolute potential to resist water. With that said, let us start with the highlighted specs of Galaxy A53 5G, followed by our water test on the device.
Samsung Galaxy A53 5G Device Specifications
The Galaxy A53 coming from the Samsung Galaxy A series does come with some noticeable specs. Starting with its large screen, Galaxy A53 has a 6.5 inches Super AMOLED display with corning Gorilla Glass 5. It is powered by Android 12, One UI 4.1, and runs on the Octa-Core (2.4 GHz and 2.0 GHz) CPU.
It features a 32 MP Selfie camera along with a 26mm wide-angle lens. Succeedingly, it has a quad-cam setup for the rear camera featuring a 64MP main camera + 12MP Ultrawide lens + 5MP macro lens + 5MP depth lens. Moreover, it can record 4k videos at 30fps and 1080p videos at 30/ 60 fps.
The device come in 3 different storage variants with 128GB internal + 6GB RAM, 128GB internal + 8GB RAM, and 256GB internal + 8GB RAM. Besides, it has a separate microSDXC card slot. Another noticeable feature of this device is the 5000mAh battery that comes with a 25W fast charging support. And finally, here's the most striking deal with the Galaxy A53 that is driving everyone crazy. As mentioned earlier, the device comes with an IP rating of IP67, let's understand what it means.
What is IP67 Water Proof Rating?
As per the official specification of the device, the Samsung Galaxy A53 5G comes with an IP67 (dust/ water resistant) rating. Well, this is of course not as great as the IP68 waterproof rating. But as Samsung says, the device can withstand up to 1 meter of freshwater for 30 minutes. That makes it more of a water-resistant device and not actually waterproof. But before we come up to our conclusion, let us hold a water test on the Galaxy A53 to make things clearer.
Samsung Galaxy A53 5G Waterproof Test
So, we will conduct a complete water test on the Galaxy A53 smartphone. Throughout this test, we will first conduct the sprinkle test and submerge the device in a pot full of fresh water for 1 hour to check its durability. Finally, we will also check the same for saltwater as well as water containing impurities. We will check the device's functionalities every 15-minutes to see how long it can withstand underwater.
Now that we have finally completed our water test, we have all the answers you have been waiting for. To begin with, our sprinkle test went successful and there were no problems with the device. Next, coming to our next test, we submerged the phone in freshwater. For the first 30 – 40 minutes, the device responded normally. However, after keeping it underwater for 1 hour, the performance of the device was certainly disturbed. The display kept on lagging and we couldn't operate on it swiftly like before. Moreover, some amount of water also went through the speakers making the sound break down as we tried playing audio.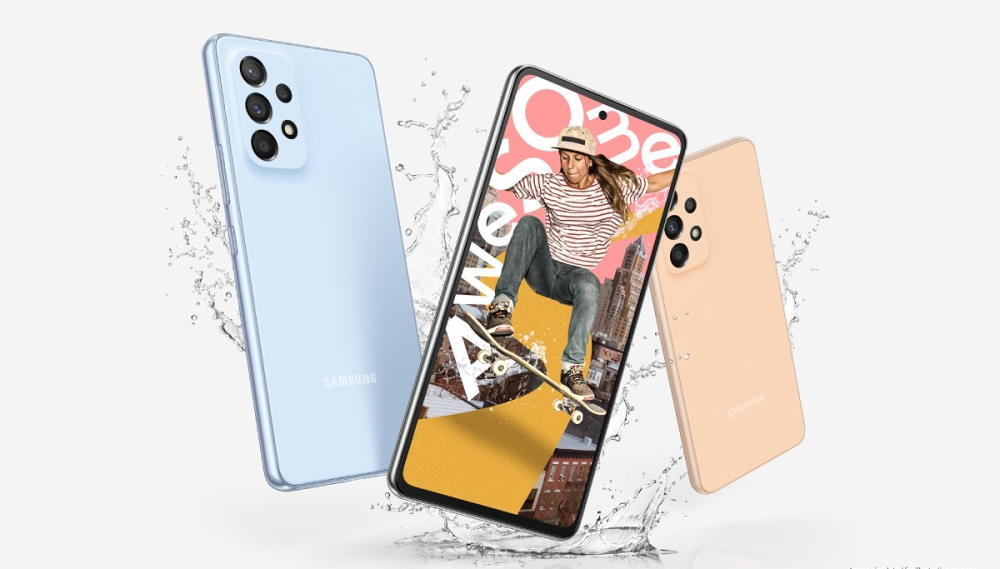 In our final test, we kept the device in salt and dirty water for 30 minutes. And in this case, the device failed to survive. It went off and we could not switch it on. Also, the power and volume buttons seemed to have been affected by the water as well. Therefore, we can say that the Samsung Galaxy A53 5G has definitely got some good water resisting capability. However, we cannot consider it as a whole waterproof device. Also, the rating of IP67 is absolutely justified as it was able to withstand under freshwater for quite a long time. But, not long enough to be considered as a waterproof device.
Moreover, it completely failed in our final test as we tried to put it under salt and dirty water. The device was adversely affected. The screen and all the buttons stopped working and it was turned off after really a short time.
Conclusion
Lastly, coming to our final words, we would like to conclude that the Samsung Galaxy A53 5G is not a waterproof device. Instead, it has high resistance power against freshwater and dust. Hence, we would suggest you not expose the device to extreme situations. It can withstand a few drops of rain or an immediate accident quite comfortably. However, the device is still not one to survive in extreme conditions like under the pool or sea or any other form of salt and impure water. Keep it away from your pool and do not try to use it in heavy rain, they might cause substantial damage to the device.
Let us know what do you think about the Samsung Galaxy A53 5G smartphone. Is it worth the amount or do you prefer some other device within the range and why?