Chinese smartphone maker company Xiaomi released their another smartphone model on 12th June in amazon flash sale. The new device comes with latest features with a dual camera system. It is known as Redmi Y2 and is supposed to be a budget-oriented smartphone. As Xiaomi has a huge customer base, it is expected that this latest smartphone has some waterproofing coating/technology inbuilt. So today we are going to check just that.
Is Xiaomi Redmi Y2 a Waterproof device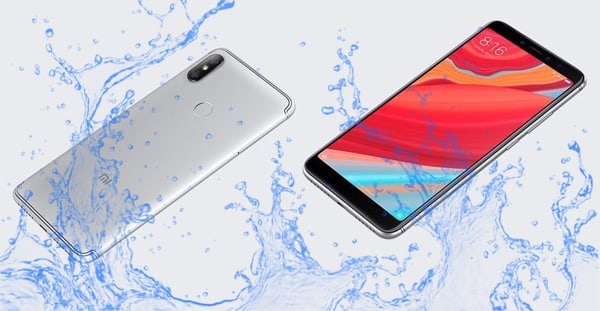 According to official specifications on the Xiaomi's page, no IP68 ratings were found for this particular model. However, this doesn't mean that the device will immediately get damage in water. So to test the real-life Xiaomi Redmi Y2 water test, we have done a couple of tests of our own. Read this post to the end to know more in detail whether Redmi Y2 is a waterproof smartphone or not.
Xiaomi Redmi Y2 Splash Proof Test
When Xiaomi Redmi Y2 is subjected to water droplets, the device does not respond to touches. The touchscreen becomes completely un-responsive what so ever. No ghost touches to miss touches are registered. However when the device is taken out and cleaned with a microfiber cloth; the touchscreen starts working again in its normal working condition. The device seems to work fine after a splash prof test. No fog or water droplets are detected in screen or camera lens, which is a good thing.
Xiaomi Redmi Y2 Washing Test
Another test which reveals the waterproof capabilities of a smartphone is the washing test. In this test, we are going to wash the device in water for approx 1 minute. Later on, we will inspect the device for any water damage.
When Redmi Y2 is subjected to water in washing test, it becomes slippery. This is not a bad thing as most smartphones get slippery in water. However, the screen doesn't respond under water & headphone jack start accepting ghost inputs. So in case, you're wondering – You will not be able to get calls while showering or when the device is in water. This is because proper waterproofing is not implemented near headphone area. Also as the screen becomes unresponsive to touch which makes it impossible to take pictures or to accept calls under showering conditions.
Also read: Facebook launches new downvote button
I/O Ports Water Test
It appears that I/O ports do not have a proper waterproof coating. The headphone jack detects ghost inputs while immersed in water. This results in the device to think that headphone is connected, so it does not produce sound in water. Which makes it useless from a cellphone point of view. Also, the charging point also doesn't work while it is in water.
Additionally, no fog or moisture appears near camera lens or touchscreen itself. This indicates that the device is still operational after Xiaomi Redmi Y2 Waterproof test.
Xiaomi Redmi Y2 Water Immersion Test
When Xiaomi Redmi Y2 is subjected to water immersion test, no water droplets were observed. This means that the device is completely sealed from inside and does not allow water droplets to pierce through. However, this is not the case with charging point and headphone jack as well. So it turns out that Xiaomi latest budget smartphone Redmi Y2 is not entirely waterproof. However, It is splash proof to some extent. Therefore, I highly recommend you to keep the device in rice in case you have dropped it accidentally in water.