With their products, JBL has placed great emphasis on the build design and comfort. By using a simple and practical design instead of adding unnecessary LED lights or unique parts to give the gamer feel to the user, they have succeeded in putting forward a very practical and simple design. One of the biggest advantages of the design is that the entire model is a single color.
For a price range like this, JBL Quantum 100 offers a high level of build quality that is hard to find in its category and therefore gives you the sense that you are buying something premium. Even though it's a great device, many users still reported that the JBL Quantum 100 is not detected or not working on their PC. That's why we are here with this article; here, we have mentioned some easy tricks using which you can easily able to fix if the JBL Quantum 100 is not detected or not working on a PC.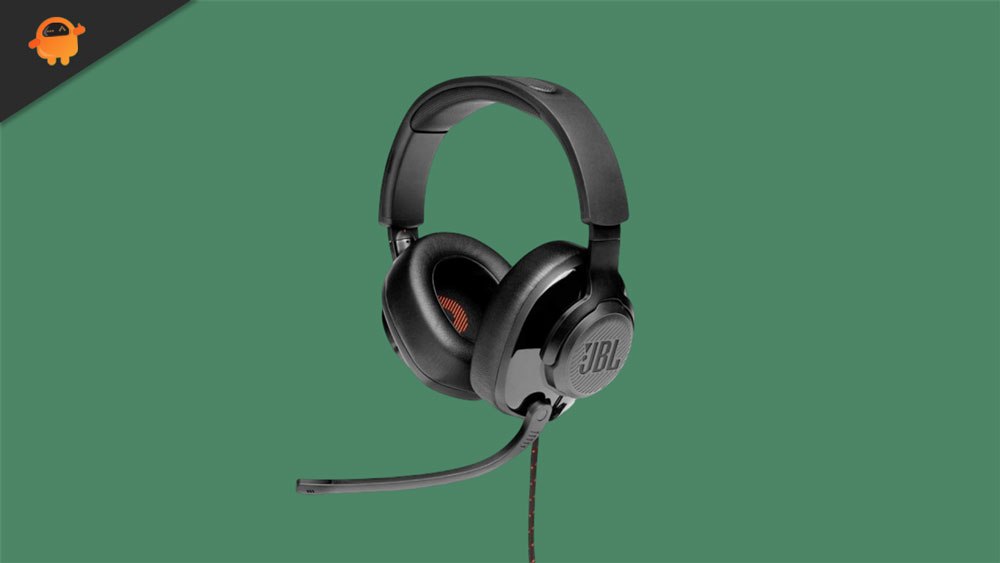 How To Fix JBL Quantum 100 Not Detected/Not Working on PC
Here are a few simple and needy tricks using which you can easily fix the JBL Quantum 100 not detected or not working issue on PC. So, if you are facing this problem, then let's check out the fixes:
Fix 1: Reboot Your PC
If you have already tried this before, but the headset still doesn't work, then it is better to power cycle your PC. Please do not plug in the headphones until the PC has completely booted up. It will now be recognized by your device software, allowing your headset to work on your PC again.
Fix 2: Make Sure Check If It Is Connected Properly
Initially, we recommend reconnecting your JBL Quantum 100 headphones because there may be some glitches preventing your device from reading the headset properly. Your PC will recognize your headset again when you unplug and then plug it back in, so the not working issue is automatically resolved.
Fix 3: Check For External Damage
Have you checked whether the cable on your headphone has any damage or wear and tear? To find out if there is any damage on your JBL Quantum 100 cable, you must first check it properly to see if there is any damage at all unless you decide to purchase a new one.
Fix 4: Connect on Another Device
Still, no luck? Well, possibilities are there the headphone might be connected to your device just because it is not compatible with it. Therefore, we suggest you to try connecting your JBL Quantum 100 to your PC as possibilities are there that the not detected or not connecting issue may get resolved by doing this.
Fix 5: Check For Audio Drive Update
Is your device's audio driver updated? Many times, we've seen that minor issues are resolved automatically when users update their audio drivers. Therefore, why not now? Here are the steps you need to follow to determine whether or not your audio driver has been updated:
Right-click the Windows icon on the desktop.

From the pop-up list, select Device Manager.

After that, tap on the Audio inputs and outputs tab.

Select the Update Driver option from the right-click menu of the audio device manufacturer.
Wait until the process is complete after following the instructions on your screen. In any case, your audio driver will automatically fix the issue once it has been updated.
Fix 6: Update OS
The performance of a computer is affected by an older operating system. Although the OS manages all processes, including background processes, some apps and hardware processes may not be used but are adversely affecting your computer.
If your operating system is not updated, your device may not work with your JBL Quantum 100. You can determine whether your device is eligible for a Windows update by following these steps:
For Windows devices, click Settings to see if there are any updates available.

You'll find a list of options on the left side of the settings menu.

The last option is Windows Update.

Click it.

You can manually update Windows by clicking Check for updates on the right pane.
Fix 7: Disable Audio Enhancement
Even though third-party speakers like JBL often employ these enhancements, their primary focus is on quality. You may still encounter some compatibility problems with your headgear if your device is incompatible with your headgear.
Windows' integrated audio enhancement feature can malfunction for a number of reasons. Therefore, it is best to disable it first and see if it helps. Here's how you can do that:
To begin, click on the Playback tab in the Sound Control panel.

Right-click the audio device and select Properties.

Under the Enhancement tab, deselect the audio enhancements.
Fix 8: Clear The 3.5mm Port
It is possible that you are experiencing this issue due to dirt or debris in your PC's 3.5mm jack. Therefore, we recommend blowing air over it to clean it.
Using toothpicks or sharp objects will damage the pins under the jack, so we do not recommend using them. Then connect your JBL Quantum 100 again once you've cleaned it and see if the issue has been resolved.
Fix 9: Contact JBL Suppot
You may not be able to resolve your issue with any of the above solutions as it may be caused by something else. JBL's official support page should be contacted if your speakers are under warranty. To claim your warranty, click the link and contact the official JBL support team.
Following that, a pickup date will be arranged, and once the headset has been repaired or replaced, it will be delivered to your home. Consequently, there is no need to take it somewhere to be repaired. However, before you proceed, make sure you read the warranty claim terms and conditions.
That's all you have to know about how to fix the JBL Quantum 100 not working or not detected on a PC. We hope that the troubleshooting methods discussed earlier in this guide were helpful. Please feel free to comment below if you have any questions or suggestions for us.