Phones are not just meant for making calls like they were used to in old times. When phones changed into smartphones it became a smart tool for man to do a lot of things. You can today do a variety of tasks using your smartphone. These gadgets are coming out today with a promising configuration to make it for useable for all. From contacting others to doing work or playing games, the things you can do with a smartphone are countless. Smartphones also have new features to let you do all of these tasks comfortably. One such thing is to keep the screen on for a longer time, helping people who use it to do tasks like reading books. Read through to find out how to keep Essential Phone PH1 screen on for a longer time.
The number of users who use smartphones to read their favorite novel or refer their notes has increased in previous years. Most users face an issue of the screen display turning off in middle of reading. This can be a great annoying issue and to avoid this you will have to tap the screen every few seconds. Essential PH1 has a build in feature which is designed to help such users. This feature is known as "stay awake", and when enabled your device screen won't go off until you switch it off using the power key. The steps to enable this feature on Essential PH1 is provided below.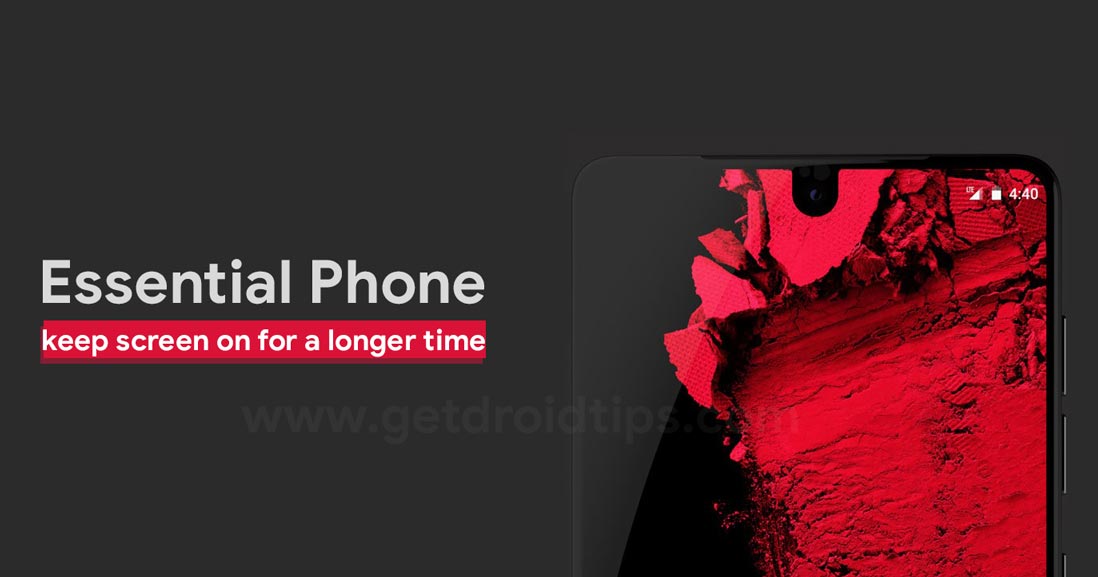 Steps to keep Essential Phone PH1 screen on for a longer time
The easiest way to keep your screen turned on for a longer time is no doubt enabling stay awake feature. But this feature is not available by default on your Essential PH1. For getting access to this feature, you should first turn on developer option manually on your device. After the developer option is enabled you will have this option which can be enabled or disabled whenever you want.
How to enable developer options
Open settings
Tap on about phone option
Find the build number section and continuously tap on it until a dialog box appears with the dialog saying "developer options unlocked".
How to enable stay awake
Open settings
Tap on developer options
Check the box near to stay awake option
I hope this guide was useful in understanding how to keep Essential Phone PH1 screen on for a longer time. If any queries or feedback, please leave a comment below.