Plenty of computer users are experiencing the Keyboard Beeping issue when typing (noise) which is frustrating a lot of the sound is turned on. There are plenty of reasons behind such an issue that may apply in your case. So, if you're also one of the victims to receive the same bug then make sure to follow this troubleshooting guide.
As we've already mentioned, there are a few possible reasons that you should cross-check before jumping into the workarounds, you can check them out. The chances are high that any kind of software or hardware changes to your computer is somehow causing the keyboard beeping issue. While the keyboard is most probably faulty or there may be issues with the hardware too.
How to Fix If Keyboard Beeping When Typing
Once you've cross-checked all the mentioned requirements and the problem persists, you should follow the workarounds below.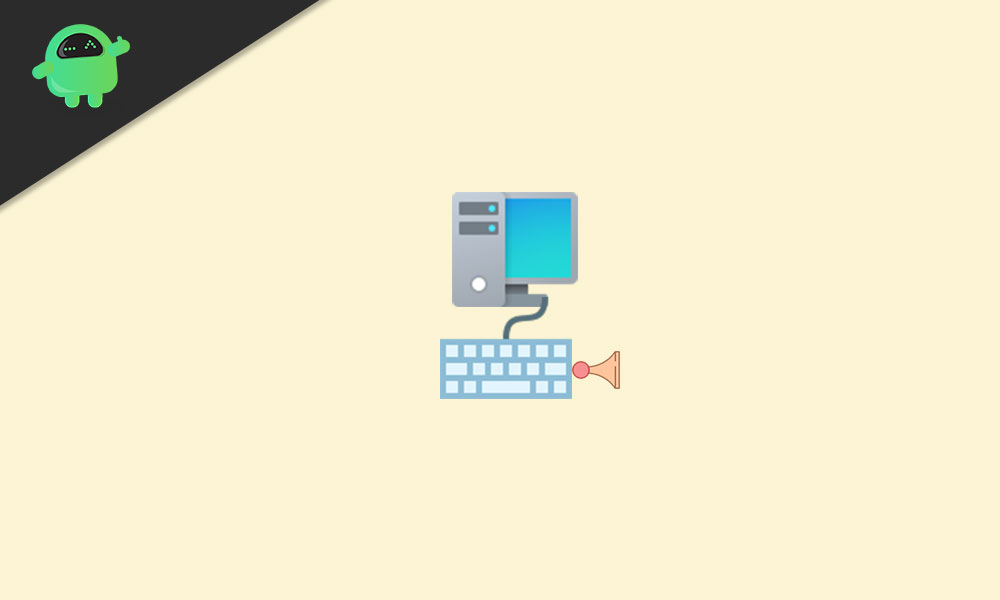 Some of the affected users are reporting that sticky keys or filter keys are one of the primary reasons behind this particular issue. Filter keys can suppress Windows keystrokes or Sticky keys causing issues with the Ctrl or Shift keys until the specific keystroke combination (works like lock keys) started.
Some reports are mentioning that keyboard issues, memory issues, battery issues, date & time settings under BIOS, etc can cause several issues whatsoever.
1. Disable Non-plug and Play Drivers
Press Windows + X keys to open the Quick Start Menu.
Click on Device Manager from the list.
Locate and click on the View tab.
Select Show Hidden Devices.
A drop-down menu will appear and here you'll have to click on Non-plug and Play Drivers.
Right-click on Beep > Select Properties.
Click on the Driver tab > Click on Disable.
Click on Appy and then OK to save changes.
2. Check Keyboard Settings
Make sure to check keyboard settings on your Windows computer to ensure if there is an issue with the options or not.
Click on Start > Search for Control Panel and click on it to open.
Now, choose Hardware and Sound > Click on Devices and Printers.
Right-click on the keyboard (Hardware) > Select Properties.
Click on the USB input device (your keyboard) > Click on Change settings.
Next, click on Power Management.
Finally, make sure to uncheck or disable the 'Allow Computer to Turn off this device to save power' checkbox.
Now, check whether the Keyboard Beeping sound issue when typing is still bothering you or not.
3. Check On-Screen Keyboard
If in case, you're using an on-screen keyboard on your Windows computer then make sure to turn it off or its sound to ensure nothing is troubling you.
4. Update Device Drivers
We'll recommend you to check for device drivers updates quite often so that your computer will run properly. To do so:
Press Windows + X keys to open the Quick Start Menu.
Click on Device Manager from the list.
Double-click on the specific device driver or adapter that you want to update.
Right-click on the active device and select Update Driver.
Click on Search automatically for driver software.
If there is an update available, the system will automatically download and install the update.
Wait for the update to complete and then restart your computer apply changes.
Do the same thing for each device driver that needs to be updated.
5. Use a new user profile
If nothing works then try creating and using a new user profile on your Windows computer. To do that:
Click on Start > Select Settings.
Go to Accounts and select Family & other users from the left pane.
Click on Add someone else to this PC.
Fill in the form with the new username and password then create the new user profile under Microsoft account.
Head over to Change account type > Click on the drop-down arrow icon and choose Administrator to set the account to the administrator level.
Finally, restart your computer to apply changes, and log in with your new user profile.
If the Keyboard Beeping sound issue when typing problem has been removed that means other user profiles have some issues. In that scenario, you should delete all the older profiles and continue using the newly created one as an administrator for sure.
6. Turn Off Filter Keys, Sticky Keys, and Toggle Keys
Click on the Windows Settings menu (cogwheel icon) from the taskbar or Start menu.
Now, go to Ease of Access > Click on Keyboard.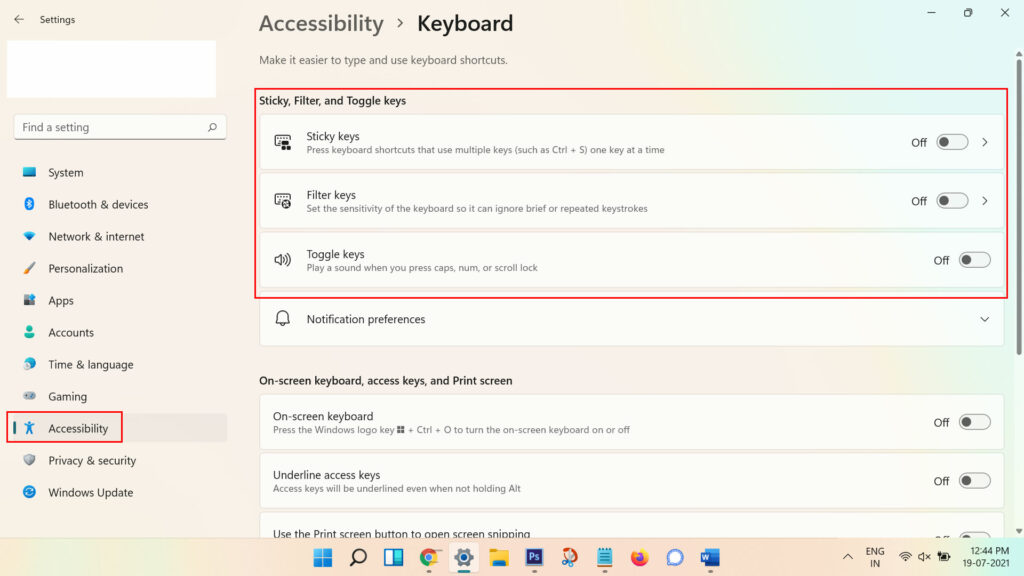 Scroll down the list and turn off all the Filter Keys, Sticky Keys, and Toggle Keys one by one.
7. Check Date and Time on BIOS Settings
Sometimes there may be some configuration or advanced options turned on/off by mistake on the BIOS Settings while doing something else which may also lead to a beep sound while pressing keyboard keys. You should check the BIOS Settings once.
However, we'll recommend you checking that with precautions because if you turned on/off some options in the BIOS Settings without any knowledge that may cause issues with the system boot or performance whatsoever.
That's it, guys. We assume this guide was helpful to you. For further queries, you can comment below.