Fallout 76 enters 2020 with pleasant news throughout the year. As we are nearly halfway through 2020, players of Fallout 76 will witness drastic changes to game in the coming days. There will be more updates along the way, and the much-awaited Season 1 is about to roll in. Season 1 will bring about many pretty changes to the game, and it will all start off with the Update 20.
Every Fallout 76 players will have access to the new update. It brings some major changes such as 100 levels full of awards, additional gameplay mechanics, Legendary Perks, etc. Now, the legendary perks are somethings really amazing that's worth our talk today. So in this guide, we'll look further into it. Without any further ado, let's see how Legendary Perks work in Fallout 76.
How do Legendary Perks work in Fallout 76?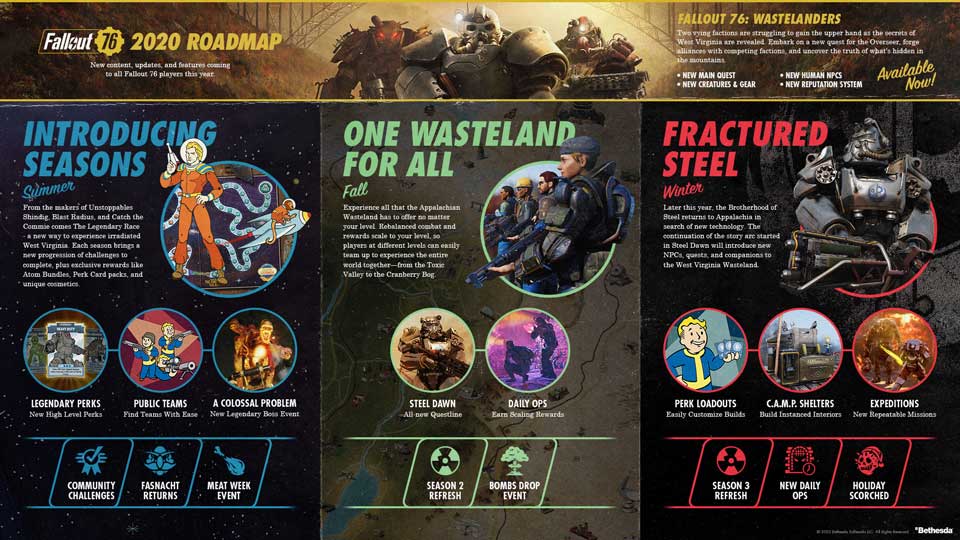 The Legendary Perks in Fallout 76 is set to roll out during the Update 20 in Season 1, which also brings in plenty of other opportunities to claim a handful of rewards. What the Legendary Perks basically are is just a higher-level and better version of the existing perks in the game. Unfortunately, we do not have enough sources to validate what exactly the Legendary Perks are and how much it the impact the game but for the time being, we'll disclose all the information that we've gathered.
One other thing is how we can gather up the Legendary Perks once it arrives in the game. According to the developers, the Legendary Perks aren't capped exclusively to any group of players, meaning that anyone can collect them as soon as the Update 20 brings them in. You can play the game and complete the daily and weekly challenges to collect them, or even use Atom to rank up and collect faster.
Summing up our guide, the Legendary Perks are a better version of the existing ones in Fallout 76, which will be available to players as the Update 20 in Season 1 rolls in. Once after the arrival, players can collect the Legendary Perks by completing daily and weekly missions, and by using Atoms. That said, we hope reading the guide above has brought some valuable information and help to you. Please let us know by commenting down below if you have any further queries regarding the same.
Also, check out our iPhone Tips and Tricks, PC tips and tricks, and Android Tips and Tricks if you've got queries for it or want help. Thank you!