Lenovo has begun soak testing for Android Pie on its premium machine Lenovo Z5. The 2018 flagship is currently getting a new interface upgrade as well. This definitely comes with loads of new features for the device. As we speak, Lenovo Z5 Receives Android 9.0 Pie beta in China with new ZUI 10.5.221. With the latest system upgrade, the Lenovo Z5 introduces 4D u-touch gesture and supports facial recognition. You can download and install Lenovo Z5 Android 9.0 Pie Beta with ZUI 10.5.23.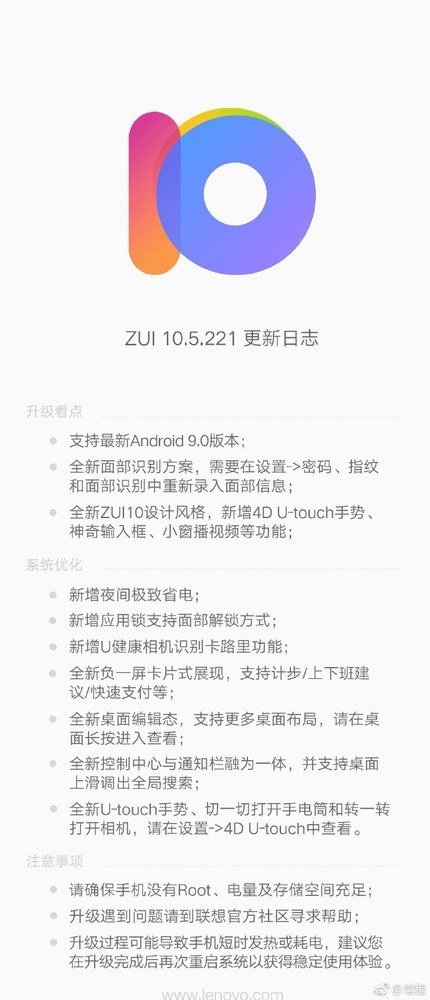 As it happens with any UI upgrade, there's a lot of change in the design layout. As its Android Pie, there is special attention being given to the privacy factor. Speaking of which there are three modes of security access, face, fingerprint and password. Now users can re-enter their face data through the Settings. This feature is also App specific. What we mean is, you can unlock/lock an App using your face.
Besides as Android Pie originally comes with better power saving features. The same is also reflected in the Lenovo Z5. It now supports more power saving in the night. Upgraded interface brings desktop editing mode and more layouts for the desktop. Users can view it by long pressing on the desktop. Also, there is the new U-touch gesture which allows the user to turn on the camera by simpling turning the device around.
Beta iteration of system software may not be available for everyone in all the regions. The Pie system update is rolling out in phases. So, it's a gradual process. However, you can check for it manually. Maybe it's already available in your region. Go to Settings > About Device > System updates> Check for Updates. If you see the new update then hit on Download button. System upgrade files are usually large, so, try to download it using Wi-Fi. Also, have a good battery charge on your device before downloading the system software.
If you have no patience to wait for the OTA update, then you can manually grab the download link to download and install Lenovo Z5 Android 9.0 Pie.
Firmware Details:
Software Version: ZUI 10.5.23
Device: Lenovo Z5
Model: L78011
Android OS: 9.0 Pie
Gapps: Included
Target version: 10.5.230 or higher
Basic version: 4.0.474/10.5.223
Upgrade package size: 1.49 Gb
push status: Grayscale push
Changelog:
Upgrade the point of view
Upgrade Android 9.0 system;
new face recognition solution, need to re-enter facial information in settings -> password, fingerprint and face recognition;
new ZUI10 design style, add 4D U-touch gestures, magic input box, small window broadcast Video and other functions;
system optimization
New nighttime extreme power saving;
new application lock to support face unlocking mode;
new U health camera recognition calorie function;
new negative one-screen card display, support for step/off-work advice/fast payment, etc. ;
new desktop editing mode, support more desktop layout, please see the press to enter the desktop long;
the new control center and notification bar integration, and support on the desktop slide to bring up the global search;
new U-touch gestures, cut everything open flashlight Turn the camera on and turn it around, check in Settings -> 4D U-touch.
So, that's it, guys..! Obviously, it was high time Lenovo users needed to taste the Pie. Now that Lenovo Z5 Receives Android 9.0 Pie Beta, you should grab the update. Install and enjoy your Pie.