LG UX 9.0 based on Android 10 is still rolling out a lot of LG devices at the time of writing this. It is a custom-made iteration from LG based on the Android operating system. Before you can point it out, unlike many other brands, LG hasn't kept the version number of its in-house UI and Android similar. Anyways, the South Korean giant is making efforts to release a new custom UI that went live with its LG Velvet series a few days ago.
LG is replacing its LG UX with Velvet UI with over six flagship devices of which, LG V50 ThinQ has already received the update although it seems to be a limited rollout. Based on the feedback, LG will start rolling out LG Velvet UI to other eligible devices.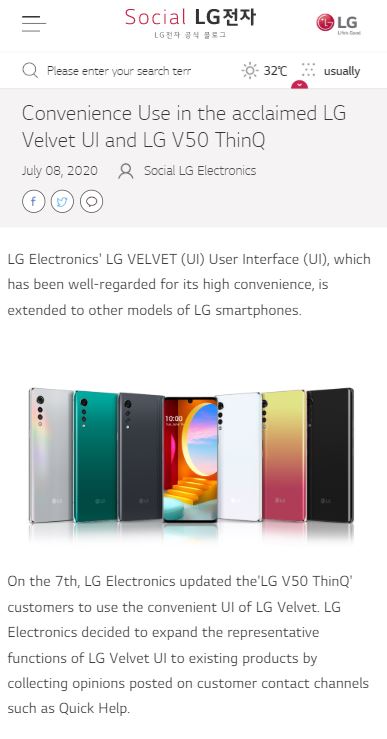 Talking about the changes, LG Velvet UI is not a lot different from the LG UX although a slight design change is recorded. Major changes include an update to the call screen which now pops up during a call, a notification bar point color setting, and volume adjustment screen change among a few others.
ANyways, LG Electronics will roll out the LG Velvet UI to premium devices and it will be based on Android 10. The list includes LG V50 ThinQ, LG G8 ThinQ, LG V50S ThinQ, LG V40 ThinQ, LG V35 ThinQ, and finally, LG G7 ThinQ.
The news comes from LG's official Korean community forum so it holds credibility. No doubt the upgrade will arrive in Korea followed by other countries which are the same for LG's product launches.