Xiaomi is one of the well-recognized Smartphone manufacturers. In the current scenario, after Apple and Samsung, the most common name that Smartphone users are familiar with is Xiaomi. There are certain factors which are responsible for their success actually. One such fact is all the devices of Xiaomi have their own proprietary skin which is known as MIUI. Xiaomi has unveiled their next big firmware i.e. MIUI 9. Here I will list all the MIUI 9 supported devices. Check the list below to enjoy MIUI 9 OS on your Non-Xiaomi smartphone.
In China, it was released on 26th July and experts are sure that soon it will hit Xiaomi devices in India. The Global ROM is expected to reach India during first week of August. It is quite true that Xiaomi offers regular Android updates for users of its tablets as well as smartphones. According to the information we derived from some popular websites, the Chinese manufacturer have plans to load MIUI 9 on lot of devices and the list also cover a few which are still running on MIUI 7.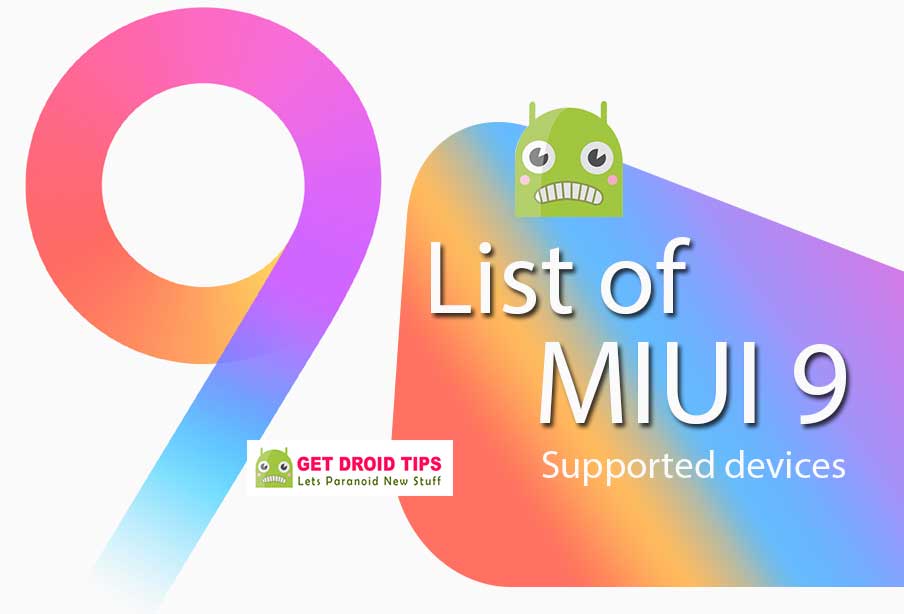 List of MIUI 9 Supported Devices
It is largely believed that Xiaomi MIUI 9 will support a lot of devices. You can check the list in this post. Also, MIUI 9 is coming with some amazing features that will surely add more to the experience of users. The users will be able to enjoy dual space on their device which is a feature meant to create a guest account on the phone. Obviously, this will enhance security and impose a limit on the access for others.
Another feature the MIUI 9 will be having is Always-On VPS. It wouldn't let the call notifications bother you by appearing in the notification bar. After updating to MIUI 9, Xiaomi users will be able to reply to any notification simply. There is no need to open the app actually for replying. This will definitely make the device more reliable. In addition to this, MIUI 9 will be having a lot of other features some of which are spotlighted below.
Optimized dose mode
RAM optimization
Better Data saving approach
Call screening feature
Dual space feature
Dual apps
Multi-window support
Xiaomi has worked very hard to make sure all these features will actually work on all their devices that will be receiving the MIUI 9 update. Check out the List of MIUI 9 supported devices below. In case if you didn't find your device in the List of MIUI 9 supported devices, please comment down below with your device brand name and model no.
Check Popular Post
List of MIUI 9 Supported Smartphones:
Xiaomi has announced that all their devices except MI 1/1S and MI 2A will get the MIUI 9 update. The process has already started for the top models such as Mi 6, Mi 5X, and Redmi Note 4X. All other Xiaomi devices will start getting MIUI 9 update from late September.
So this is the list of MIUI 9 Supported Devices. Probably your device will be in this list. If not, keep visiting, We updated this post regularly.