General Mobile is one of the leading smartphone brands in Turkey and has been awarded accolades after it proved its mantle in various categories with its focus, price-on-point, quality, and other entities. General Mobile (GM) introduced its first phone back in 2014 after it collaborated with Google under its Android One program. The OEM has a number of smartphones that are currently in tow to get the latest Android updates while many of the devices have already ceased to get any further upgrades.
After months of rolling out beta updates, Google has finally unleashed the beast as on September 3rd when it launched Android 10, the tenth iteration to the Android operating system. Although, it was expected to be named after any dessert starting with the alphabet 'Q' such as Quintim, Quesito, etc but turns out, Google wanted to name it to make a universal appeal and thus, the numbering system for Android OS came into life with Android Q becoming Android 10. Google will follow the same suit for its future Android OSes. The Android 10 itself has a tonne of features that it has improved about the predecessor while many are new on Android such as the system-wide dark mode, support to 5G and foldable devices come along with it too.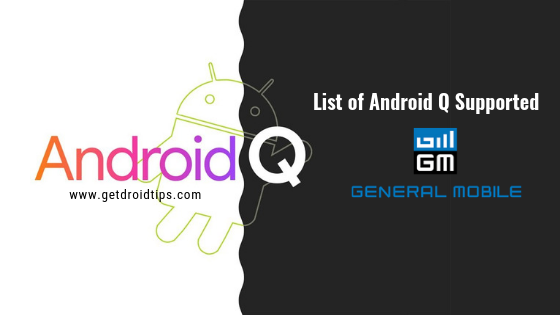 Android 10 also brings Live Captions feature that transcribes videos playing on any support portal or app allowing users to read the subtitles if needed. Next, we get an improved user interface with new icons, navigation-based gestures and widgets and a lot more. At this moment, Google has rolled out official stable update for Pixel, Essential Phones while other partnered devices have received their respective beta updates as well. The OEMs will be responsible for rolling out the OS to all supported devices. Here's an explicit list of Android 10 supported General Mobile devices that you can take reference from although this isn't official since GM hasn't published an official list yet.
Android 10 Features
Gesture-based Navigation: With the new navigation system in place, you don't need to press any buttons and use the sometimes complicated sliders at the bottom. Use the gestures to go back by swiping across the left and right edges or simply make a swipe diagonal across the display to call Google Assistant. Similarly, use the slick slider at the bottom to move around apps or view app overview and more.
Dark Mode: Be benevolent to the battery and your eyes. Sine curbing addiction isn't something you can achieve in a day, curbing the excess light that traditional light theme puts on eyes can make a lot of difference if not for addiction but for health. Dark Mode consumes less battery power and puts a lot less strain on the eyes even if you are using it in the nighttime when light theme could appear as if you are looking directly into the sun metaphorically.
Location Controls: Unlike previous Android OSes, now you have far better controls over location services that apps use to provide their functionalities. It is on you to whether to accept or deny permission or you can just ask the app to use any location-based services only when the app is in use and thou shall follow.
Enhanced Camera Add-ons: Android 10 has added a new file format HEIC which can save still images and can capture, store depth images with AR data for depth effects. It can also provide developers to output monochrome results if the device supports it.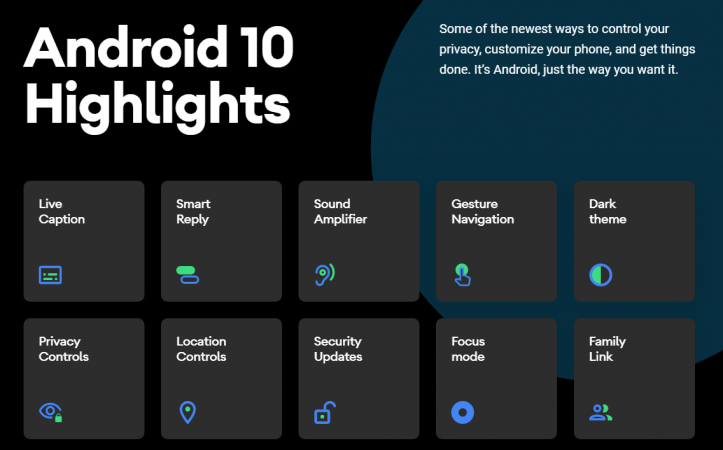 Family Link: This is one of the most excellent features that you'll find on Android 10. It extends parental control to children and provides a thorough insight on what apps and sites they are exposed to along with the duration they spent, screen time, and much more. You can exercise content restriction and a bunch of other digital rules that would help gain better results out of your child's exposure or addiction to their devices.
Digital Wellbeing: If Family Link is for parental control, Digital Wellbeing is basically attuned to curb phone addiction. It shows the duration users have used their phones, screen time, apps in use and more so that they can lower their dependence and thus, the addiction on their phones in the long run.
List of Android 10 Q Supported General Mobile Devices
GM 9 Plus (2019)
The General Mobile GM 9 Plus sports MediaTek Helio P60 octa-core processor which is bundled with 32GB of internal storage and 3GB of RAM. The device comes with a 6.23-inch IPS display with a screen resolution of 1080 x 2280 pixels and has an Android Pie 9.0 onboard. Since we are talking about a phone launched this year with mid-range specifications and Android Pie onboard, this phone is one of the few phones from GM that could get Android 10 for sure although we will have to wait for any confirmation from the smartphone maker.
Status: It might get Android 10
Date: To Be Announced
GM 9 Pro (2019)
The GM 9 Pro does sports a MediaTek MT6739 quad-core processor coupled with 16GB ROM and 1GB RAM. It is a Go Edition device that runs on Android Pie 9 Go which means even if it gets Android 10, it will be a Go Edition which is basically a watered-down iteration of the full-fledged Android OS.
Status: It might get Android 10
Date: To Be Announced
GM 9 Pro (2018)
Now comes the mid-ranged GM 9 Pro which comes with a 4GB RAM and 64GB storage. The device runs on a 6.01-inch AMOLED display with a screen resolution of 1080 x 2160 pixels. GM 9 Pro runs on Android 8.1 Oreo that was released in 2017. It does have a two-year support period that Google supports although the final decision and the list of Android 10 supported General Mobile devices is yet to be confirmed.
Status: It might get Android 10
Date: To Be Announced
GM 8 (2018)
The standard GM 8 released last year packs-in a budget category Snapdragon 435 MSM8940 octa-core processor clubbed with Adreno 505 GPU, 32/64GB internal storage and 3/4GB of RAm options available. The phone is powered by a 3,075 mAh battery and runs on Android 8.0 Oreo out-of-the-box. It might or might not get an Android 10 update although we aren't sure about it since the OEM hasn't provided a confirmed list of Android 10 supported General Mobile devices yet.
Status: It might or might not get Android 10
Date: To Be Announced
GM 8 Go (2018)
The predecessor to GM 9 Go, the GM 8 Go features a 16+1GB storage with quad-core MediaTek MT6739. The device horns a 5.5-inch IPS display with 720 x 1440 pixels resolution and comes with Android Oreo 8.1 Go Edition out-of-the-box. In case the device is listed to get Android 10 Go Edition, it won't be before early or mid-2020 and even after that, we don't guarantee that it will surely get the update unless an official confirmation isn't available from the manufacturer's end.
Status: It might or might not get Android 10
Date: To Be Announced
Released on & before 2017
Note that these are the devices that were introduced on and before 2017 which means they have already succeeded the duration Google and generally any OEM supports their phones although there might be some exceptions.
| | | |
| --- | --- | --- |
| GM 6 | GM 5 | GM 5 Plus |
| GM Discovery Elite Plus | GM 4G | GM Discovery Air |
| GM Discovery II mini | GM Discovery II / II+ | GM Discovery Elite |
Why my General Mobiles smartphone is not eligible for Android 10?
There are many factors and variables that are related when Google launches any Android OS such as the phone must have a compatible processor, drivers, it must meet the minimum requirements, it must be within the support period, etc. On the other hand, there are different factors that affect the timeline of the release such as the release date, priority of the devices on OEM's part, current OS it is running on, etc.
Also, smartphone makers usually roll out too many smartphones a year which means it is not practical on its side to keep supporting all the phones launched and thus, there is a specific period within which only the devices get updates while the rest fade away from the scene of getting any updates. These are just some of the many reasons why your General Mobile device isn't eligible for Android 10 which is the latest OS to launch this August 2019.
What should I do if my phone is not eligible?
In case your phone is old enough to be taken off the support where the period is usually two years or less, you can think of any other avenues where you can get the phone updated to the latest available OS or a custom ROM. There are simply too many custom ROMs developed by many well-known brands such as LineageOS, Havoc OS, Resurrection Remix OS, etc that develop custom ROMs based on Android Operating System where the functionalities are tweaked and launched to support a wider range of devices than the stock Android update.
Note that you need to check whether the custom ROM provider supports your phone model or not. Also, installation of the custom ROMs isn't easy as well as it takes too much time and a little complexity could occur at times thus, you should take reference from any guide such as we usually update on GetDroidTips and so on.