Privacy is very important and Whatsapp, Telegram and Signal are messaging apps which holds a variety of sensitive information including messages, pictures etc. there was a time when people were heedless about their online security and privacy. However, at present most of us take online data security very seriously. This is why it's important more than ever to lock your Whatsapp, Telegram, and Signal using Face ID on iPhone.
iPhone has a good reputation for protecting people privacy, and that's why users have the features of protecting their devices with either Face ID or passcode encryption. Bu just unlocking is your phone is not enough, as other sensitive apps such as Whatsapp, Signal also needs some sort of protection from unauthorized use.
Most chatting applications today comes with an in-built set of security along with a biometric lock to protect our personal information. However, we see that many users don't even know how to enable this feature on their preferred messaging application. Back in 2017, when Apple introduced iPhone X, the Face ID is widely appraised as the premium standard of facial bio-metric on any smartphone. And now users can lock their WhatsApp, Telegram and Signal app using FaceID.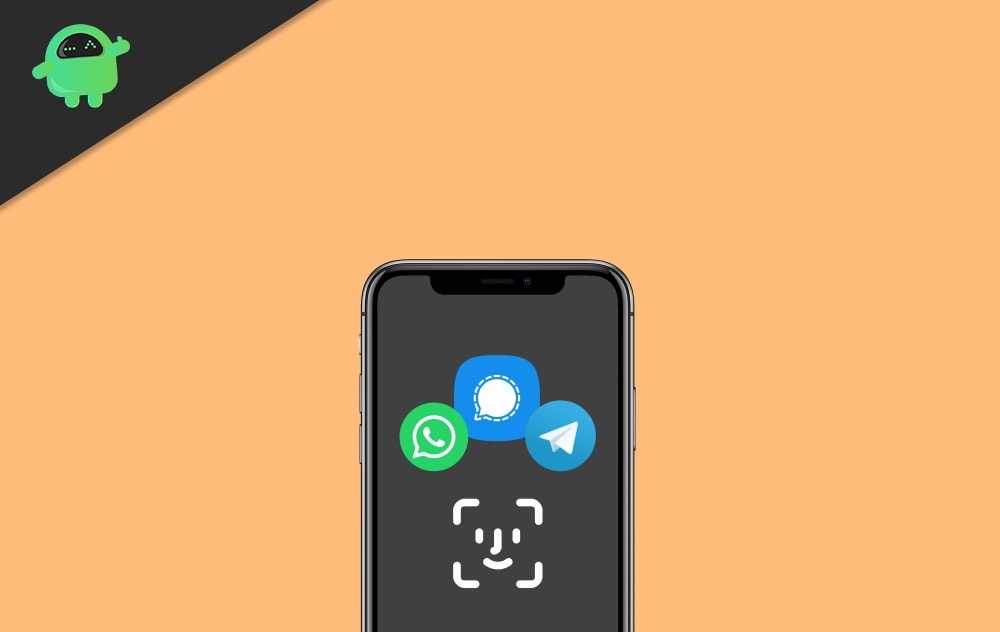 How To Lock Your WhatsApp, Telegram, and Signal Using Face ID on iPhone?
Setting a facial lock for your messaging app isn't a tough thing to do. Also, once you set FaceID for these apps, it will automatically improve and adapt to minor changes such as pimples, hairstyle change and so on. So you don't need to worry about changing it frequently.
Lock/Unlock WhatsApp Using Face ID on iPhone
First of all, open the WhatsApp on your iOS device.
After that, simply you need to tap the Settings icon located at the bottom right corner of the window.
Now, the next step is to click on Account.
Further, go to the Privacy menu.
Now, a new window will open containing all the privacy settings.
At the bottom of the screen, you'll notice the Screen Lock option click on it.
After that, in the next window, you'll see an option Require Face ID. Simply toggle the button and choose between four options. Immediately, After 1 Minute, After 15 Minutes, After 1 Hour to use the Face ID lock feature.
That's it. We recommend you to use the Immediately option.
Now, you'll able to unlock WhatsApp using the facial lock. However, this will not disable to reply directly from the notification panel or answer the calls even if WhatsApp is locked.
Enable the Face ID Lock/Unlock feature on Telegram for iPhone
Firstly, on your iPhone, open the Telegram application.
After that, you just need to click on the Settings icon situated on the screen's bottom right corner.
Further, you need to click on the Privacy and Security option.
Now, from the newly opened window, select the option Passcode & Face ID.
After that, in the next window, toggle the Unlock with Face ID button to green.
That's it. Now, from onward, your Telegram will be unlock using your Facial lock.
Lock/Unlock Signal Using Face ID on iPhone
Enabling the screen lock in Signal on iPhone isn't really complicated even after this application is new for users. Simply follow the easy steps given below: –
First of all, on your iPhone, open the Signal messaging application.
Now, locate the profile icon from the top left corner of the window and click on it.
After that, click on the privacy option.
Further, you'll see a button right next to the Screen lock tab. Click on it to turn on the Face ID lock-in Signal on iPhone.
That's it. Now, whenever you open the Signal application, it only gives you access after authenticating using your Face ID.
Conclusion
It is always better to have an extra layer of safety to block unauthorized access. Also, I recommend users not to give their iPhone away to anyone because other people may use it to dig out sensitive information. Using guided access is also great if in case you have to give someone your device. Apart from that, protecting your social media apps with FaceID is a good privacy choice.