We have discussed several times that Mac computers are the first choice of a productive person for their processing power. Apple had launched its all-new Mac Studio computer with the powerful M1 Max and M1 Ultra chipsets. Along with the powerful chipsets, Mac Studio has high-end specifications that help video editors, programmers, and other heavy users work flawlessly on their computers. However, unlike other Mac computers, Mac Studio is a CPU-like computer that needs external devices like Monitor, Keyboard, Mouse, etc. to get the whole system working.
Mac Studios are also machines; just like other machines, they can run into several problems. Many users have reported that their Mac Studio is having issues with the display connection. The most common issue that was reported is Mac Studio unable to recognize Monitor or Display. As the Mac Studio doesn't have an internal display and solely depends on an external Display, it's a pain when the device fails to recognize the external monitor. But, we have got you covered. We will discuss the possible reasons and solutions for all of them.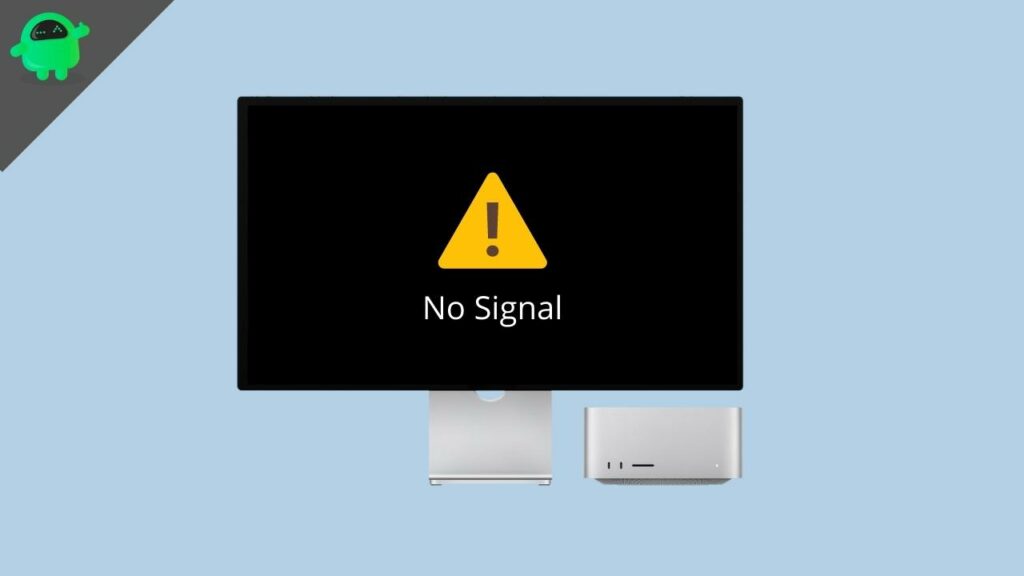 Mac Studio Not Recognizing Monitor: Possible Reasons
There can be different faults related to different parts of the Mac Studio. There might be issues with the HDMI port, where there might be some dirt that can cause a connection problem. Also, a broken HDMI pin can cause the same issue. The monitor that you are using might have some issues too. Some wrong settings in the macOS can also cause an issue like this. Enough of the discussion, now let's move to the possible solutions for these problems along with some other possible problems that can occur with both the Mac Studio and the External Monitor.
How to Fix Mac Studio Not Recognizing Monitor?
Fix 1: Check For Any Connectivity Issues
The first thing we need to check for any connected device is the connection itself. As both the Mac Studio and Monitor are connected through an HDMI cable, we need to make sure that both the output and input ends working perfectly. We have provided a possible method to detect and fix any connectivity issues very easily.
The first and foremost step to overcoming any connection issue is by resetting the connection. Simply plug out both ends and clean them with a cloth. After that, insert them back into their ports and see if there is any trace of connection.
Check Connection with Other Monitors/Displays
If the above step didn't fix the issue, you now have to check for any possible issues with your Mac Studio itself. In this step, you need to check the connectivity with any other external display to make sure which device has the issue. If your monitor has a USB Type-C port, you can use a USB C cable and establish a connection and see if the issue is solved or not.
However, if you do not have any USB Type-C display, you can even try to connect your Mac Studio to your TV with the HDMI cable. If either the display or your TV is able to display your Mac Studio, you are good to go with your Mac and there is obviously an issue with the Monitor itself.
Fix 2: Check For Any Issues With Your Monitor
The most common issue that can cause the issue is your faulty monitor. A faulty monitor can not be detected by either Mac Studio or any other computer. Although a faulty monitor doesn't always mean a dead monitor, there are several issues that make a monitor faulty. We have listed some of the possible issues below that can happen with your monitor that can make it unrecognizable.
Your Monitor Doesn't Have a Power Supply
Even if you think that your Monitor has a proper connection with the power supply, there might be a fault between them. This can be the monitor's internal fault, or there can be an issue with the power supply itself. For the first scenario, you have to make sure it's an internal issue and run to the service center. For the second scenario, try plugging out your monitor and cleaning both the power cord and the socket. If it's still not working, try any other sockets. If it still fails, try using a different power cord and adapter for the monitor and see if the monitor is turning on or not.
Your Monitor's HDMI Port is Not Working
This is one of the most common issues that a user face nowadays. HDMI ports are very easy to destroy and hence it becomes an issue. Try to plug in and out the HDMI cable to your Monitor and check if it's able to show anything on the screen. If that doesn't work, try to clean both ends and try again. If the issue persists, try using a new HDMI cable.
Your Monitor's Firmware is Broken
Most of the devices nowadays are quite smart and to operate smartly, they need a firmware that runs in the backend and performs smart tasks. As the monitors that are available nowadays are quite powerful with the support of high-end stuff, they also need to run on firmware. However, the firmware can also get broken due to some software bugs. If you think your monitor has a firmware issue, rush to the service center and get it checked.
Fix 3: Use the Detect Display Feature in macOS
macOS provides a built-in feature to detect any external displays apart from the internal ones. This method might help you when you have an extra working monitor or TV to work with. Just connect both the monitors to your Mac Studio using different ports and start working on the working monitor or TV.
First, open "System Preferences" on your Mac Studio.
After that, find the "Displays" option and click on it.
Once you are in the display area, you will be able to see a button in the bottom left corner called "Detect Displays".
Click on the button and wait for a few minutes.
If your primary monitor, basically the one you want to use is finally working, then you are good to go. However, if it's detected but not working, you can now refer to the next solution to tweak it. If nothing happens after the check, you might have to rush to your Monitor's service center asap.
Fix 4: Check for Any Issues with macOS Settings
Unlike Windows, macOS runs some checks before enabling any external device to work with Mac computers. So, there might be possibilities where due to some bugs or errors, macOS doesn't recognize your external monitor and hence there is no connectivity established between them, or they are connected without any output. The only way to overcome this issue is to connect a working monitor and your current monitor at the same time. After that you will have to go to "System Preferences" on your Mac (obviously using the working monitor), then navigate to "Displays". Once you are there, select your Disabled Monitor (if connected), and perform a few tweaks.
Once you select your monitor, you will see a dropdown as "Use as". Click on the options and select "Extended display" for now and see if there is anything visible or not. If anything is visible, you can now make it the Primary display. Else, leave it as extended for now.
In the resolution area, play with the options and see what works for you. However, the best solution is to select "Scaled" and then select your monitor's resolution from the available options. Finally, click "Done" and see if anything happens or not.
Sometimes a different refresh rate can cause serious damage to your monitor. Once you find your monitor's supported refresh rate, select it from the dropdown. However, if you are unaware of the refresh rate, select it to "60 Hertz" and check if your monitor is working or not.
Fix 5: Restart Your Mac Studio
Considering that you had performed all the steps in one go, without restarting your Mac, let's now perform a restart on your Mac Studio. Sometimes restarting a computer can fix various issues as it checks for various faults during bootup and notifies the user about the same. So, it is quite useful sometimes to restart the Mac and see if it has fixed the issue itself or not.
Here's how to restart Mac Studio without a Display:
First, just turn off the switch on your electrical board.
For safety, remove the power plug from the board.
In addition, unplug all the cables that are connected to your Mac Studio.
Now wait for 5-10 seconds and insert the power plug and other cables again and turn on the switch.
Once there is power, navigate to the back side of your Mac Studio and press the power button for a few seconds.
The small light in front of your Mac Studio will now light up. Now check if there is anything showing up on the display or not.
If your monitor starts working now, without any issues, you are good to go. The issue is now fixed for you. However, if you see a blurry display, you can perform the above solution i.e. tweaking your Display Settings. It might come in handy to display the proper output on your monitor.
Conclusion
We have tried to provide solutions for each and every possible problem out there that can cause problems. Although few of them require the help of external monitors, they tend to fix the issue more accurately. However, if they do not fix the issue for you, there is always the Support Team and the Service Center which are always ready to help you. Try to visit your nearest service center and get your devices checked. There might be software bugs with your Mac Studio that will be fixed by the Service Center guys, or there might be scenarios of any Physical Damage with either of the devices that will be taken care of.
Also, make sure to let us know about any particular solution we have missed or anything that has helped you overcome the issue in the comments down below.