While macOS Big Sur is out for a few days now, some users are still unable to install it. If macOS Big Sur is not installing on your Mac, then this guide may come in handy for you. I have explained some workarounds to help you install the new operating system. If there is a developer side issue, then you can do nothing about that. All you can do is wait for a hotfix that replaces the current buggy update. For issues arising from the server-side, you can keep a tab on the system status update of Apple. I have explained how to check for that.
On the other hand, if macOS Big Sur is not installing there may be issues on your Mac. The prime problem being the unavailability of storage space. I have mentioned the fix which I came across on the official support forums of Apple. Let's check that out.


macOS Big Sur Not Installing | How to Troubleshoot
First, let me share the workaround that I talked about. Here are the steps
Restart your Mac
As you see the reboot begin, quickly hold the Command + R keys
Hold these keys till you see the Utility Menu on the screen
From that, select Disk Utility > then select Continue to proceed
select indented volume entry from the side panel
Go to Toolbar and click on the First Aid tab
Let the Done button activate then click on it.
Close the Disk Utility
Restart your Mac once again
After it reboots, try installing the macOS Big Sur update
How to Check If Apple System Server Has Any Problem
As of this current writing, the installation problem with macOS Big Sur has been solved. This information is as per the system status page of Apple Support.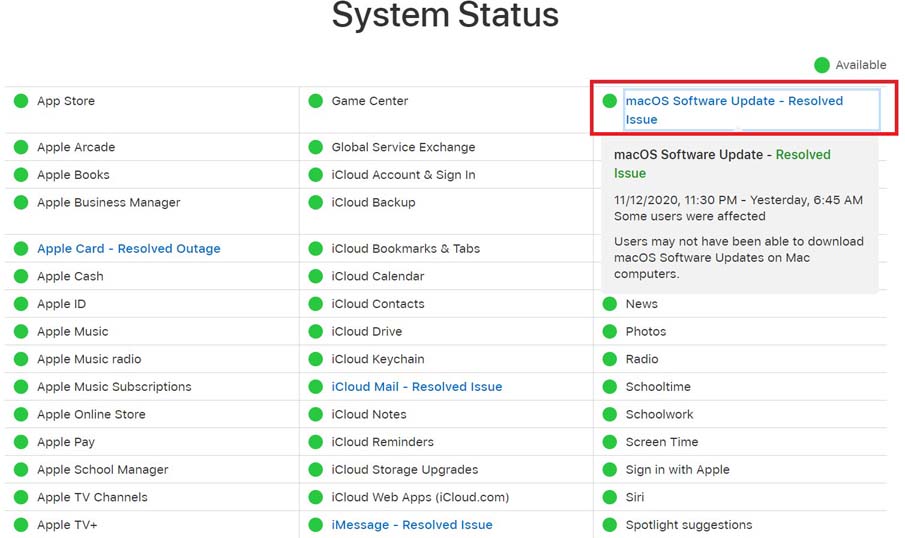 Do You Have Enough Storage Space on your Mac
Apple Macbooks start with 128 GB and 256 GB storage. You may have consumed a major part of the storage. Now, to install the all-new update storage space is required. Unavailability of storage may also cause the new macOS update to not install.
So, check how much storage capacity is available on your Mac. Then accordingly, delete or move the data you do not require as a backup to some other cloud storage. After freeing up space, then try to install the macOS Big Sur. I'm sure if storage was not allowing the installation previously, now the installation should happen easily.
So, try this above method if macOS Big Sur is not installing on your Mac. Also, as Apple is claiming on its system status page that the installation issue has been resolved, it should install fine for everyone.
Next Guides,