Crystal Dynamics' highly anticipated superhero game, Marvel's Avengers, features a number of exciting items and gear that you can acquire, both during the main campaign and the multiplayer mode. The loot you obtain in this manner is classified in accordance with several tiers of rarity.
There are, of course, the usual categories like uncommon, common, rare, and so on. However, Exotic Artifacts are by far the most powerful items you can get your hands on in the game. Doesn't that sound exciting? You bet it is! In this guide, we will help you understand how to get Exotic Artifacts along with increasing Faction Rank Marvel's Avengers.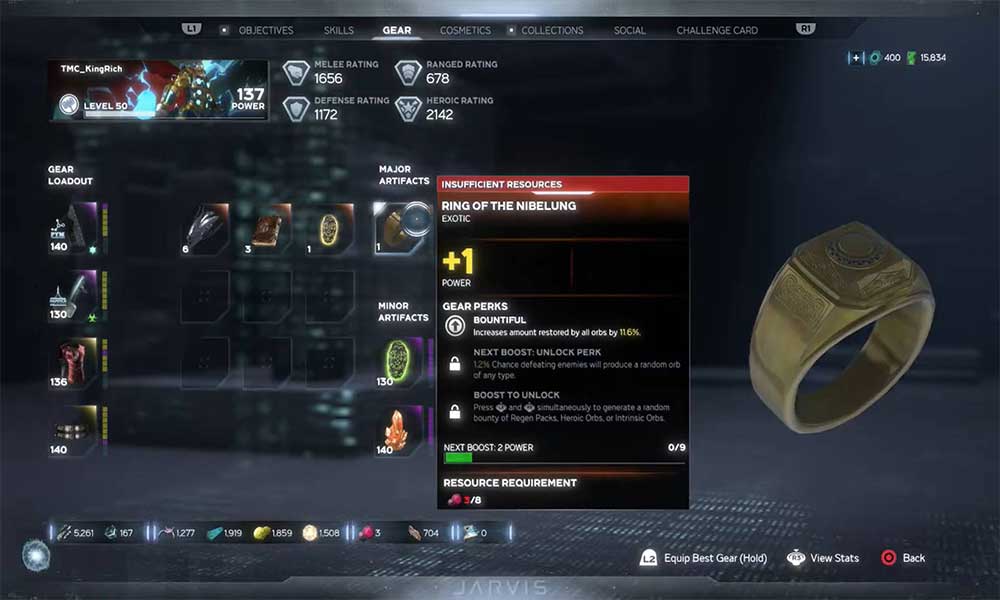 How to acquire Exotic Artifacts and Increase Faction Rank?
In Marvel's Avengers, artifacts are defined as specialty gear items with unique and high-quality perks. Exotic Artifacts, apart from a handful of special features, directly enhance your hero's power. As of now, there are at least two Exotic Artifacts confirmed to be featured in the game. These are the Tactigon and the Sacred Norn Stone of Lethal Will.
The latter is easy enough to acquire. Just before starting the Ant Hill mission, visit Theo, and have a conversation with him. He will give you the Sacred Norn Stone of Lethal Will right away. On the other hand, you will obtain the Tactigon as a reward for successfully completing the game's campaign. Thus, it will help if you simply keep playing and beat the game to get your hands on it.
It is important to note that Exotic Artifacts, like all other gear items, can be power boosted. For this purpose, you will need a rather uncommon resource known as Polychoron. You can get this via Faction Assignments. In order to boost an Exotic Artifact, you will require eight Polychorons.
Now talking about increasing the Faction Rank, the easiest thing you can do is complete Faction Assignments. Now to do this, you will have to meet the Faction leaders and get your daily Faction Assignment. Moreover, there are a total of two faction leaders in the game.
That is it for now. Presently, there is no information regarding any Exotic Artifact available to acquire via unconventional methods in Marvel's Avengers. However, we will definitely update this post if there is any news on that front. And the developers are likely to add more of them in the near future, as a part of Crystal Dynamics' live service support. So be sure to stay tuned!
Now, check out our Windows Guides, Gaming Guides, Social Media Guides, iPhone, and Android Guides to read more. However, if there are any queries or feedback, comment down with your name & email ID. We will try our best to reply soon. Also, subscribe to our YouTube Channel in order to watch awesome videos on gaming and smartphone tips and tricks. Thank you!