The core concept of Marvel's Avengers is to make your heroes more and more powerful. This will enable them to go up against some of the most ferocious enemies in the game. For this purpose, the game features Power Boosting gear that will greatly help you in powering up your heroes.
You can take your heroes in several different playstyles, and enhance their overall power too. In this all-new guide, we will take you through all the important points of Power Boosting gear in Marvel's Avengers.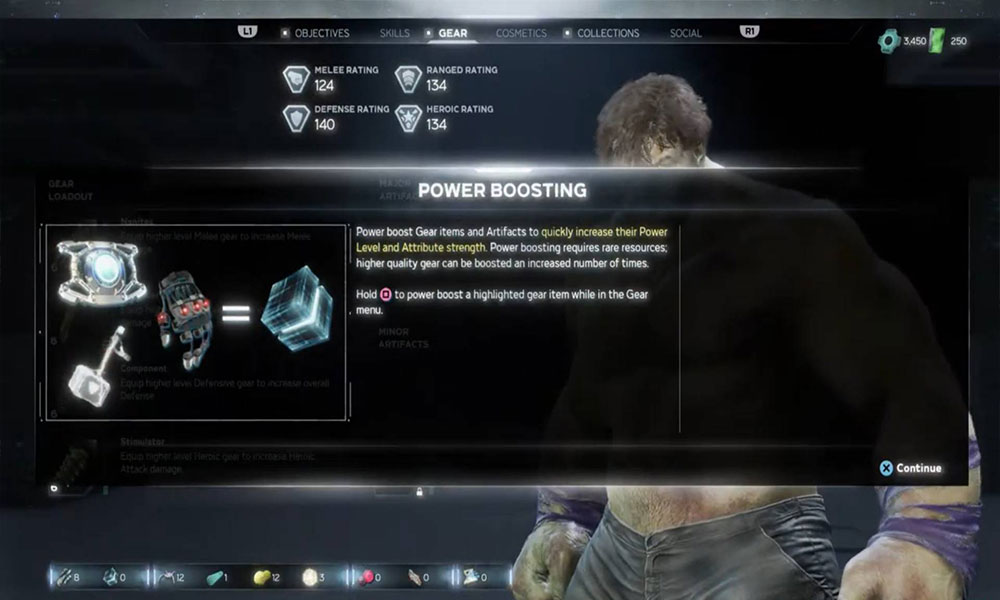 Power Boosting Gear in Marvel's Avengers
In Marvel's Avengers, each hero possesses a gear loadout, which can boost their abilities. Players have the ability to select the kind of gear they wish to use, which will enable them to change their playstyle. Further, this will highlight how you want to give your heroes the choicest skills. For example, you could choose to enhance their melee attacks, provide extra defenses, or simply increase the overall amount of damage their abilities can inflict during gameplay. All of this depends on the kind of gear you obtain and how you choose to play with your characters.
You will notice that every gear piece you find has a certain number associated with it. This number highlights its power level, and you can give it a power boost to enhance its performance. You can also use this number to compare the gear with the equipment already possessed by your character. This will enable you to find out the kind of skills this particular gear piece will improve. While checking any gear piece, you should look beneath to find out the number of times you can boost it. Boosting it will raise the number of its overall strength. That, in turn, will improve its stats and provide a superior power rating for you.
How to Power Boost Gear items in Marvel's Avengers
In order to power boost any gear item in Marvel's Avengers, you will first have to fulfill the resource requirement given below it. There, you will find out the kind of resource you require, and the number needed to boost it. It is important to keep in mind that every item possesses a certain fixed number of power boosts. When you've reached this limit, you will have to wait until you come across a better level item, superior to the one already equipped.
By power boosting your gear, you can avoid spending an excessive amount of time comparing the numbers at the gear screen. This allows you to retain your gear for a longer amount of time. Although numbers still play an important role here, it is not something vital to the gameplay.
That is it we have for now. We hope this guide helps you understand all the important aspects of Power Boosting gear in Marvel's Avengers. Now, check out our Windows Guides, Gaming Guides, Social Media Guides, iPhone, and Android Guides to know more. However, if there are any queries or feedback, comment down with your name & email ID. We will try our best to reply soon. Also, subscribe to our YouTube Channel to watch awesome videos on gaming and smartphone tips and tricks. Thank you.