There's the thing, your phone is having a restarting and freezing problem which is why you are here or at least I assume that you are someone who would like to keep a tab on what to do in case if it happens. Essentially, screen freezing and restarting problem is often related to apps, cache files, storage memory, and other resources which means if we get it straight, we can prevent the issue from happening at the first place or at least reduce its impact on your phone if it is already in effect. Here are a few methods that you can use to fix restarting and freezing problem.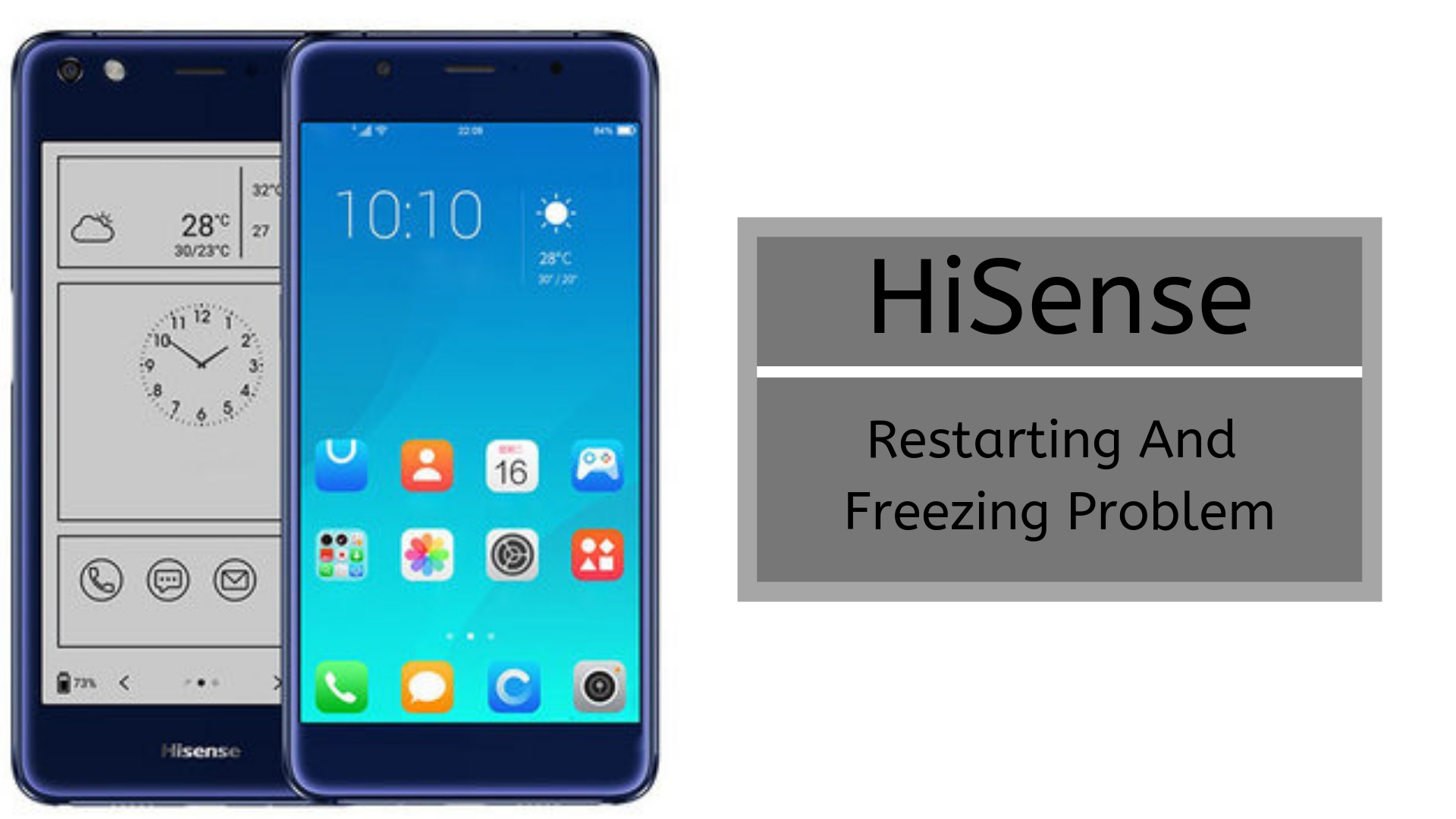 How to fix HiSense Restarting and Freezing Problem?
Step 01: Purge all the apps 'running'
First up, the moment you realize that your phone is either restarting all by itself which is a sign of overload or if its screen freezes, you need to purge all the apps that are running. Your HiSense smartphone is intelligent enough to offer a shortcut to purge all apps at once. Simply tap on the 'Recent' button or navigation gesture dedicated to it and exit from all the apps. Next, proceed to Settings >> Apps >> Running and check if which apps are still active (that must be closed) and 'Force Stop' it.
Step 02: Restart the phone
Although restarting problem might be curbed using the previous method but, when it comes to screen freezes, your phone essentially becomes unresponsive to touches and doesn't take any inputs whatsoever. This makes it difficult to purge all apps and that is why a quick restart will help. Press the power button and check if the phone actually shuts off or not. In most cases, it won't because the screen is frozen. So, press power plus volume up/down button to perform a force reboot which must work.
Step 03: Get rid of unwanted apps
GetDroidTips has always been recommending its readers to install apps that are needed and ignore those that aren't needed. This is because although these unwanted apps may not consume much storage or any other resources, it is lying on your phone just like that. Since a number of apps would run in the background for hours without any knowledge, this cause raise battery draining problems as well. Also, too many apps are just too pressuring for a smartphone which is why it is essential to get rid of unwanted apps. To uninstall an app, proceed to the Settings >> Apps >> Downloaded >> (Click on an app) >> Uninstall.
Step 04: Disable bloatware
You don't only download unwanted apps but your Android-enabled smartphones already have a string of unwanted bloatware that comes ready with your phone that you might never use. Since you cannot uninstall bloatware or pre-installed apps, you can always disable those not needed. For this to work, proceed to the Settings >> Apps >> All and select bloatware and press "Disable" to do the same.
Step 05: Remove launchers if any
Although this was prevalent earlier, it is still in practice. People usually download launchers that change the outlook of their device's desktop, app drawer. However, you already know that launchers are a big no because at first, they are injected with ads and then, these launchers curtail the performance of the device as well. Although not all launchers are included in this category a majority of launchers especially those mimicking iOS devices. Thus, you need to remove these launchers without fail.
Step 06: Boot into safe mode for diagnosis
Speaking about apps, the root cause could be a single or a couple of pre-installed apps or third-party apps that you downloaded recently. The only way to determine the cause if it is not hardware-related for sure is to enter into the safe mode for diagnosis. Once in safe mode, the phone will actually restrict any third-party apps. Here, if the phone reacts the same, you must know that any bloatware or say, the hardware component is at fault but if not, better start uninstalling third-party apps in the descending order until the problem is resolved.
Step 07: Update applications on your device
Next up is to update all the applications that you have installed on your device. Because outdated apps are vulnerable to bugs or issues which makes it imperative to update all the apps at once which is something you must do every month. For this, open Google Play app on your device and proceed to 'My apps and games' by hitting triple horizontal dots and select 'Update All'.
Step 08: Upgrade the firmware
Excluding the fact that your Android HiSense smartphone suffers OS fragmentation across all makes and models, you need to upgrade to the latest firmware if any problem keeps coming at you. Similar to outdated apps, outdated firmware can have an adverse impact on your device too which is why you need to upgrade the firmware by navigating to 'Settings >> About Device >> Software Updates >> Check for updates'.
Step 09: Clear storage cache files
Moving on to the second prevalent cause of HiSense restarting and freezing problem is the cache files. There are different types of cache files so let's start by purging the storage cache files. You need to visit 'Settings >> Storage >> Cache Memory' and delete the same to fix it.
Step 10: Purge app cache files
Another common type of cache files is the app cache that every app collects and stores, overwrites, etc. Since the cache files are susceptible to corruption, you need to clear 'em from time to time and know what, you'll see the change in performance right away. You need to go to Settings >> Apps >> All. Here, you need to select an app, open it, and tap on 'Clear Cache' and repeat the same for all apps except system apps.
Step 11: Wipe cache partition
The next is to clear cache partition which is accessible in the recovery mode where you can enter using a specific method reserved but different from smartphone brands to brands. For HiSense, it is a combination of power plus volume down button together when the phone is switched off that you must hold until an Android symbol is not displayed on the screen. Once it is visible, release the keys and let the phone enter the recovery mode. Next up, proceed to 'wipe cache partition' from the given menu using a power button (to select) and volume rockers (to scroll).
Step 12: Free up RAM
This is something I would recommend for phones with less than 2GB of RAM. You can literally check out the total RAM usage in Settings >> Apps >> Running. You can check out the RAM usage and 'Force Stop' apps to bring down the used RAM.
Step 13: Free up storage memory
It is not a problem for smartphones with 64GB or above internal storage but when it comes to internal storage below 16GB or even 32GB which is less in today's terms, you need more free space to keep the phone working optimally. Now, the thing is simple. When you run an app or game, it uses resources from both internal storage and RAM. It is recommended that you must free up sufficient storage and RAM for apps to work freely. For reference, you must keep at least 1.5GB free (32GB ROM), 1GB free (16GB ROM), 0.5GB free (8GB) and so on. The same goes for RAM which you must keep free at least 25%.
Step 14: Use microSD card
The best way to keep the internal storage unclogged is to use a microSD card that extends the user's ability to store more data without hindering apps from working properly.
Step 15: Restore to original factory settings
If the restarting and freezing problem is anywhere related to the software, you can restore it to original factory settings to get rid of the problem once and for all. As you have already seen the procedure to enter the recovery mode in 'Step 11', here's what you must do after that. Select 'wipe data/factory reset' and finally, 'yes — delete all user data' from the said menu to proceed through with it.
Don't wait if you cannot curb the issue by yourself using any of the methods explained above which is kind of unlikely but there is a possibility. Visit a nearby authorized service center to report what's happening with the device and fix it.
What you should avoid escaping restarting and freezing problem?
There are a number of things you can do to prevent the phone from ever entering restarting and freezing problem. It includes using the phone is short burst and sporadically spread across the day. Then, although your phone allows using too many apps at once, it is not always ideal and therefore you must refrain from doing so. Also, it is ideal to clear cache files from time-to-time and also, maintain free storage as explained above.