You were playing an intense game on your phone or it was simply watching videos on loop or juggling between work in multiple apps, etc, all this can trigger restarting and freezing problem on a smartphone. It is mainly because of increasing resource requirements but there are plenty of other associated reasons too including a cache memory, storage, RAM, apps, and services and whatnot. Many times, the screen will freeze and you wouldn't be able to click on anything or select anything on the screen since it is frozen and wouldn't register any touches as of now. In such cases, what do you do? Let us tell you what you should do in case of Kyocera restarting and freezing problem so read along to know more.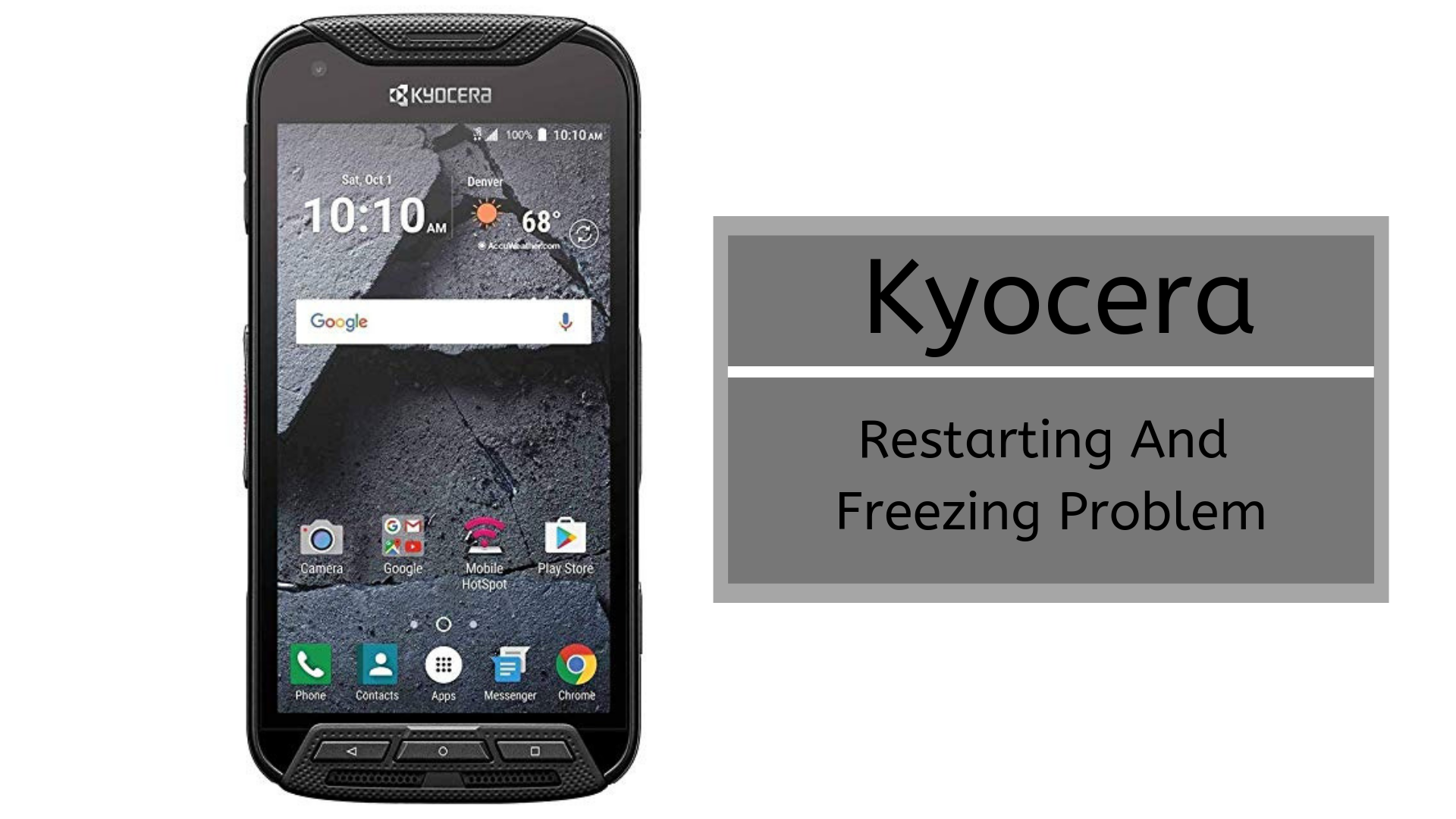 How to fix Kyocera restarting and freezing problem?
It won't be fair to name just a handful of apps that crash too often but there is a list that appears on Technobezz that features some apps that crash often. It includes Pokemon Go, Snapchat, Instagram, Facebook Messenger, Netflix, YouTube, Google Maps, Google app, Gmail, WhatsApp Messenger, Games, Waze, Chrome, Tinder, etc. Here's how to fix Kyocera restarting and freezing problem using the methods prescribed below.
Reboot the phone
Now, this is the easiest method to follow and works effectively without any doubt. The thing is, when the system is too worked up, it is bound to attract problems such as an app might crash or the cache files which is actively being created, stored and retrieved. This is why you need to give it a rest and what possibly be good for a smartphone than a quick reboot. Since we are tackling two issues here which is restarting and freezing problem where the latter is related to the screen, a reboot must work but you can use it in conjunction with other methods prescribed here to get effective results.
Close all the running apps
If you have rebooted the device, then there's no need to close any apps because there aren't left any. However, considering there is a possibility that many would either resist rebooting the device or they might have done it earlier yet to no avail, here's what else can you do. Technically, apps can introduce a string of problems when running as they might end up exploiting a bug or it is possible that a hacking attempt or data breach occurred whilst using any particular app or say firmware as a whole.
Try force stopping apps
Moreover, screen freezes when the system is overworked and that happens when there are too many apps running on the system. Thus, this step must help. There are basically two ways you can close an app. First is the usual close the app directly from the recent tab and second is to visit the Settings >> Apps >> Running and 'Force Stop' from running if they don't close at once.
Uninstall unwanted apps
No doubt Android OS allows users to install hypothetically unlimited apps but this isn't good for a smartphone. The more the apps, the less are the resources i.e. storage, battery, RAM, etc. This will definitely affect the system's performance and since we are talking about apps, you must get rid of unwanted apps which are basically apps that you seldom use or never at all. Removing those apps will definitely unleash the hoarded resources and will surely work on your favor by improving the system's performance and by fixing the screen freezing issue that we are here to discuss.
Update all applications without fail
App developers constantly thrive towards updating their apps to resolve any bugs found, viruses in their apps, as well as providing a strengthened wall against any foreign intruder while bringing new features within the app and more. This is where updates come into play as the app developers can send out updates for their apps and they usually do every once a month or so. You can access Google Play app on your device and click on 'Menu >> My apps and games' and tap on 'Update all' button. Next, you can select the 'auto-update' feature so that the system automatically updates all the apps without any hassle.
Proper storage management
As we are discussing Kyocera restarting and freezing problem, proper storage management is crucial as failing which, you will have to face app conflicts, crashes, random reboots, etc. Although smartphones with 64GB and more internal storage will seldom need this method this is particularly for those smartphones in the budget, mid-range categories that have 4/8/16/32GB of internal storage.
Also, the RAM is also another issue on a smartphone and those with 1/2/3GB which is another issue on Android because it relies on it heavily. Since app use RAM when active, smartphones with lower RAM storage tend to turn sluggish in terms of performance which is the reason why smartphones in low-end, budget and mid-range category are sluggish although not all. We need to keep some space on both internal storage and RAM free to avoid such a problem. The fix for low internal storage is to divert the data to a microSD card.
Clear Cache files
Every app that you run on your phone creates, stores, and use the cache files to retrieve the fetched details. However, these cache files pile up and are overridden repeatedly that raises its possible to get corrupt or crash. This is why experts recommend users to clear cache files as soon as they notice a sluggishness in the performance.
To clear storage cache, go to Settings and access Storage and look out for Cache Memory that you need to delete. Next, up, you need to back up a bit to the Settings app and proceed to Apps >> Downloaded and tap on 'Clear Cache'. Note that if the device is still slowing down, you can repeat the last procedure but this time, tap on 'Clear Data' against all apps in the downloaded section to get the phone work in proper order.
Wipe cache partition
This is the junk that your Android smartphone stores in the cache partition and by clearing it up, you are actually saving the device from restarting and freezing problem including app crash and sluggish performance, etc. Note that every phone from different make and model has a specific procedure to boot into the recovery mode. For Kyocera smartphones, the method is explained in the 'Pull a restore factory' prescribed below. You need to select 'wipe cache partition' within the recovery mode and move on.
Upgrade the OS
Getting a new OS update is always better as it resolves hundreds of issues that you might be having on the current OS version. This could mean either moving from a version from the same OS variant to another or moving to the latest OS such as from Android Oreo to Pie. But since Android is notoriously known to skip those low-end, budget category smartphones out of the update loop, you can always revert to a previous stable version of your OS or degrade the OS altogether or you can download and install a custom ROM to fix any glitch at the first place.
Pull a restore factory
Saved for the last. Yes, this method is often hailed as a mother-of-all-fixes although not any hardware problems. So, this method works by erasing all types of data and restoring the original factory settings that your phone came up with upon purchase.
Start by turning off the device.
Now, press a said combination of buttons to access recovery mode i.e. volume down and power button for Kyocera smartphones.
Hold the buttons until an Android logo or a window showing Recovery mode comes into the display and then, release it.
Next up, use the power button to select an option and volume buttons to scroll among the menu.
You need to select 'wipe data/factory reset' and that must conclude this procedure after it is done.
Consult a doctor
Not literally but figuratively. In this context, the doctor of a smartphone is actually a technician at an authorized service center who has the knowledge required to access the situation, detect the problem and its cause, and fix it. You can also produce the phone to a third-party service center although that means you will be risking phone's warranty as well so think before you leap.