Smartphones have transformed from a brick-shaped phone to a light-weight high-powered piece of engineering and yet it is susceptible to several issues. Panasonic restarting and freezing problem are one of 'em and it is a biggie. Cache files; overloading apps, crashes and a bunch of other irritants causes the restarting and freezing problem. Well, at GetDroidTips, we received a number of comments and questions from Panasonic smartphones users regarding this particular issue. Here is an explicit guide on the ways to fix the problem on your Panasonic smartphone.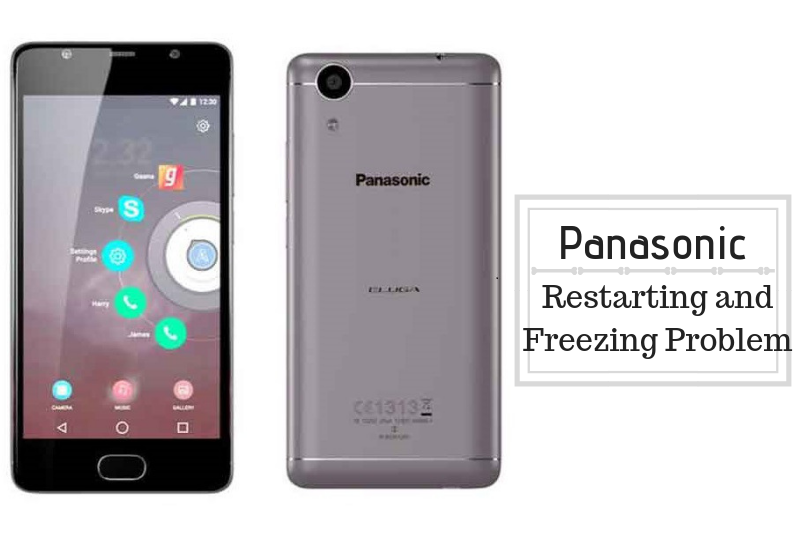 Methods To Fix Panasonic Restarting And Freezing Problem
Perform a phone rebooting
This is the first method you can deploy to get the phone start behaving normally and fix the Panasonic restarting and freezing problem. The reason behind why it works is because a phone handles a lot of apps, services, tools, resources, etc and at times, it becomes overloaded with these tasks and tend to either cease to perform optimally or it could actually restart abruptly or the screen could freeze making it mandatory to restart the phone to retrieve it. Thus, if in case it happens, you can perform this easy function or I would recommend using it at least once a day to prevent this problem from happening.
Check out the number of apps opened
Irrespective of what internal storage, processor, and RAM your phone has, it has a specific count of apps that can be opened at once without losing any performance. Plus, there are background processes that smartphones carry on which adds a strain on the processor and other resources. This could lead to the said problem and the phone could freeze or restart abruptly. The fix is to check out the number of apps opened at once and limit by closing or exiting apps that aren't required at the moment. You can close apps by tapping on 'recent tabs'. Further, you can stop apps that pop up again by going to the Settings >> Apps >> Running >> tap on an app >> Force Stop.
Uninstall unwanted apps
People tend to install as many apps as their phone allows it without taking the throughput and the performance issues it will cause eventually. Well, I won't say you shouldn't install apps but you must get rid of unwanted apps that you barely use or say, never use. You can always download an app from the Play Store when required so why strain the system overloading it with unwanted apps.
Get rid of launchers
There are users who download launchers from Google Play Store to use their smartphone emulate a different theme. Most of the launchers are prone to errors and would eventually freeze when several numbers of inputs are provided thereby crashing the system for a brief moment of time. This is why we recommend deleting all downloaded launchers and/or rely on trustworthy and efficient launchers.
Boot into the diagnostic 'safe mode'
A safe mode on a smartphone is a bootable partition used as a diagnostic tool. It relays hints whether the problem is caused due to a pre-installed app or a download or third-party app. Booting into the safe mode required a specific procedure that is turn off the phone, turn it back on and just as the vibrates to turn on, tap on both volume rockers to boot into the safe mode.
Here, you can check if the problem is an internal or external app by doing what you normally do. Since there are no external or third-party apps here, you'll notice that the phone will either freeze at any moment or not. If it does, it is because of bloatware or a hardware component is to be blamed but if it doesn't, you'll know that the problem is a third-party app that you'll have to remove in descending order until the phone starts working normally.
Update all the apps/firmware
A major plot of an app is to update it and not to skip updating it. The problem with not updating an app or firmware is that you'll not get new features and any add-ons or improvements that the developers have rolled out.
But the major setback is the fix to bugs and security patches that are rolled out consecutively with the updates securing the system from any unwanted exploitations and since you haven't updated the app or firmware, you are not secured enough which is a major problem today. So, get the firmware updated simply by following the said procedure 'Settings >> About Device >> Software Updates >> Check for Updates' or install a custom ROM. Further, you can check out for available app updates in the 'My apps and games' section of Google Play Store and set an auto-update feature.
Clear Cache storage
There are basically three ways your phone stores cache and since these files are susceptible to get corrupted and introduce bugs, it is highly recommended to get rid of it as soon as you can. The fix is to simply delete all types of cache and there are several ways you can do it. Firstly, you can install apps like Clean Up, CCleaner, etc to simply yank all types of cache files at once. Or you can go the manual way by following the steps 'Settings >> Apps >> Downloaded >> Tap on an app >> 'Clear Data' and 'Clear Cache'. Another way to clear cache files is through 'Settings >> Storage >> Cache Files'.
Finally, the last method is to boot into the recovery mode and yank off the residual cache files by wiping off cache partition. You need to dive into the recovery mode for which, you can watch out for the procedure under 'Restore Factory' method explained below. You need to select 'wipe cache partition' from amidst the menu to do the same.
Proper memory management
Why a smartphone could face restarting and freezing problem, you may ask? This is because of unwanted stuff in your phone that clogs its performance. Thereby, proper memory management is required which is although not the only aspect to take care to avert the problem it is helpful. You need to keep at least some space in the internal storage which is where the phone operates all its apps.
For example, a phone with 16GB internal storage must keep at least 1 to 1.5GB of storage empty and that increases with the increase in internal storage capacity. This ensures that the system has ample space to move around when required without causing any performance gnarls.
Similarly, RAM is also limited and must be kept free in a small chunk for smooth performance. I have a smartphone with 6GB RAM which is more than enough to keep open 15 to 20 apps at once without running out of RAM but it is not the usual usage since I limit using apps when required or close it as soon as possible thereby relieving the system from the excess strain.
Check out for an incompatible charger
Now, this particular aspect of 'Panasonic restarting the freezing problem' is self-explanatory. At times, smartphones tend to freeze when connected to an incompatible charger. You'll just have to wait for few minutes before observing slight abnormalities with the phone with a connection to an another charged which isn't recommended. So, yank off the charger, take off your own original or purchase a new one as soon as possible to avert it.
Restore Factory
It is not as simple as it sounds. Because it required the user to take a backup before performing it because the data will be lost forever if not backed up. Every smartphone has a specific set of instructions to enter into the recovery mode where this particular feature is available. It will possibly fix the restarting and freezing problem if it was caused due to a software issue.
Step 01: Switch off the device.
Step 02: Press power + volume up + volume down buttons together.
Step 03: Don't release the keys for a few seconds but only when an Android logo is visible on the screen, you can release the buttons right away.
Step 04: When in the recovery mode, you need to use power key as a selection or confirmation key while the volume rockers act as toggling keys.
Step 05: Slide down to the option that says 'clear data/factory reset'.
Step 06: Confirm by hitting 'Yes — delete all user data' and bingo, the procedure is done.
Step 07: Tap on 'reboot system now'.
Get Help!
At last, the permanent solution to a recurring or resisting Panasonic restarting and freezing problem is to walk-in to a service center (authorized) to fix the problem upon paying certain charges or producing warranty documents if covered. Note that reporting the same to a third-party service center could void the warranty making the phone both out of warranty and bring down the resale value as well.