It is annoying when smartphones behave abnormally or weirdly in any sense and the Walton restarting and freezing problem is one of them. In fact, when the system crashes or freezes, it either stops a particular app from working (at least for some time) or it freezes the screen preventing the user from doing anything on the phone unless the screen is back to normal which could be either automatically or requires reboots or resets to get back to normal state. Similarly, phone abruptly or randomly restarting itself is a major concern as it could be a sign of a hardware or software error that needs to be corrected before it causes any permanent damage to the system. Well, we decided to tackle the Walton restarting and freezing problem in this extract so read along.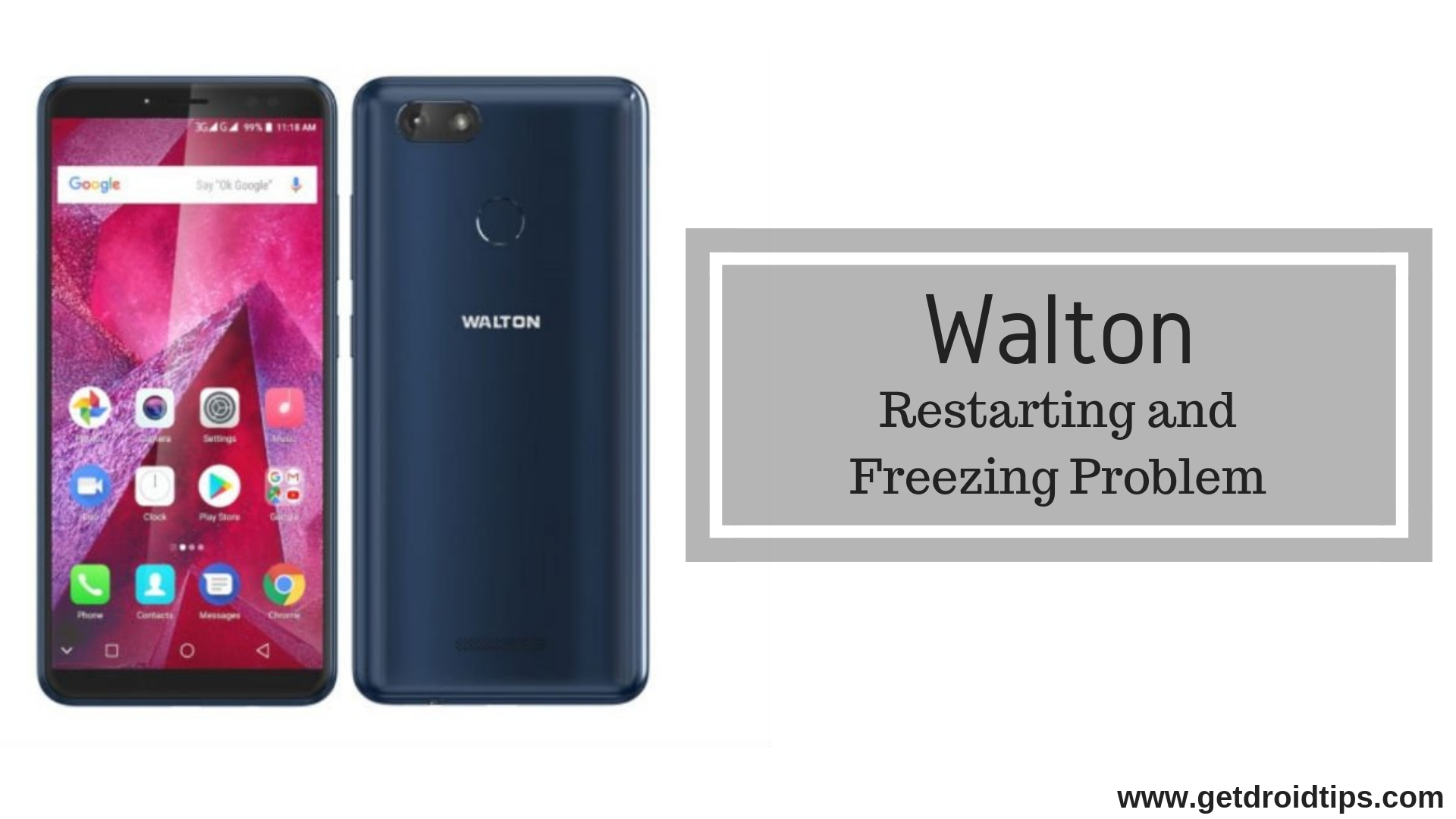 Restart the phone
This is the most basic solution to any performance or says firmware-related issue as it tends to abruptly close all the apps and force all the processes both in foreground and background to shut down. It is also known to fix temporarily occurred firmware errors and bugs that would have occurred at the very moment when you tried to do something on the phone. Press the power button for few seconds and tap on 'restart' or you can tap on 'turn off' or 'power off' and let the phone turned off for few minutes without rebooting it and inspecting if the error still exists.
Stop all the apps
Apps may be a blessing for Android users because there are millions of 'em available on the Google Play Store, however, you still need to play it safe by downloading those apps that you actually need and not those that you won't use ever. Since we are talking about restarting and freezing problem which is associated with resource crunch or when too many apps and processes are working together causing the screen to freeze or the system to reboot after it reaches a critical point after which, it simply restarts itself without any warning.
So, you need to close all the apps that you are using if the phone is acting a bit weird. Also, go to Settings >> Apps >> Running and force stop those apps which usually pop-up even after you have closed it. There are third-party apps available on the Play Store that can help manage the apps that startup or consume over a set value of battery backup or other resources, etc.
Check if an app is causing conflict or crash
Again a problem related to apps. Applications are helpful but they can have compatibility issues or they can easily crash and much more. Try uninstalling those apps that you recently downloaded if the restarting and freezing problem has started appearing. Also, you can check the apps in safe mode to diagnose it and take preventive measures to rectify it.
Upgrade all the apps
May it be a million dollar transaction or voice calling someone across the seven seas, apps have maximizes our reach to a great extent. But having too many apps on Android smartphone or running too many apps at once or even if you skip updating those apps, it can be a trouble for your smartphone's performance as it will decline over time and that's what you can fix simply by taking out a couple of minutes every week to update those apps which have received updates. On the other hand, you can set 'auto-updates' that will override your efforts by doing it automatically.
Upgrade the Android OS
The firmware is the essential piece of software as it enables the apps and the hardware components, drivers, and other elements on a smartphone to interact with each other. Also, the outdated firmware is known to introduce a number of bugs and updated firmware, on the other hand, has a lot of beneficial perks that you could enjoy and thus, you must get an upgrade. If it is not available, you can skip Android OS and install custom ROMs to get something more like frequent updates.
Wipe out the cache files
You open an app and exit it without closing it. Now, the app is still in the background and allows you to multitask because that is what smartphones are for and this is all possible because of several reasons of which, cache files are the one. It reduces the overhead and allows the user to access the app or process right away without much delay and therefore, the cache is beneficial. But it tends to corrupt or get bugged too soon and it is easily one of the deterrents causing restarting and freezing problem without any doubt.
Now, you can get rid of cache files by going to the Settings >> Apps >> Downloaded. Here, you need to tap on apps individually and tap on 'Clear Data' and 'Clear Cache' to get rid of any deterrent and you just got rid of app cache. It's time to get rid of storage cache for which, you'll have to navigate to the Settings >> Storage >> Cache Memory. Note that you may have to undertake all these procedures to clear cache files at least one every day or on alternate days to keep the system performing at its optimal capacity.
Deploy Recovery mode
Recovery mode is one of the powerful bootable sectors on a smartphone that has a number of powerful features including wiping off cache partition and restoring the phone among others. Every smartphone might have a different method to boot into this mode and here's how you can boot in this mode on your Walton smartphone.
Firstly, you need to turn off the phone and start afresh.
Secondly, you need to press the power button plus volume up button together while many smartphones would need you to press power plus volume down to boot.
You need to keep the buttons pressed for several seconds until the screen lights up to show an Android logo or vibrates to signify that the phone is booted properly.
Once you are in, the touchscreen won't work and therefore, you would need to tap on volume rockers to toggle around and use the power button to select an option.
To clear cache partition
You need to follow the method to boot into the recovery mode explained above. Once you do it, you'll need to select 'wipe cache partition' and confirm the actions by selecting 'yes' from the list of options in the menu. Finally, reboot the system and that's all you need to know about this method.
To restore the phone
Again, you need to follow the procedure and protocol mentioned above. Here, you need to select 'wipe data/factory reset' from the given list of options. Next is to confirm by tapping on 'yes — delete all user data' and you have successfully restored the phone to its original factory settings. Now, you'll have to inspect if the phone is working properly or not. Keep an eye on its performance and report to the service center if ease if it is acting weird or if the problem still exists.
Reach out to the manufacturer for help
Assuming that you can't get the problem fixed which is a common sight since not all smartphones facing the restarting and freezing problem can be fixed using a same set of instructions while some might observe effective changes in the performance as well. So, since the problem still exists and you can't uproot it by yourself, I would recommend you to report the issue to the smartphone manufacturer and get it resolved.