Since the rate of remote work has considerably witnessed a growth over the years, the need for online facilities has uniformly increased too. And so, at these times, the requirement for reliable online video calling services is more than ever. Surely, Zoom and Microsoft Teams are two of the most trusted names, yet a debatable matter as to which one holds better facilities. But people still want to choose between the two so today we will test both the platforms out in Microsoft Teams vs. Zoom test.
Now randomly, it is quite critical to make the best pick between them. Both come with their own set of merits and demerits. Moreover, as both the names are popular enough, it is pretty tough to identify the perfect one as per our requirements. So, let us find out which one is better suitable between Microsoft Team and Zoom conferencing app.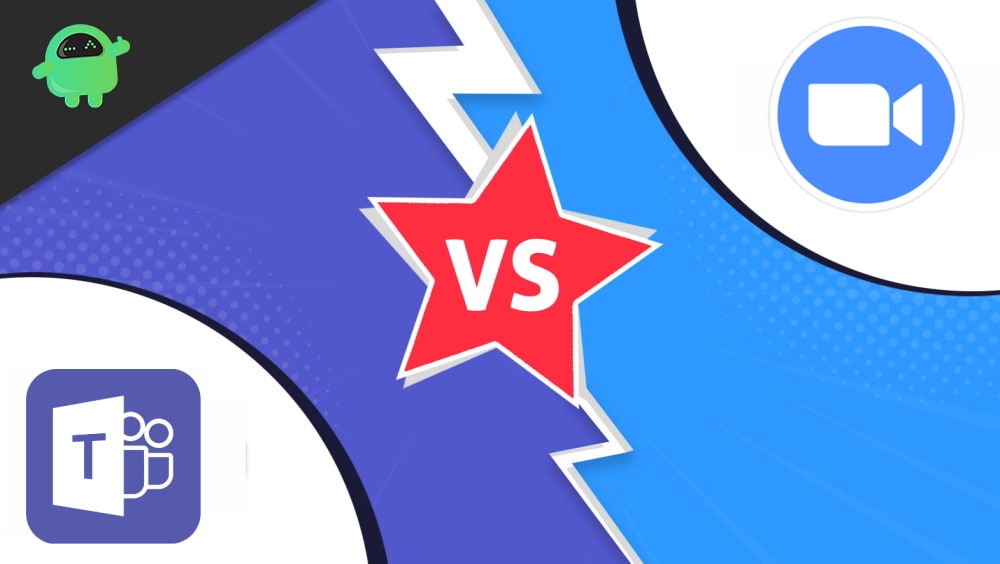 Microsoft Teams vs. Zoom: Which One Is Better
Zoom is an industry-leading video conferencing app with cross-platform support and tons of amazing rich features. It highlights the feature of easy to access video calling while it still allows you to share files, contents, send text messages, and more. On the other hand, Microsoft Teams is basically a workstream collaboration from Microsoft. It is a unified communication platform that includes video/ audio conferencing, text messages, file sharing, and more.
This article holds a fair comparison for Microsoft Teams vs. Zoom on all aspects to find out the ideal pick for you.
Video Quality
Of course, the most crucial point when we speak of video calling apps is the quality of the video. None of us would like to see noisy and pixelated pictures of whoever we are talking to. Fortunately, both Microsoft Teams and Zoom have done a fine and polished job in this matter. They support a maximum video resolution of up to 1080p at 30fps, which is definitely good news.
However, Microsoft Teams brings you the best resolution automatically. But Zoom doesn't have it by default. You must upgrade its settings to the best quality manually to enjoy a great video conference. Else Zoom offers you a 720p video quality, which is not that bad after all, plus saves some of your data as well.
User Interface
Considering the user interface of both these applications, Zoom undoubtedly takes the crown in that matter. The easy to navigate the user interface of Zoom allows users without any experience to use the application quite comfortably. The layout is simple with open options to establish a new meeting, join a meeting, create your schedule, or screen sharing right on its home page.
Contrastingly Microsoft Teams include a bit more critical interface. New users need to spend some time before getting familiar with the application. It employs many interesting features and thus needs some attention to be understood. Otherwise, the UI looks clean and works comprehensively with no issues.
Features of Zoom & Microsoft Teams
Talking of their features, Zoom is a bit more focused on providing the best video conferencing abilities. Microsoft Teams, on the other hand, seem like a general application that overall does a pretty decent job. Anyhow, both the applications include basic features such as screen sharing, screen recording, text messaging, cloud storing, and more.
Apart from that, both come with certain unique features. Zoom includes a more user-friendly interface; the one-tap video calling features really deserves appreciation. It also features the ability to count the number of peoples, participant connectivity detail, unlike Microsoft Teams. On the contrary, MS Teams have a much stronger base since they have integration with Microsoft 365 Office Suite. So if you are already working with other Microsoft services, surely MS Teams should be your first preference.
Security
Microsoft Teams employs in-transit and at-rest encryption, which offers considerable security as per protecting from data leakage and other stuff. At the same time, Zoom includes end-to-end encryption, which is again a better option for all privacy concerned users. It limits all your data within your device and protects you from any third-party server or malware. However, Zoom has lately had a really bad time with their privacy concerns. The company couldn't help the leak of around 5 Lakh Zoom accounts, which were even sold online.
As a result, we can give the preference to Microsoft Teams on the basis of privacy for now. At least, until Zoom actually finds out its vulnerabilities and fixes them for future use.
Microsoft Teams vs. Zoom: Which one is the best for you
After a fair comparison of both these applications from a wider perspective, we can say both are uniform in terms of pros and cons.
| | |
| --- | --- |
| Microsoft Teams | Zoom Video Call |
| Integration with MS365 | Multiple Video feeds |
| Ease of use with MS products | Breakout rooms |
| A little bit hard for new users | Very easy to use for a non-technical person |
| Document editing & sharing | Document editing & Sharing not possible |
| Maximum 250 participants | Maximum 100 participants |
| end of end encryption | no encryption, major privacy issue |
| no time limit | 40 minutes for free users |
So, if you are looking for a dedicated video conferencing app, Zoom definitely must be your ideal choice. Or else Microsoft Teams saves the crown for itself, as it offers much more than just video conferencing. Also, if you use other Microsoft services such as Microsoft Word, Powerpoint, Excel, or so, MS Teams would be beneficial to you. In addition, privacy concerns also favor Microsoft Teams at current times.
Conclusion
I hope this article has helped you go for your perfect pick between Microsoft Teams and Zoom. It is obvious that both are unique in their own way; however, choosing for the best majorly depends on your personal preference. Both Zoom and MS Teams does an astonishing job, and that is why they are the top mentions among other communicating apps. Let us know your thoughts on these two applications and which one do you personally prefer and why?