A dungeon crawler action-adventure video game set in the Minecraft universe, which involves bits and parts of mining and crafting has been released on the 26th of May 2020. Streamlining by the dungeon experience, this hack-and-slash game is available on Nintendo Switch, Playstation 4, Xbox One, and Xbox game pass. The game offers players single as well as multiplayer co-op. Along with the customization of your character, you can choose dungeons from a map menu. The game comes with an easy to grasp gear system where you get a melee weapon, ranged attacking bow, and a shielding armor. Our today's guide will shed light on the best attachments in the game.
Being given the freedom to experiment, you can also use special enchantments on your weapons to level them up a little. If you don't need anything, you can easily dispose of the weapons in exchange for some cash, and if you want to move on to some other weapon, whose enchantments you don't want to lose, get them back and reinvest them in something else. The main objective of the game is to discover treasures, save the villagers and fight the ultimate villain, the evil Arch Illager, by bringing down a crowd of slime monsters, giant spiders, and many more creepers using a giant sword and some magic spells. That being said, now, let's jump into our guide to find out the best enchantments in the game.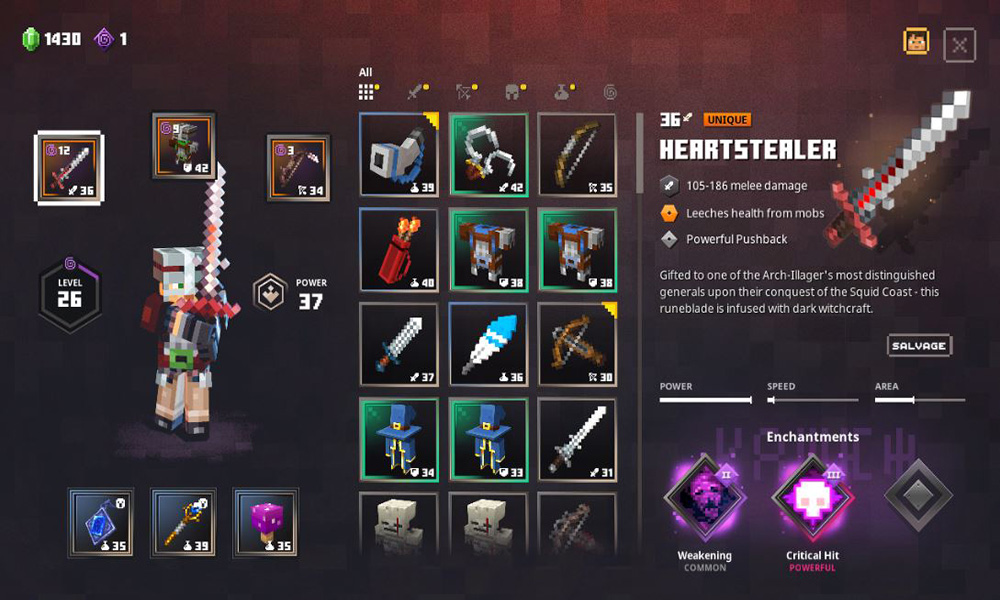 Best Enchantments in Minecraft Dungeons
Enchantments are the special abilities you can add up to all your weapons, you just need to salvage some items, earn the enchantment points, and you are free to use them on your weapons. The guns can fit not only one but two enchantments. That is, you can double stack the enchantments for better use of the gear. There are about 58 enchantments so far.
Deciding which one is better can be a bit confusing, so here is a list of some of the best enchantments:
PROSPECTOR: helps you find more emeralds of the fallen enemies 

RADIANCE: used in melee it has a healing aura

POTION BARRIER: it reduces all incoming damage by 90%

COMMITTED: it increases damage up to 100% against already damaged enemies

LOOTING: it increases the chance of mobs to drop consumables

SWIFTFOOTED: it makes you move faster but not for long. (about 3 seconds)

THORNS: it helps you reverse back the damage to the attacker

SHARPNESS/POWER: it is one of the best enchantments to deal extra damage while leveling up

ANIMA CONDUIT: with every enemy, you defeat that drops a soul, it restores a portion of your health

FIRE ASPECT: it sets mobs on fire for almost 3 seconds

LEECHING: The same as an anima conduit, it helps you restore your health every time you take your enemies' soul.

ENIGMA RESONATOR: it helps you deal triple damage depending on the number of souls you have restored
Since you can also double stack your enchantments, here are some of the best combinations you can try:
RADIANCE+ANYTHING: since radiance helps in healing you can pair it with almost any other enchantment

LOOTING+LOOTING: it double-ups your chance to pick up the weapons of the enemies

STUNNING+ECHO: it is very powerful for slow weapons
Individual enchantments, as well as double-stacked enchantments, both are fun to use and tweak. Use them to enhance your gameplay experience.
That's all we had with us for the best enchantments in Minecraft Dungeons. We hope you find our guide helpful in understanding what you needed. Likewise, you can check out our best iPhone Tips and Tricks, PC tips and tricks, Games and Android Tips, and Tricks. Moreover, you may also subscribe to our very own YouTube Channel and participate in the $150 giveaway contest. However, if you have any queries or feedback, do comment down below with your name and e-mail ID. Thank You!