Minecraft Dungeons is the latest hack-and-slash action along with a crawler themed game developed by Mojang. It offers its players the right sort of reward for perseverance and intelligent thinking. Unlike many other contemporary games, it emphasizes one's inquisitiveness and vigilance. the sport has also been praised for its graphics and music. It takes a vintage approach to role-playing games, laying heavy emphasis on the control tactics as players move up progressively difficult tiers fighting with deadly enemies. This game allows you to interact in the battles against violent mobs and get up against the terrifying forces of the evil Arch-Illager. Our today's guide will help the players Open Gates in Creepy Crypt in Minecraft Dungeons.
Talking about the gameplay, there are several interesting and perilous areas and levels that you can explore in Minecraft Dungeons. Most of these levels can be unlocked in a pretty straightforward manner. However, there are a few trickier ones that are concealed and require more effort. One such level is known as the Creepy Crypt. It is not a part of the main storyline, but a bonus mission that helps you add collectibles to your gear. It can be accessed by finding a secret map in the first level of the game, the Creepy Woods. It's a good area to farm for gemstones. However, some players have been facing issues when trying to open gates in this location. We're bringing you a guide to opening gates in the Creepy Crypt in Minecraft Dungeons. So let's get started.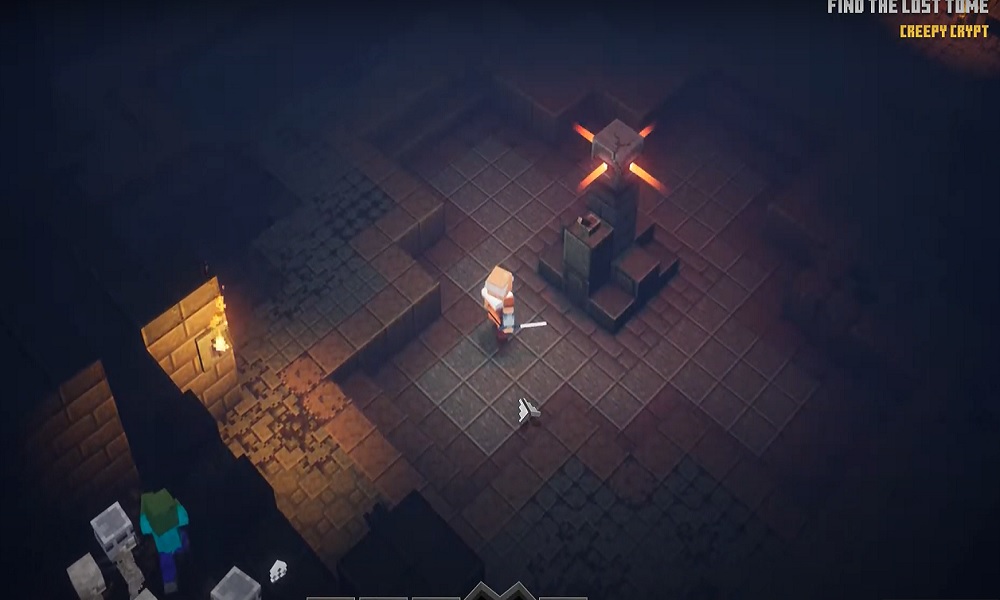 How to Open Gates in Creepy Crypt in Minecraft Dungeons?
The Creepy Crypt is an ideal location for farming large amounts of gemstones. It is a pretty small area and contains very few enemies. However, while trying to exit the Creepy Crypt, some players have found themselves stuck behind a certain fence-like blue gate. This gate let them through but does not allow them to go back outside. The payers, who had passed the gate to get the chest on the other side, are being stuck between a golden travel gate and the mysterious gate with purplish mist underneath it.
Since there are secrets and chests located on the other side of this gate, it is not incorrect to assume that the programmers intended to make the player do so. However, most likely due to a yet unresolved glitch, the gate does not let the player exit the area. The only method known to work in this situation is to restart the mission and respawn in camp. Then proceed to do the map all over again. We advise avoiding this blue gate in question until the developers fix this bug. They have been known to be fast, so it hopefully won't take too long. The rest of the Creepy Crypt is all yours to plunder and explore.
This guide intended to help the players of Minecraft Dungeons who want to open the gates in Creepy Crypt. After following our guide, they will understand what's the matter here. We hope this helps you if you have been facing this glitch in the Creepy Crypt in Minecraft Dungeons. We know this guide proved to be helpful to you, so why not check out our best iPhone Tips and Tricks, PC tips and tricks, Games and Android Tips and Tricks. You can also subscribe to our very own YouTube Channel and participate in the $150 giveaway contest. Moreover, if you have any queries or feedback, do comment down below with your name and e-mail ID. Happy gaming!