Today's generation smartphones are getting bigger and bigger. We are getting 5.5-inch or more screen size with every newly launched smartphone. Moreover, users of stock Android, HTC Sense, LG UX, Oxygen OS, or Samsung's One UI, may find pulling of the notification panel up from the bottom of the screen a bit weird. However, with a 6-inch smartphone, it might be very useful as not everybody has bigger hands and many users cannot reach the top of the notification panel easily.
But, it is time to rejoice for big screen smartphone users as one of the Xda Developer's Senior Member, TomBayley1, developed an application which is based on the stock Android Q/Pie style but with an MIUI touch in it. The MIUI-ify application is based on the latest, MIUI 10 skin which is so far, the best skin of Xiaomi. So, without further ado, let us get straight into the article;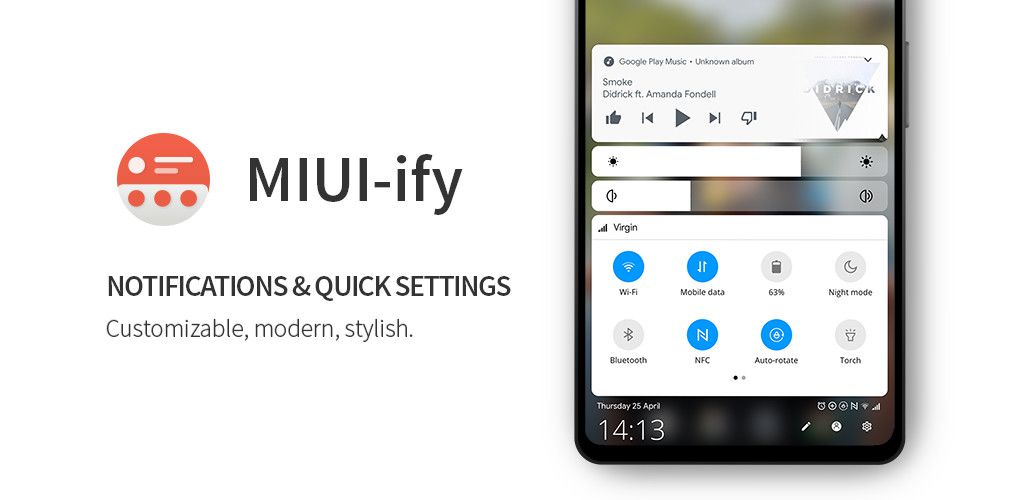 MIUI-ify Brings MIUI 10-Style Quick Settings and Notification Panel
Download from Play Store
[googleplay url="https://play.google.com/store/apps/details?id=com.tombayley.miui"]
List of Features of the MIUI-ify App
NOTIFICATION SHADE
Control all notifications.
Reply, open, dismiss, interact and manage.
Full-color customization.
Dynamic colors.
BOTTOM STATUS BAR
Move your device's status bar to the bottom of the screen.
Full support for notification and system setting icons.
Full-color personalization.
Blacklist: hide the status bar in specific apps.
QUICK SETTING TILES
40+ different settings.
Add any app or URL as a shortcut in the panel.
Layout: Change the number of tile rows and columns.
Sliders: Screen brightness, ringtone, alarm, notifications, and media volume.
MIUI 10 themed.
HANDLE TRIGGER AREA
Customizable position and size so it doesn't interfere with navigation gestures.
Options to hide in landscape and fullscreen.
Blacklist: hide the handle trigger in specific apps.
OTHER CUSTOMIZATIONS
Blur the background.
Change the colors of the panel background and the quick setting icons.
Add a background image to the panel.
Select an app icon pack.
Match the navigation bar color to the footer color.
Dark mode.
Integration with Tasker.
BACKUP / RESTORE
Backup and Restore your customizations.
Get extra features with Root / ADB
Ability to toggle secure system settings such as Mobile Data and Location.
These settings can only be toggled with root or a one time ADB command, due to Android's security restrictions.
Quick Setting Options
WiFi
Mobile data
Bluetooth
Location
Rotate mode
Do not disturb
Airplane mode
Night mode
Sync
Torch / Flashlight
NFC
Music controls
WiFi hotspot
Screen timeout
Immersive mode
Caffeine (keep screen awake)
Invert colors
Battery Saver
And over 20 more!
Screenshots of the Application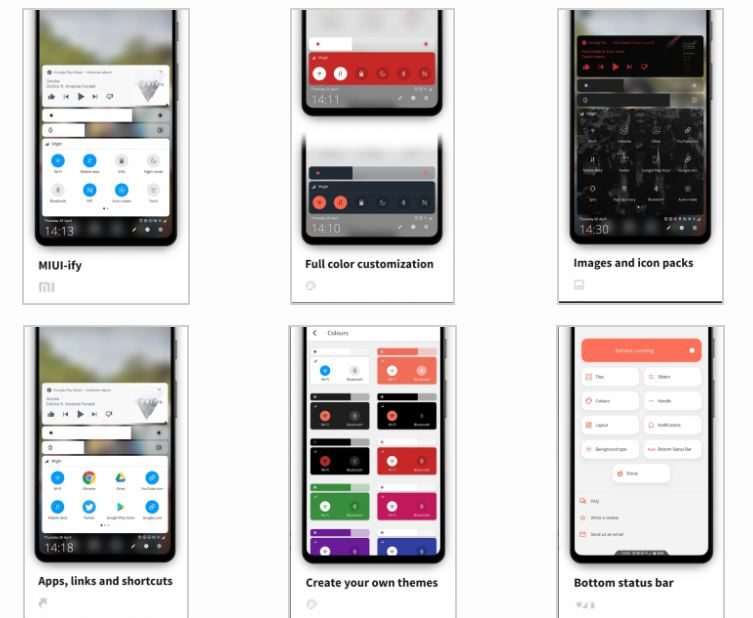 Source: Xda Developer
Conclusion
So, there you have it from my side in this article. This application first appeared on Xda Developers forum and a special thanks to TomBayley1 for developing this application that really helps the users with a 6-inch smartphone to easily reach and toggle quick settings and access the notification panel. Personally, the MIUI skin basically on the quick settings, the volume animation, and skin, is something that I prefer to have on my smartphone. But, on the whole, I definitely go for the Stock Android experience on my device or a launcher that can imitate that look.