You're in the middle of a heated match, and suddenly Mobile Legends Adventure crashes. No feeling in this world can match the rage and pain of a gamer when this happens. Game crashes are irritating, and let's be real, it is something we all have experienced. Game crashes make the gaming experience unpleasant and ruin our moods. That's exactly what's happening with Mobile Legends Adventure players as they are facing an issue of game crashing or not loading issue on their Android/iPhone devices.
After the recent update, players have noticed a particular bug that makes the game crash when in-game or when the game is about to start. This particular issue is not only limited to Android users. Apple iOS users are facing the same issue. Users have started review bombing the game to show their frustration. They are tagging Moonton on Twitter and Facebook to grab their attention regarding this issue with the game.
It's good news that the developers are recognizing this outrage in the Mobile Legends community and have assured us that they are working on fixing it as soon as possible. The issue will eventually be fixed in the new update, but, for the time being, let's try to locate the exact issue and some troubleshooting methods to fix this issue.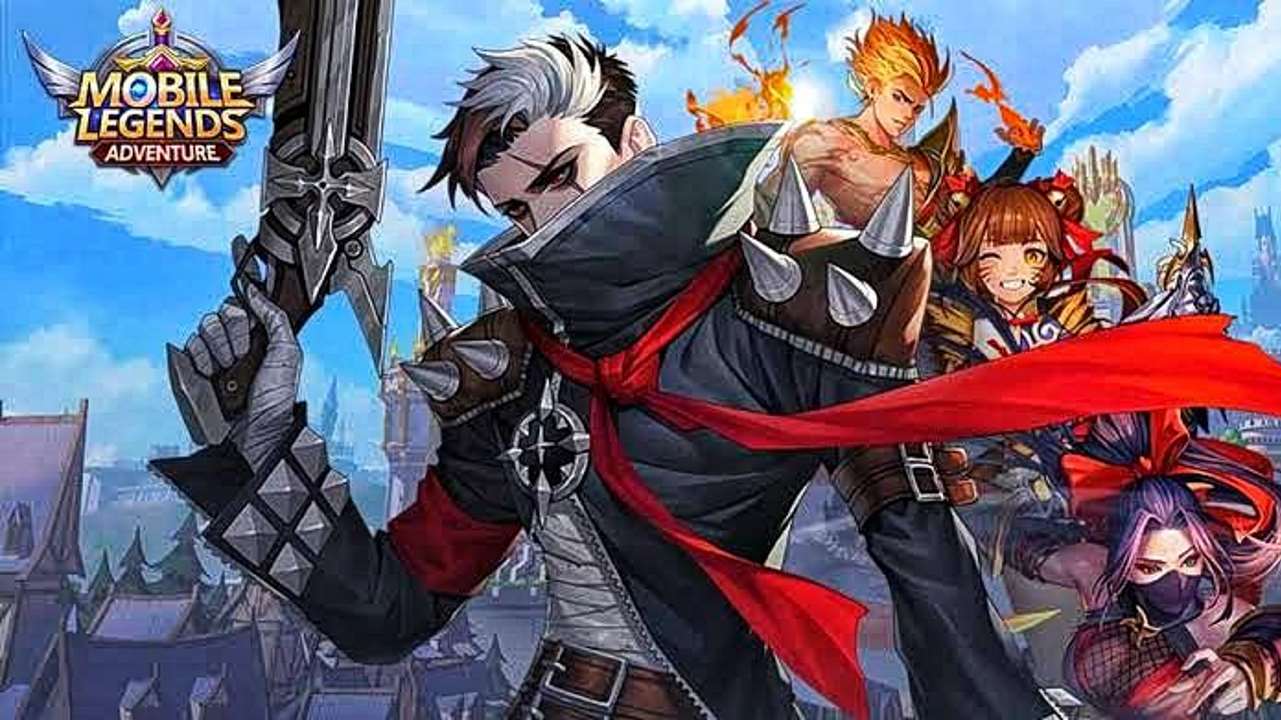 Fix: Mobile Legends Adventure Crashing or Not Loading on Android/iPhone
Mobile Legends Adventure is a Role playing action adventure game developed and published by the same studio that brought us Mobile Legends Bang Bang. This game has the exact characters (heroes) from the original game. It was released on 28 February, 2019. It is available for both Android and iOS devices.
This game has soon garnered fame across the globe for its action packed fun gameplay. As good as the game is, it still has plenty of issues to work with. As mentioned before, the game is crashing on both Android and iOS devices.
Method 1: Restart Devices
Whenever the phone malfunctions, a quick restart always fixes it. What actually happens is that – when your phone is overheated, and with all that additional background processing, the game is unable to run properly, hence, it crashes.
A quick restart will clear all the temporary cache and completely rejuvenates the processor. Now you can open the game and play as usual without the fear of it crashing or facing any additional issues.
Method 2: Check Game Compatibility
Mobile Legends Adventure is a heavy game and takes a good amount of processing power from your phone. If you have a high end phone, especially a gaming centric phone, then you won't be facing this problem.
If you have a low end device, then you should be worried. Low end devices with poor specifications and outdated processors have low processing power, which means it's highly likely that the game would crash on the loading screen itself.
If you don't want to miss out on that action all because of your low end device, then, I will recommend that you invest in a gaming centric phone or even a phone with a powerful processor. Nowadays you can find cheap mid range phones with great processors. If you're willing to invest, you should do it right away.
Method 3: Configure Network & Wifi
It's possible that the game is crashing because you have a poor network connection. It is important to know that connection establishment is an important factor in online gaming. A huge amount of data packets are sent back and forth from your device and the game server to give you a smooth gaming experience.
If your connection is poor, the establishment would not only take much time for your game to load, but also take a heavy toll on the processing power of your phone which might be causing the crashing issue.
Method 4: Update Mobile Legends Adventure
If your game is running on an outdated version, it will not just crash but can introduce a whole lot more bugs and issues. So check out for all those in-game updates. These updates are pushed in-game because they're related to minor issues like crashing and other game features.
Also read: Mobile Legends Adventure Tier List 2022
Method 5: Clean Game Data & Cache
Maybe you tried to tweak your game data from your phone storage itself, and that corrupted the game data files. This can be the possible reason for crashes on your game. Cached data accumulates over time, and it takes up your storage space and induces certain issues in your apps and games. Whenever you're facing this crashing issue, just head on towards the app settings and the app storage settings and there you will find the clear cache option.
Steps to clean Mobile Legends Adventure game data & cache:
Head-on towards the device settings >> apps manager >>Mobile legends Adventure game settings.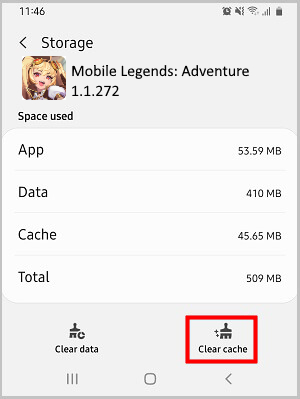 Here find the storage settings and click on the clear cache option.
Method 7: Reinstall Game from Official Website
Maybe the problem is with your game data since it's corrupted. To fix it, all you need to do is uninstall the game from your device. Uninstalling will clear all the game data. Now try installing it again. This will give a brand new start to the game, and hopefully, Mobile Legends Adventure crashing or not loading issue will be fixed too.
Now, there are many players who download and install the modded version of games. This is not only harmful for your device, but it is harmful to your game account too. The modded versions can introduce viruses to your device which can cause a lot of trouble. It's recommended that you install the game from the official site or Playstore or Appstore only.
Method 8: Update Device Firmware
Game crashes are not always due to a faulty update from the game developer. Oftentimes it's because of your device itself. Phone manufacturers do provide timely firmware updates which make your device capable enough to run modern apps and games. So make sure to head to settings > device firmware update section and check if there are any updates available.
Conclusion
This brings us to the end of this troubleshooting guide for Mobile Legends Adventure crashing or not loading on Android/iPhone devices. These methods are both applicable for Android and iOS devices. One Important thing to note is that you should report any bug to the developers of the respective games. This helps them fix the problem quickly and rollout updates to the gaming community.