Imagine you are enjoying your time in the pool with your friends and everything's fun and relaxing until you remember you cannot take pictures by the pool because your mobile phone is not Waterproof and splashes of water can make it not work. People who are looking to buy Motorola Edge 30 and 30 Pro should definitely check whether these devices are waterproof or not.
In 2022, having a water-resistant mobile phone has become a necessity. Owning a waterproof mobile phone means that you can use it while you relax in a pool or use your handset in the rain without fear it'll be damaged. Usually, waterproof mobiles have an IP(Ingress Protection) rating—IP67 or IP68 rating, which means the device can withstand being submerged in water for 30 minutes.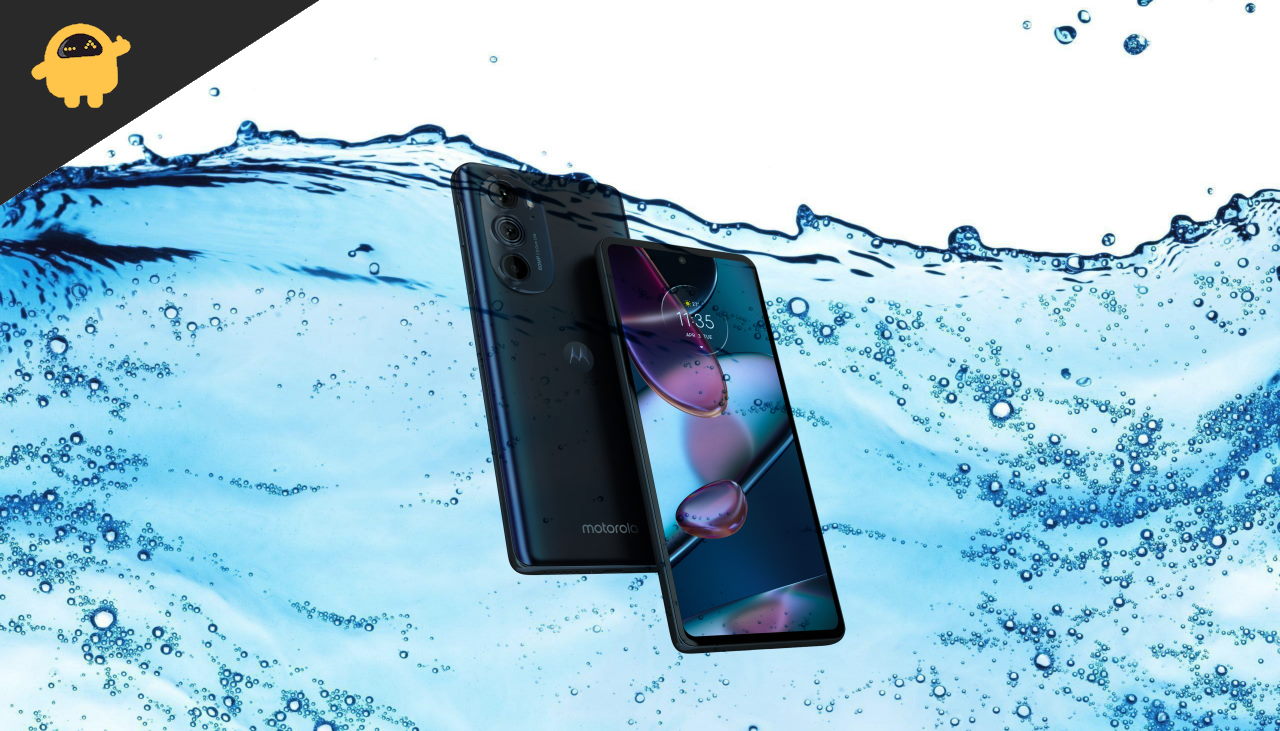 Is Motorola Edge 30 and 30 Pro Waterproof Smartphone of 2022?
Motorola, one of the most trusted smartphone brands, is also well known for manufacturing quality smartphones. It has released smartphones almost in all price ranges, from low to high. Recently, there is a buzz out there about edge 30 and 30 pro and their water resistivity. Let's dive into our main topic today and know more about these smartphones.
Motorola Edge 30 Device Specifications
Motorola Edge 30 is powered by an octa-core Qualcomm Snapdragon 778G+ processor and has up to 8GB Ram along with secondary storage varying from 128GB to 256GB. It shines a 6.5-inch OLED display which has a refresh rate of 144Hz. Motorola Edge 30 has a triple-rear camera setup which includes a 50MP primary camera, 50MP ultra-wide lens, and 2MP depth sensor. The front camera features a 30MP lens. The smartphone is powered by a 4020mAh battery and comes with a 33W TurboPower charge.
Motorola Edge 30 Pro Device Specifications
Motorola Edge 30 pro is powered by Qualcomm Snapdragon 8 Gen 1 octa-core processor and possesses up to 8GB ram along with variations of secondary storage. It has a 6.7-inch full HD+OLED display with a refresh rate of 144Hz. The display supports HDR+ support as well. The device comes with a three-camera set up in the back, providing a 50MP primary sensor, 50MP ultra-wide lens and a 2 MP depth sensor, and a 60MP selfie camera. Motorola Edge 30 Pro is backed up by a 5000mAh battery supported by massive 68-watt fast charging.
Are Motorola Edge 30 and 30 Pro Waterproof Smartphones
No, both the mobiles have a water repellent design as they are finished with nano-coating. The IP rating of both mobiles is "IP 52" which means they are not completely water-resistant but can withstand splashes of water and can be used while on a sporting adventure.
Note
In an IP rating, if the first digit is "6" then it means it has good dust protection while the second digit is related to liquids. The second digit should be "7" or more than it, as below that is not a complete water-resistant phone which means it can handle water splashes only.
The edge 30 and 30 pro water resistance is a protective measure, not a utility feature. Motorola doesn't want you to go swimming with this phone, or leave it out in the rain. But it wants to ensure that in case something unexpected happens like you spill water on it, the phone will not be damaged. Still, take the usual precautions and don't spill coffee on it just to check its liquid resistance.
The Edge 30 and 30 pro water resistance protects it from immersion in water up to some depth, so don't go crazy and swim with it. You absolutely can't use it underwater anyway—the touchscreen does not register input when it is underwater; the few times it works doesn't mean it works every time.
Even when your phone's screen is wet, the touchscreen doesn't really work. Taps don't register as they need to, and swipes are literally ignored. You'll need to wipe before you can swipe.
Conclusion
So, now you know, Motorola Edge 30 and 30 Pro can be called water safe as they are just water repellent phones and not water-resistant. No mobile phone is completely waterproof. even mobile with an IP6 rating, sometimes cannot guarantee maximum protection. having a water-resistant mobile is just a safety measure for some unexpected cases. But still, these mobiles at this price range are absolutely a great deal.