There are a number of settings in NBA 2K21, including the new shot meter to adjust the timing for your shot, dunking techniques, and altering the camera angle, that you must learn about in order to master the game.
Now, most of the fans are excited to know the three most in-demand techniques used in NBA 2K21. But wait, are you one of them? Then relax; you are in the best place to learn the changing of shot timing, perform a dunk along with changing the camera angle. Let's get started.
How to Change Your Shot Timing in NBA 2K21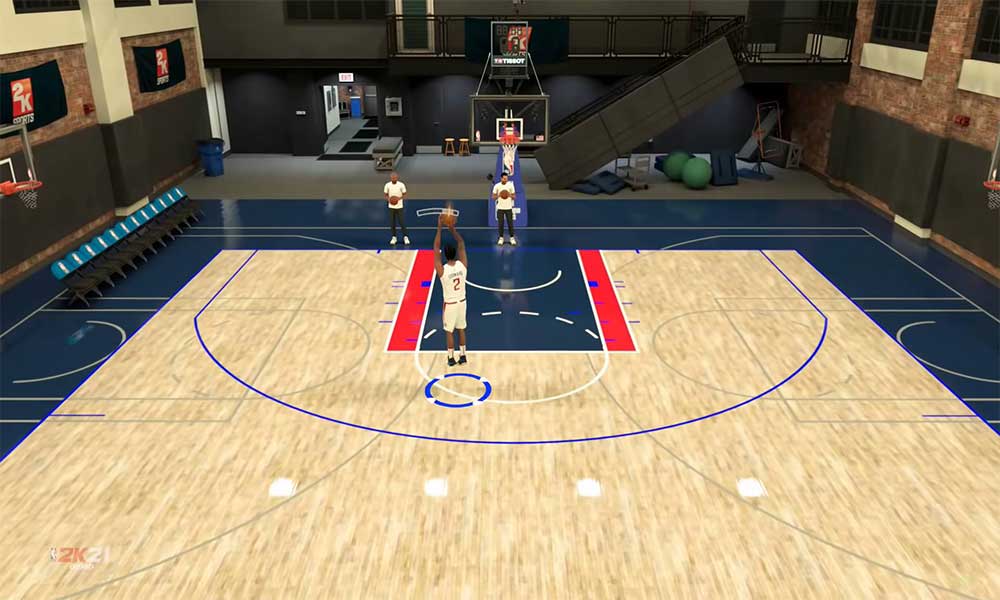 Older versions of NBA 2K featured the shot meter as a vertical curve intended to help you time your shot as accurately as possible for release. "Going green" meant timing a shot perfectly. Now, however, NBA 2K21 features a horizontal meter just above your shooter.
In order to use this shot meter, press the X button on your Xbox One controller or Square on your PlayStation 4 controller. The shooting motion will thus start, and the shot meter will turn up over your player. Proceed to release the button when the moving "tick" line is close to or just over the slender dark line in the colored region of the shot meter.
If you are using a Pro Stick, then you can start the shooting and bring up the shot meter over your player by holding down the right stick on your controller. The moving "tick" line, in this case, will begin near the middle of the aforementioned colored region on the shot meter.
Aim your shot by pressing the right stick towards the left or right while holding it down. Remember that you need to be agile when making movements with the stick. It will enhance your shot when you are lining up the shot meter. Once you have executed your shot, a note will pop up informing you whether your shot was early, late, to the left, right, or center. This depends on the method you used to carry out the shot.
Adjusting your shot meter
The shot meter has been greatly revamped in NBA 2K21, but you can master its use with some practice. You can go with a freestyle mode with the 2KU spot in the "Play Now" menu. This will let you select a team and practice the new shot meter with a shooter. Remember that you can also adjust the shot meter or even take it away fully.
Mike Wang from NBA 2K graciously gave out some useful shooting tips for NBA 2K21 on Twitter, just prior to its release. He said that toggling off the shot meter can provide a helpful boost if you want to use the button for shooting. You can do this by going down to Options > Controller Settings and turning the shot meter to "Off" or "Free Throw Only."
He also said that you could adjust settings so that the stick does not utilize shot aiming. For this, toggle shot aiming to "Off" in the aforementioned Controller Settings.
How to perform a dunk in NBA 2K21
You have lots of options when it comes down to dunking in NBA 2K21. These include dominant, off-hand, flashy, and two-handed dunks. Now we will show you how you will be able to perform these in the game.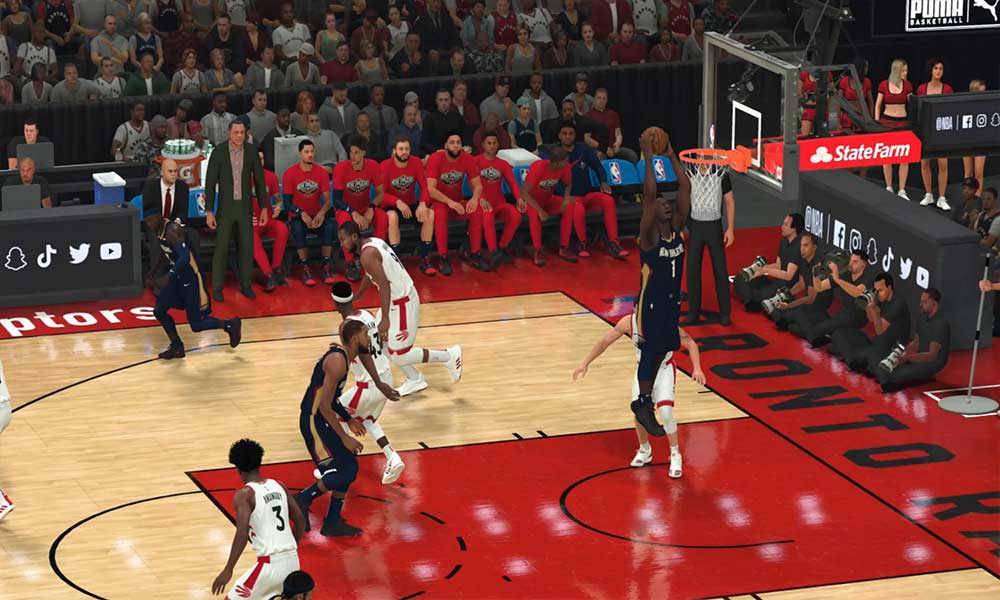 Two-hand dunk
Press the R2 button on your PlayStation 4 controller, or RB on Xbox One when moving.
Push up the Right Stick on your controller when you move in closer.
One-hand dunk
Press R2 on your PlayStation 4 controller and make your way to the basket.
Now hold up the right stick to the right or left when you are in close range.
Keep in mind that the left mentioned above or right direction will determine the hand your player dunks with.
Flashy dunks
Press and hold the R2 button when you are on your way to the basket.
Now hold down the right stick once you are in close range.
Release the right stick, and you will successfully execute the flashy dunk.
Putbank dunk
Aim for the offensive rebound after you miss a shot on offense.
Press the Square button on your PlayStation 4 controller when you are attempting a rebound.
Your player will then grab the ball and dunk it into the basket unless challenged by an opponent.
How to Change Camera Angle in NBA 2K21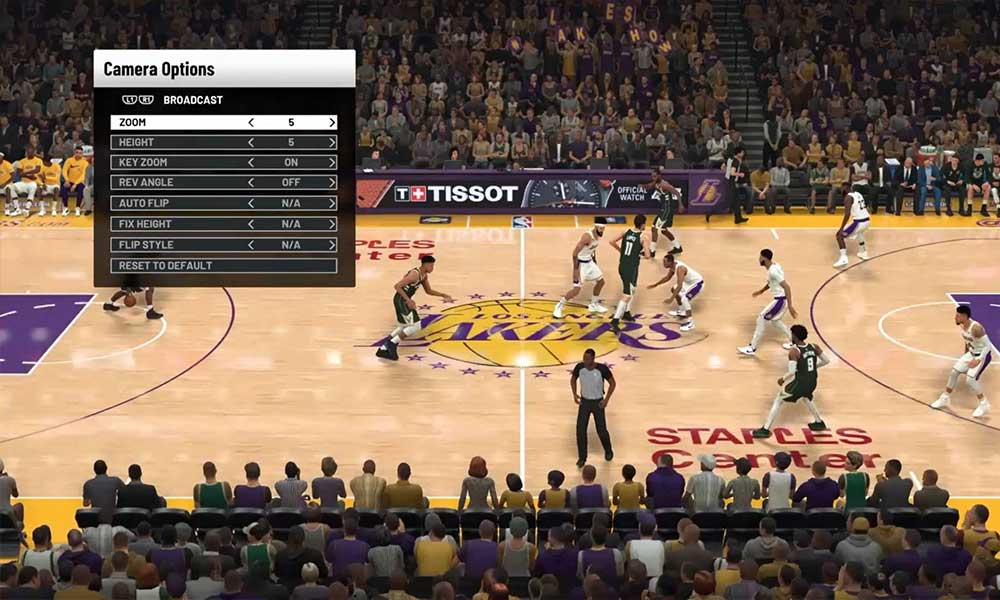 Altering the camera angle or perspective can greatly affect your overall gameplay experience. In NBA 2K21, you can zoom the camera in our out according to the onscreen action. You can also adjust the height level and other features of the view. And best of all, the game also features a lot of preset camera options for you to go through.
Note that you cannot change the camera angle or perspective in the settings on the main menu, although you can toggle the camera shake on or off over there. You can only alter the camera settings when you are actually in the middle of a game. In that case, press the little Options/Menu button on your PlayStation 4 or Xbox One controller.
You will see a Pause/Menu screen come up. Choose "Camera" in the menu options, and you will be taken to a view of your present game paused, with adjustable camera options. You can now adjust the zoom and height of the camera angle according to your preference. Apart from this, you can also choose from several preset camera views.
To do that, press R1 or L1 on your PlayStation 4 controller, or RB or LB on your Xbox One controller. This will take you through a number of camera views, including these:
2K
2K Low
Broadcast
Broadcast Generic
Broadcast Low
Drive
High
Nosebleeds
Parametric
Player Lock
Side
Skybox
Swivel
After you are satisfied with your camera angle of choice, go back from the camera options. Select "yes" when prompted to save. If you happen to be unhappy with your camera settings at any point, you can simply revisit the menu and select "Reset to Default."
That is it for now. We hope this guide helped you to understand all about changing of shot timing, perform a dunk along with changing the camera angle in NBA 2K21. Now, check out our Windows Guides, Gaming Guides, Social Media Guides, iPhone, and Android Guides to read more. However, if there are any queries or feedback, comment down with your name & email ID. We will try our best to reply soon. Also, subscribe to our YouTube Channel in order to watch awesome videos on gaming and smartphone tips and tricks. Thank you!